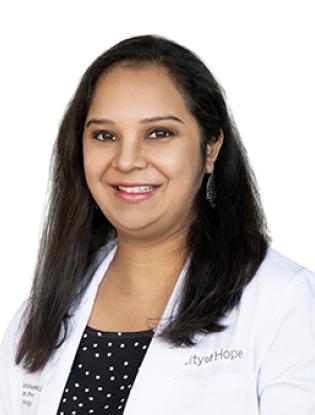 Hematologist-Oncologist
Clinical Expertise
Hematology-Oncology
Hematology & Hematopoietic Cell Transplantation
Lymphoma
Research Area
Hematology and Hematopoietic Cell Transplantation
Lymphoma
Appointments
Assistant Professor, Division of Lymphoma, Department of Hematology & Hematopoietic Cell Transplantation
Swetha Kambhampati, M.D., sees her calling as a physician as the perfect way to combine her love for science with her passion for service. She aims to provide compassionate care tailored to each patient's needs. As an oncologist/hematologist specializing in lymphoma, she has experience and expertise in novel immunotherapies, CAR T cell therapy and stem cell transplantation. Her research is focused on developing and evaluating novel immunotherapies and targeted therapies for the treatment of non-Hodgkin and Hodgkin lymphoma. She leads a variety of cutting-edge trials for lymphoma and collaborates with lymphoma basic scientists to identify biomarkers predictive of response and resistance to therapies, in an effort to better personalize treatments for patients.
Dr. Kambhampati received her medical degree from Stanford University and pursued her internal medicine residency training at Johns Hopkins Hospital and hematology/oncology fellowship at University of California San Francisco. She completed an advanced fellowship focusing on lymphoma at City of Hope prior to joining the faculty. She has many peer-reviewed scientific publications to her credit, including publications in top journals such as Blood, British Journal of Hematology, and Blood Cancer Journal. She was recognized by the American Society of Clinical Oncology with a Young Investigator Award and Conquer Cancer Merit Award, and she was chosen to be an American Society of Hematology Clinical Research Training Institute Scholar and Lymphoma Research Foundation Eric Cohen Distinguished Scholar.
When not treating patients or conducting research, Dr. Kambhampati enjoys singing, traveling, hiking, exploring new restaurants and spending time with family.
Basic Text Field
2023, Internal Medicine & Oncology
Basic Text Field
2014, Doctorate of Medicine, Stanford University School of Medicine, Palo Alto, CA
2010, Bachelor of Science in Biology, Massachusetts Institute of Technology, Cambridge, MA
Basic Text Field
2021, University of California San Francisco, Hematology/Oncology Fellowship, San Francisco, CA
Basic Text Field
2017, Johns Hopkins Hospital, Osler Medical Residency, Baltimore, MD
Basic Text Field
2015, Johns Hopkins Hospital, Osler Medical Residency, Baltimore, MD
Basic Text Field
2022-present, Assistant Professor, Division of Lymphoma, Department of Hematology & Hematopoietic Cell Transplantation, City of Hope, Duarte, CA
2022-2021, Clinical Instructor, Department of Hematology & Hematopoietic Cell Transplantation, City of Hope, Duarte, CA
2018-2017, Clinical Instructor and Hospitalist, University of California San Francisco, Department of Medicine, Hospitalist Service on Hematology/Bone Marrow Transplantation Unit, San Francisco, CA
Awards
2023, Academy of Next Wave of Investigators in CLL and NHL, Bio Ascend

2023, Lymphoma Research Foundation Lymphoma Scientific Research Mentoring Program Eric Cohen Distinguished Scholar

2023, Lymphoma Research Foundation Lymphoma Scientific Research Mentoring Program Scholar

2022, ASCO Conquer Cancer Merit Award

2021-2022, FDA-AACR Oncology Educational Fellowship

2021-2022, ASCO Young Investigator Award

2021, ASH Research Training Award for Fellows Finalist

2021, Multiple Myeloma Research Foundation Research Fellow Award

2020, ASH Abstract Achievement Award

2020-2021, ASH Clinical Research Training Institute Scholar

2020, ASCO FDA Workshop Selected Candidate

2019, Society for Translational Oncology Fellows' Forum Scholar

2019, ASCO/AACR Methods in Clinical Cancer Research Workshop Selected Attendee

2018, UCSF Hematology/Oncology Annual Research Retreat Best Poster Award

2011, Klingenstein Fellow

2010, All USA Today 2010 College Academic Team

2010, Rhodes Scholarship Finalist

2010, Phi Beta Kappa Society

2010, Merage American Dream Fellowship

2010, Sigma Xi Honor Society

2009-2010, Leaders in Global Health Transformation

2009, Amgen Research Scholar

2009, Student Leaders in Service: AmeriCorps "Education Award Only" Program

2009, National Society of Collegiate Scholars Exemplary Scholar Award

2009, Johnson and Johnson Bioengineering Research Award

2008-2009, Emerson Music Scholar

2006, Co-Guest Editor of Up Your Score: The Underground Guide to the SAT
Memberships
2021, American Society for Transplantation and Cellular Therapy
2018, American Society of Clinical Oncology
2018, American Society of Hematology
2013, American College of Physicians
Kambhampati S, Herrera A, Rhee J. How to treat diffuse large B-cell lymphoma: Oncologic and Cardiovascular Considerations. JACC: CardioOncology. Accepted. 2023 June. PMID: 37397077
Kambhampati S, Shumilov E, Saumoy M, Herrera AF, Tilly H, Lenz G, Thiruvengadam N. Cost-effectiveness of Polatuzumab Vedotin in Combination with Chemoimmunotherapy (Pola-R-CHP) in Previously Untreated Diffuse Large B-cell lymphoma in Germany. British Journal of Hematology. 2023 May. PMID: 37188351.
Kambhampati S, Shouse G, Danilov A. Thinking "outside the germinal center": re-educating T cells to combat follicular lymphoma." Blood Review. 2023 May. PMID: 37173225.
Ladbury C, Dandapani S, Hao C, Fabros M, Amini A, Sampath S, Glaser S, Sokolov K, Yeh J, Baird J, Kambhampati S, et al. Long term follow-up of bridging therapies prior to CAR T-cell therapy for relapsed/refractory large B-cell lymphoma. Cancers. 2023 March. PMID: 36980632.
Torka P,* Kambhampati S,* Chen L, Wang X, Chen C, Vuong D Qin H, Muir A, Orand K, Borja I, Smith D, Herrera A, Spurgeon S, Park B, Lewis L, Hernandez-Ilizaliturri F, Xia Z, Danilov A. A Phase I trial of pevonedistat a Nedd8-activating enzyme inhibitor, plus ibrutinib in patients with relapsed/refractory B-cell non-Hodgkin lymphoma. Blood Cancer Journal. 2023 Jan. PMID: 36631449. * First two authors contributed equally and are co-first authors
Kambhampati S, Herrera AF. Incorporating novel agents into frontline treatment of Hodgkin lymphoma. Hematology Am Soc Hematol Educ Program. 2022 Dec. PMID: 36485085.
Kambhampati S, Zain J. ctDNA in Lymphoma. Current Hematologic Malignancy Reports. 2022 Dec. PMID: 36214943.
Kambhampati S, Saumoy M, Schneider Y, Pak S, Budde L, Mei M, Popplewell L, Siddiqi T, Wen Y, Zain J, Forman S, Kwak L, Rosen S, Danilov A, Herrera A, Thiruvengadam N. Cost Effectiveness of Polatuzumab Vedotin Combined with Chemoimmunotherapy in Untreated Diffuse Large B-cell Lymphoma. Blood. 2022 Dec. PMID: 35700381.
Kambhampati S, Saumoy M, Schneider Y, Serrao S, Solaimani P, Budde L, Mei M, Popplewell L, Siddiqi T, Zain J, Forman S, Kwak L, Rosen S, Danilov A, Herrera A, Thiruvengadam N. Cost Effectiveness of Second line Axicabtagene ciloleucel in Relapsed Refractory Diffuse Large B-cell Lymphoma. Blood. 2022 Nov. PMID: 35914220.
Ladbury C,* Kambhampati S,* Othman T, Hao C, Chen L, Wong J, Cao T, Herrera A, Mei M, Dandapani S. Role of Salvage Radiation Treatment of Relapses in Relapsed/Refractory Diffuse Large B cell Lymphoma Post Autologous Stem Cell Transplant. International Journal Radiation Oncology, Biology, Physics. 2022 Jul. PMID: 35176414. *First two authors contributed equally and are co-first authors