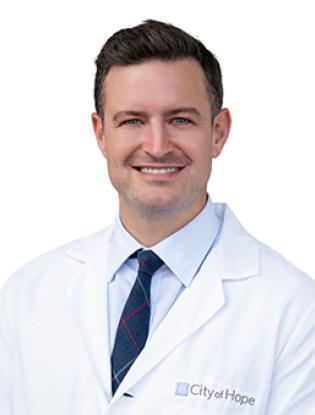 Medical Oncologist
Clinical Expertise
Lung Cancer and Thoracic Oncology
Genitourinary Cancers
Sarcoma
Appointments
Assistant Clinical Professor, Department of Medical Oncology & Therapeutics Research
Medical oncologist Adam Rock, M.D., grew up in a family of health care providers, a background that allowed him to see firsthand how meaningful and rewarding the relationship between provider and patient can be. Personal family encounters with cancer continue to provide meaning and motivation to his work, as he enjoys the opportunity to work at the intersection of leading-edge research and meaningful human interaction.
Joining City of Hope in 2022 after serving as a fellow there, Dr. Rock considers it the ideal setting to provide high-quality care and collaborate with regional and international experts in a range of fields. During his time as a resident at the University of Illinois at Chicago, he was recognized with the American Society of Hematology's Abstract Achievement Award, and he went on to serve as chief fellow in Oncology/Hematology at Harbor-UCLA Medical Center. As a physician-scientist, he has played a role in leading 10 previous and ongoing clinical trials as of 2019.
Basic Text Field
2019-present, California Medical License, California State Medical Board
Basic Text Field
2016, Doctor of Medicine, Chicago Medical School, Rosalind Franklin University, North Chicago, Illinois

2012, Master of Science, Rosalind Franklin University, North Chicago, Illinois

2011, Bachelor of Science, Michigan State University, East Lansing, Michigan
Basic Text Field
2022, Hematology/Oncology, Harbor UCLA Medical Center, Los Angeles, California
Basic Text Field
2019, Internal Medicine, University of Illinois at Chicago, Chicago, Illinois
Basic Text Field
2022 - present, Director, Medical Oncology In-patient Consult Services
2022-present, Assistant Clinical Professor, Department of Medical Oncology & Therapeutics Research, City of Hope, Duarte, California
 
AWARDS
2018, American Society of Hematology Abstract Achievement Award
Memberships
American Society of Hematology
American Society of Clinical Oncology
European Society of Medical Oncology
Rammo R, Rock A, Transou A, Raghunathan A, Rock J. Anaplastic meningioma: Octreotide Therapy for a Case of Recurrent and Progressive Intracranial Disease. J Neurosurg. 2016 Feb;124(2):496-500. doi: 10.3171/2015.1.JNS142260. Epub 2015 Aug 14. PMID: 26274993.
Li D, Rock A, Kessler J, Ballena R, Hyder S, Mo C, Chang S, Singh G. Understanding the Management and Treatment of Well-Differentiated Pancreatic Neuroendocrine Tumors: A Clinician's Guide to a Complex Illness. JCO Oncol Pract. 2020 Nov;16(11):720-728. doi: 10.1200/JCOOP.20.00010. Epub 2020 Oct 21. PMID: 33085933.
Qing X, Cai J, Rock A. Myelodysplastic syndrome in a 30-year-old man with coronavirus disease 2019 (COVID-19): a diagnostic challenge. Autops Case Rep. 2021 Apr 20;11:e2021274. doi: 10.4322/acr.2021.274. PMID: 33968834.
Rock A, Ali S, Chow WA. Systemic Therapy for Chondrosarcoma. Curr Treat Options Oncol. 2022 Feb;23(2):199-209. doi: 10.1007/s11864-022-00951-7. Epub 2022 Feb 21. PMID: 35190971.
Sattler M, Mambetsariev I, Fricke J, Tan T, Liu S, Vaidehi N, Pisick E, Mirzapoiazova T, Rock AG, Merla A, Sharma S, Salgia R. A Closer Look at EGFR Inhibitor Resistance in Non-Small Cell Lung Cancer through the Lens of Precision Medicine. J Clin Med. 2023 Mar 1;12(5):1936. doi: 10.3390/jcm12051936. PMID: 36902723.
Meza L, Zengin Z, Salgia S, Malhotra J, Karczewska E, Dorff T, Tripathi A, Ely J, Kelley E, Mead H, Hsu JA, Dizman N, Salgia N, Chawla N, Chehrazi-Raffle A, Muddasani R, Govindarajan A, Rock A, Liu S, Salgia R, Trent J, Altin J, Pal SK. Twelve-Month Follow-up of the Immune Response After COVID-19 Vaccination in Patients with Genitourinary Cancers: A Prospective Cohort Analysis. Oncologist. 2023 Mar 27:oyad067. doi: 10.1093/oncolo/oyad067. Epub ahead of print.
Ebrahimi H, Castro DV, Feng MI, Prajapati SR, Lee KO, Chan EH, Paul T, Sehgal I, Patel J, Li X, Zengin ZB, Meza L, Mercier BD, Hsu J, Govindarajan A, Chawla N, Dizman N, Bergerot CD, Rock A, Liu S, Tripathi A, Dorff T, Pal SK, Chehrazi-Raffle A. Examining Exclusion Criteria in Advanced Prostate Cancer Clinical Trials: An Assessment of Recommendations From the American Society Of Clinical Oncology and Friends of Cancer Research. Clin Genitourin Cancer. 2023 May 24:S1558-7673(23)00133-7. Epub ahead of print. PMID: 37301665.
Ratings and reviews below are gathered from the Press Ganey Clinician and Group Consumer Assessment of Healthcare Providers and Systems (CG CAHPS) survey. CG CAHPS is a standardized survey that is used to measure a patient's experience in the physician office setting. Ratings are an average of all responses to questions about a provider's care, with five stars being the highest.
Ratings
5.0
Know important info medical history
5.0
Show respect for what you say
5.0
Spend enough time with you
5.0
Recommend this provider office
5.0
Provider listen carefully to you
4.9
Provider explain in way you understand
---