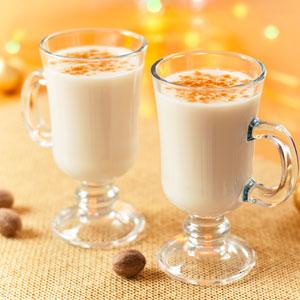 A healthier holiday meal doesn't have to mean a big plate of raw carrots and kale – not that there's anything wrong with that. Instead, it can amount to a small change here, a small change there, and maybe a tweak beyond that.
Dietitians at City of Hope, which promotes a healthful lifestyle as a way of reducing cancer risk, suggest these substitutions for your holiday favorites. 
These tips are so smart, your guests might not even notice them. 
| If your recipe calls for: | Use instead: |
| --- | --- |
| Whole milk | Fat-free milk or 1% low-fat milk |
| Heavy cream | Evaporated skim milk, whole milk or light cream |
| Whole eggs | 2 egg whites or 1/4 cup egg substitute or 1 tsp. oil and 2 egg whites, whipped lightly |
| Sour cream | Nonfat cottage cheese with lemon juice, fat-free sour cream or nonfat plain yogurt |
| Cream cheese | Fat-free cream cheese |
| Mayonnaise | Nonfat plain yogurt or fat-free mayonnaise |
| Whipped topping | Sugar-free whipped topping mix, nonfat vanilla yogurt, or light or fat-free nondairy whipped topping |
| White flour | 1/2 white flour + 1/2 whole wheat flour or oat bran |
| Salt | Fresh herbs and spices, lemon juice or hot pepper sauce |
| Sugar | Reduce amounts, using non-nutritive sweeteners |
| Shortening | Canola oil (3/4 cup oil = 1 cup shortening) |
| Meat, fish, poultry | Use limited quantities; remove skin and all visible fat |
Here's a favorite holiday drink using substitutions.
Egg Nog
Yield: 8 servings (serving size: 6 ounces)
Ingredients
4 cups fat‑free milk
1 cup egg substitute
Sugar substitute to equal 4 Tablespoons of sugar
3 teaspoons rum extract or 1 teaspoon vanilla
Ground nutmeg
Instructions
Combine milk, egg substitute, sugar substitute and extract.
Beat with rotary beater or electric mixer until well blended.
Chill thoroughly. Stir before serving and sprinkle with nutmeg.
 
Nutrient analysis per serving
Exchanges: 1/2 carbohydrate exchange (1/2 milk)
Total Carbohydrates: 6 grams
Calories: 50

MedLinePlus, offered by the National Institutes of Health offers more information on the connection between a healthy diet and lower cancer risk.
****