CONTACT
COH04S1 is the only COVID-19 vaccine to advance to a Phase 2 trial that includes both SARS-CoV-2 spike and nucleocapsid proteins.
DUARTE, Calif.
— City of Hope is now enrolling patients in a
Phase 2 clinical trial
of its COH04S1 vaccine that is the first to study the safety and effectiveness of an investigational vaccine in blood cancer patients who have received a bone marrow transplant or chimeric antigen receptor (CAR) T therapy. The trial is also the first to compare an investigational COVID-19 vaccine to the current Food and Drug Administration (FDA)-approved COVID-19 vaccine, the Pfizer vaccine, in people who are immunocompromised and receiving immunosuppressive therapy.
It follows a
Phase 1 trial
in healthy volunteers whose
initial results
demonstrated that COH04S1 was safe and well tolerated. Patients who are immunocompromised have often shown a weak antibody response after Emergency Use Authorization (EUA) and FDA-approved COVID-19 vaccinations compared with healthy vaccinated individuals.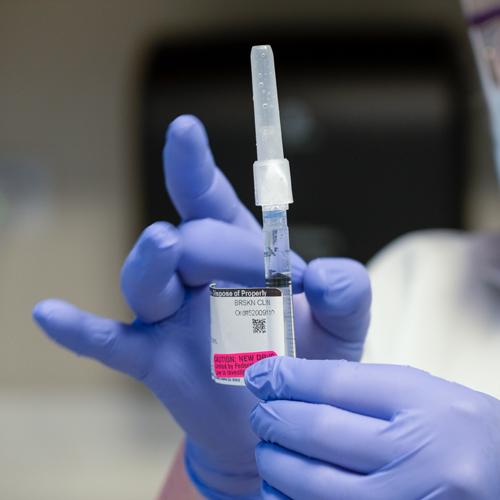 "As a world-renowned cancer center, City of Hope is committed to finding better treatments for our patients, particularly patients who are immunocompromised and the most at risk for developing serious SARS-CoV-2 complications. Current EUA and FDA-approved vaccines are not working as well for those with weakened immune systems," said
Don J. Diamond
, Ph.D., professor in the Department of Hematology & Hematopoietic Cell Transplantation at City of Hope and the vaccine's lead developer. "Our vaccine is built on an FDA-approved and widely used platform known as modified vaccinia ankara (MVA) that has been used safely and effectively in cancer and transplant patients by City of Hope. MVA vaccines also tend to produce an immune response quickly — in less than 14 days — with only mild side effects."
Blood cancer patients who received a bone marrow transplant, either using a patient's own stem cells or a donor's cells, or CAR T cell therapy at least three months prior to enrolling in the study, and who meet other requirements are eligible for the trial.
City of Hope's COVID-19 vaccine is unique for including S and N proteins
City of Hope's COH04S1 is also the only COVID-19 vaccine to advance to Phase 2 trials in cancer patients that includes both SARS-CoV-2 spike and nucleocapsid proteins. These proteins were inserted into the MVA delivery vehicle. The MVA then replicates DNA within cells, leading to the expression of both proteins, spurring immunity against the virus.
In preclinical research, COH04S1 also produced strong neutralizing antibodies that can recognize SARS-COV2 variants and produced strong T cell responses against the spike and nucleocapsid proteins. The strong T cell response could provide long-term protection that may protect recipients of the vaccine against future COVID-19 outbreaks.
Patients who are immunocompromised have weakened immune systems due to chronic diseases and some treatments for cancer, including bone marrow transplants and CAR T cell therapies. These individuals, compared to healthy people, do not produce good quality or an abundance of T cells or antibodies, which help the body fight off viruses, such as SARS-CoV-2.
Recent research
on solid organ transplant recipients and other patients who are immunocompromised found that these individuals produced lower rates of virus-specific antibodies after receiving the Pfizer and Moderna COVID-19 vaccines compared to healthy people who received the injections. A recent study sponsored by
The Leukemia & Lymphoma Society
also found that about 1 in 4 blood cancer patients fail to produce detectable antibodies after COVID-19 vaccination. In addition, the FDA recently approved a third Pfizer booster shot for these patients to help boost their COVID-19 immunity.
"City of Hope's expertise in treating cancer patients who are immunocompromised is extremely valuable as we already have a history of developing safe and effective vaccines for our patients, and we know how their immune systems work and the challenges we face among this population during this pandemic," said
Sanjeet Dadwal
, M.D., chief of City of Hope's Division of Infectious Diseases and the trial's principal investigator.
A prime example of this is the Triplex vaccine, which was developed by Diamond and his team to protect bone marrow transplant patients against cytomegalovirus (CMV), a herpesvirus that can cause complications after transplant. Triplex uses the MVA platform. Research published in Annals of Internal Medicine showed that patients in the Phase 2 randomized multicenter trial who received Triplex were less likely to develop health complications related to CMV than patients who did not and that it produced few side effects. The p53MVA vaccine, also developed at City of Hope, is continuing to be used in combination with cancer drugs, such as pembrolizumab and gemcitabine, against solid tumors to boost a patient's immune system.
Participants in the trial will receive two injections 28 days apart. The COH04S1 vaccine does not reproduce itself or grow in quantity in the human body; consequently, it is safe to administer for stem cell transplant or CAR T patients. Trial volunteers will be closely monitored for any potential complications.
More information about the trial can be found
here.
# # #
About City of Hope
City of Hope is an independent biomedical research and treatment center for cancer, diabetes and other life-threatening diseases. Founded in 1913, City of Hope is a leader in 
bone marrow transplantation
 and immunotherapy such as 
CAR T cell therapy
. City of Hope's translational research and personalized treatment protocols advance care throughout the world. Human synthetic insulin, monoclonal antibodies and 
numerous breakthrough cancer drugs
 are based on technology developed at the institution. A National Cancer Institute-designated comprehensive cancer center and a founding member of the National Comprehensive Cancer Network, City of Hope is ranked among the nation's "Best Hospitals" in cancer by U.S. News & World Report. Its main campus is located near Los Angeles, with 
additional locations
 throughout Southern California and in Arizona.
Translational Genomics Research Institute (TGen)
 became a part of City of Hope in 2016.
AccessHope
TM
, a subsidiary launched in 2019, serves employers and their health care partners by providing access to NCI-designated cancer center expertise. For more information about City of Hope, follow us on 
Facebook
, 
Twitter
, 
YouTube
 or 
Instagram
.