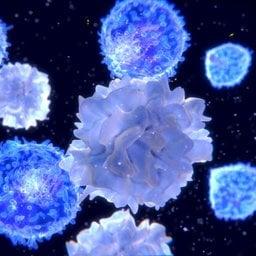 Over the first week in June, premier oncology researchers from City of Hope gathered virtually at the American Society of Clinical Oncology Annual meeting with experts from around the world to present their latest cancer breakthroughs. While findings from a number of separate research projects were presented at the conference, a recap of some of the groundbreaking discoveries pushing the field forward can be found below.
First-in-human study of B cell maturation antigen-targeted immunotherapy shows promising efficacy for patients with multiple myeloma
For patients with relapsed or refractory multiple myeloma (MM) effective treatment options are sorely needed. As immunotherapies such as B cell maturation antigen (BCMA) targeting antibodies have shown promise,
Amrita Y. Krishnan
, M.D., led the Phase 1 study investigating the BCMA and CD3 bispecific IgG4 antibody teclistamab. The immunotherapy treatment redirects CD3-positive T cells to BCMA-expressing MM cells upon which tumor cell death is induced. In the first-in-human Phase 1 trial, Krishnan and collaborators worked to identify the recommended Phase 2 dose (RP2D) and characterize safety and tolerability at the RP2D.
Eligible patients received teclistamab intravenously or subcutaneously in different cohorts with step-up dosing. The RP2D was identified as weekly subcutaneous dosing at 1500 µg/kg teclistamab with 60 and 300 µg/kg step-up doses. No dose-limiting toxicities were reported and the most common adverse events were low-grade cytokine release syndrome and neutropenia. The overall response rate in patients treated at the RP2D (n=40) was 65%, and 40% of these patients achieved a complete response or better. At the RP2D, teclistamab also showed durable, deepening responses with consistent T cell activation observed. The immunotherapy shows promise for MM patients, and further investigation into the drug as a monotherapy or in combination with other agents is warranted.
A first-in-class antibody-drug conjugate and chemotherapy combination achieves partial responses in patients with platinum resistant epithelial ovarian cancer
Folate receptor alpha (FRα) is a tumor-associated antigen that is overexpressed in ovarian, breast and lung cancer tumors. Targeted treatment strategies, such as mirvetuximab soravtansine (MIRV), an antibody-drug conjugate (ADC) with an FRα-binding antibody, may offer individualized treatment approaches for patients with challenging to treat cancers or those that are chemotherapy resistant. To investigate the potential of MIRV, Mihaela C. Cristea, M.D., conducted a Phase 1 study of the ADC in combination with gemcitabine in patients with FRα-positive solid tumors. The trial includes patients with recurrent FRα-positive, platinum resistant epithelial ovarian cancer (EOC), endometrial and triple-negative breast cancer.
For the EOC cohort, which was comprised of 30 participants, 50% of patients had high FRα, 33% had medium FRα and 17% had low FRα expression. Of the patients treated with MIRV and gemcitabine, 36% achieved a partial response, 50% had stable disease and 13% progressed. The findings illustrate that promising clinical activity can be seen when MIRV is given in combination with gemcitabine for patients with platinum resistant, FRα-positive EOC, and that best responses were observed in patients with high FRα expression. Clinically significant adverse events included sensory neuropathy, diarrhea, fatigue, pneumonitis and respiratory failure; however, these are in line with known toxicities for each treatment agent.
The trial is ongoing and results are pending for the remaining cohorts.
Clinical outcomes in patients with metastatic urothelial cancer (mUC) caution reduction of standard treatment regimen
The current upfront chemotherapy regimen for patients with mUC is cisplatin with gemcitabine (CG). In preclinical studies however, a synergistic effect was seen when cisplatin and the selective ATR inhibitor berzosertib were given in combination. To further explore how berzosertib could impact clinical outcomes in patients with mUC
Sumanta K. Pal
, M.D., who received a Fellow ASCO distinction, and a team of researchers from 23 centers across the nation, conducted an open-label study of the ATR inhibitor given in combination with CG.
Patients with no prior cytotoxic therapy were randomized to receive CG alone or CG in addition to berzosertib (control and experimental arms, respectively). For patients in both control and experimental arms, the median progression-free survival, which was the primary endpoint, was eight months (95% confidence interval: 0.72-2.08). The response rate (RR) was lower and the median overall survival (OS) was shorter in the experimental arm as compared to the control arm as well (RR of 54% versus 63%, OS of 14.4 versus 19.8 months).
These findings, and higher rates of toxicity-related discontinuation, indicate that reduction in the standard CG regimen to accommodate for berzosertib, or other myelosuppressive agents, should be done with caution.
Predicting prognosis in patients with high-grade glioma treated with CAR T cell therapy using clinical, molecular and radiomic profiles
In an effort to better predict overall survival in patients with high-grade glioma, an aggressive heterogenous primary central nervous system neoplasm that recurs frequently and is associated with poor survival, Chi Wah "Alec" Wong, Ph.D., and Ammar Chaudhry, M.D., worked to develop a explainable machine learning model using artificial intelligence in collaboration with the CAR T cell team, led by
Christine Brown
, Ph.D., The Heritage Provider Network Professor in Immunotherapy, and
Behnam Badie
, M.D., The Heritage Provider Network Professor in Gene Therapy. These types of models have been successful in identifying biomarkers that are predictive of treatment response and prognosis, and when paired with a treatment like CAR T cell therapy may offer insight into specific treatment markers associated with survival.
All patients in the Phase 1 trial received surgical resection and CAR T cell therapy. Baseline magnetic resonance imaging scans were performed to generate radiomic features. Additional features that were incorporated into the predictive model included: age, gender, race, ethnicity, histology, tumor grade, IL-13 receptor alpha 2 expression (IL-13Rα2), unifocal or multifocal lesions, tumor location and shape-based radiomics. To classify whether survival was above or below 180 days, gradient-boosted tree models with two-loop nested cross-validation were used. The team used the Shapley additive explanation (SHAP) framework for prediction explanations.
Calculations from SHAP showed that patients with larger tumor surface area, tumor volume and advanced age had reduced survival scores in contrast with patients with larger IL-13Rα2 and tumor sphericity had increased survival scores. These results indicate that the model could potentially be used to optimize clinical trial enrollment and treatment planning.
Studying early PARP inhibition therapy in a diverse population of patients with metastatic hormone-sensitive prostate cancer may offer response insights
As PARP inhibitor therapy has been shown to benefit a minority of men with metastatic castration-resistant prostate cancer, Saro Kasparian, M.D., and his colleague
Tanya Dorff, M.D.
, wanted to determine whether early PARP inhibition could delay progression in patients with metastatic hormone-sensitive prostate cancer (mHSPC). PARP inhibitors such as talazoparib have the ability to inhibit DNA repair, trap PARP and prevent it from carrying out other functions such as interaction with other cellular mechanisms including androgen receptors (AR). Since progression in mHSPC is based on AR escape mechanisms, it is predicted that PARP inhibition will lead to delayed progression.
A caveat lies in the different AR characteristics and functions of different ethnic populations. For instance, African American (AfrAm) men have shorter CAG repeats in their AR. As AR expression is inversely related with the number of CAG repeats, a different response duration of PARP inhibition may be seen. As AfrAm men have been under-represented in clinical trials, the study of an early therapy in a diverse population is sorely needed. The team is looking to recruit 70 subjects with a target of 30% AfrAm men. Study participants will be treated with androgen depletion therapy, abiraterone and talazoparib.
Primary objectives will be to assess the PSA nadir, and the number of participants allows for 97% power to confirm improved nadir rate of 75% as well as 83% power to determine a nadir rate >70%. Secondary objectives include objective response, radiographic progression free survival assessment and comparative outcomes in subsets of men with high vs low AR CAG repeats, men with genomic alterations and the change in ctDNA alteration fractions from baseline through progression.
An enterprise-wide somatic and germline sequencing program identified cancer susceptibility and could help guide cancer risk and treatment
Current criteria-based testing, and strict eligibility requirements, to identify cancer susceptibility (CS) misses half of all CS mutation carriers. For some patients, the absence of genetic assessment overlooks the identification of rare but actionable genetic disorders whose identity could result in a modification of treatment and care. With the aim of  improving patient outcomes, and possibly identifying treatable noncancer disease,
Stacy W. Gray
, M.D.,
Kevin McDonnell
, M.D., Ph.D., alongside
Stephen B. Gruber
, M.D., M.P.H., Ph.D., began offering an enterprise-wide somatic and germline sequencing program to all patients.
Patients who consented to the program were provided clinical grade paired somatic and germline whole exome- and RNA-sequencing, as well as panel germline testing for cancer. Patients also received the same series of sequencing and testing for actionable genetic disorders defined by the American College of Medical Genetics (ACMG). Results were reviewed by a Precision Oncology Tumor Board.
Of 1,804 patients enrolled, 14% having findings suggestive of germline conditions based on tumor mutation burden, microsatellite instability and young age. Of the patients who were sequenced for CS and ACMG disorders (n=648; n=647), 18% had pathogenic/likely pathogenic mutations in CS genes and 4% had these mutations in ACMG noncancer genes. These findings illustrate the ability of prospective somatic and germline sequencing to identify germline disorders, CS and noncancer genetic conditions. A comprehensive sequencing program could help guide treatment approaches, manage unrecognized cancer risk and proactively monitor noncancer disorders.