Ana Isabel Tergas, M.D., M.P.H.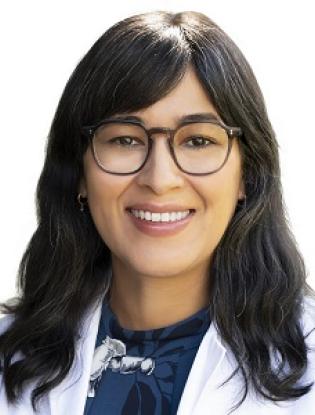 Gynecologic Surgeon
Clinical Expertise
Cervical Cancer
Cervical Dysplasia
Endometrial/Uterine Cancer
Endometrial Hyperplasia
Ovarian Cancer
Gestational Trophoblastic Disease/neoplasia
HIPEC — Hyperthermic (or Heated) Intraperitoneal Chemotherapy
Laparoscopic Surgery
Fertility Sparing Cancer Treatments
Patient-centered And Culturally Sensitive Care
Research Area
Health Inequities
Cervical Cancer And HPV
End-of-life Care
Cancer Care Delivery
Health Services Research
Epidemiology
International Health
Appointments
Assistant Clinical Professor, Division Of Gynecologic Oncology, Department Of Surgery
Surgeon Ana Tergas, M.D., M.P.H., believes that City of Hope and its enterprise-wide dedication to its mission of transforming the future of health is a perfect match for her own philosophy. She identifies compassion, integrity, excellence and collaboration as essential values for her, and considers it a privilege to help guide patients and families through their cancer journey.
Fluent in Spanish, Dr. Tergas earned her medical degree from the University of Miami, then served as a resident in obstetrics and gynecology at the University of Chicago and as a fellow in gynecologic oncology at Johns Hopkins, where she also received a Master of Public Health degree. Before joining City of Hope, she was an assistant professor at Columbia University. A researcher funded by the National Institutes of Health, Dr. Tergas focuses her studies on racial and ethnic health inequities, particularly in cervical cancer and end-of-life care.
2021-present, NJDCATEMP-035469, New Jersey

2019, Obstetrics and Gynecology

2013-present, 270449, New York
2010-2011, M.P.H., Johns Hopkins Bloomberg School of Public Health, Baltimore, MD

2001-2006, M.D., University of Miami Miller School of Medicine, Miami, FL

1998-2000, B.S., University of Florida, Gainesville, FL

1996-1998, Agnes Scott College, Decatur, GA
2010-2013, Gynecologic Oncology Fellow, Division of Gynecology Oncology, Department of Gynecology and Obstetrics, Johns Hopkins Medical Institutions, Baltimore, MD
2006-2010, Obstetrics and Gynecology resident, Department of Obstetrics and Gynecology, University of Chicago Hospitals, Chicago, IL
2021-present, Assistant Clinical Professor, Division of Gynecologic Oncology, Department of Surgery, Division of Gynecologic Oncology, City of Hope, Duarte, CA

2019-2021, Attending Gynecologic Oncologist, St. Barnabas Hospital Department of Obstetrics and Gynecology, Bronx, NY

2013-2021, Assistant Attending, New York-Presbyterian/Columbia University Irving Medical Center, New York, NY

2016-2021, Assistant Professor, Columbia University College of Physicians and Surgeons, Department of Obstetrics and Gynecology, Division of Gynecologic Oncology, New York, NY

2013-2016, Clinical Instructor, Columbia University College of Physicians and Surgeons, Department of Obstetrics and Gynecology, Division of Gynecologic Oncology, New York, NY

2013-2015, Postdoctoral Research Scientist, Department of Epidemiology Cancer Training Program, Columbia University Mailman School of Public Health, New York, NY
2015-2017, Super Doctors, Rising Stars List, New York Metro Area, NY

2012-2013, Armstrong Institute for Patient Safety and Quality Resident Scholars Training Fellowship, Johns Hopkins University

2012, Greater Baltimore Medical Center IRB Research Award

2010, MPH Field Experience Award, Johns Hopkins School of Public Health Chicago Lying-in Hospital Excellence in Student Teaching Award

2008-2009, Academic Chief Resident, Department of Obstetrics and Gynecology, University of Chicago Hospitals

2009, Galloway Fellowship, Memorial Sloan-Kettering Cancer Center

2005, John K. Robinson Award for Student Initiatives, University of Miami School of Medicine

2005, International Federation of Medical Students' Associations, elected National Vice President of the Southeast Region and Delegate to the 54th IFMSA Meeting of the General Assembly, Turkey

2000, Honors distinction, University of Florida
2014-present, International Papillomavirus Society

2014-present, American Society of Colposcopy and Cervical Pathology

2010-present, American Society of Clinical Oncology

2010-present, International Gynecologic Cancer Society

2009-present, Society of Gynecologic Oncology
Castle PE, Locke A, Tergas AI, Befano B, Poitras N, Shah NR, Schiffman M, Wentzensen N, Strickler HD, Clarke MA, Lorey T. The relationship of human papillomavirus and cytology co-testing results with endometrial and ovarian cancer diagnoses. Gynecol Oncol. 2021 Jan 13:S0090-8258(21)00052-4. PMID: 33454132
Tobias CJ, Chen L, Melamed A, St Clair C, Khoury-Collado F, Tergas AI, Hou JY, Hur C, Ananth CV, Neugut AI, Hershman DL, Wright JD. Association of Neoadjuvant Chemotherapy With Overall Survival in Women With Metastatic Endometrial Cancer. JAMA Netw Open. 2020 Dec 1;3(12):e2028612. PMID: 33295973
Saidu R, Kuhn L, Tergas A, Boa R, Moodley J, Svanholm-Barrie C, Persing D, Campbell S, Tsai WY, Wright TC, Denny L. Performance of Xpert HPV on Self-collected Vaginal Samples for Cervical Cancer Screening Among Women in South Africa. J Low Genit Tract Dis. 2021 Jan 1;25(1):15-21. PMID: 33105451
Knisely A, Zhou ZN, Wu J, Huang Y, Holcomb K, Melamed A, Advincula AP, Lalwani A, Khoury-Collado F, Tergas AI, St Clair CM, Hou JY, Hershman DL, D'Alton ME, Huang YY, Wright JD. Perioperative Morbidity and Mortality of Patients With COVID- 19 Who Undergo Urgent and Emergent Surgical Procedures. Ann Surg. 2021 Jan 1;273(1):34-40. PMID: 33074900
Praiss AM, Huang Y, St Clair CM, Tergas AI, Melamed A, Khoury-Collado F, Hou JY, Hu J, Hur C, Hershman DL, Wright JD. Using machine learning to create prognostic systems for endometrial cancer. Gynecol Oncol. 2020 Dec;159(3):744-750. PMID: 33019982
Huang Y, Jacobson JS, Tergas AI, Ananth CV, Neugut AI, Hershman DL, Wright JD. Insurance-Associated Disparities in Opioid Use and Misuse Among Patients Undergoing Gynecologic Surgery for Benign Indications. Obstet Gynecol. 2020 Sep;136(3):565-575. PMID: 32769642
Blanco M, Chen L, Melamed A, Tergas AI, Khoury-Collado F, Hou JY, St Clair CM, Ananth CV, Neugut AI, Hershman DL, Wright JD. Cost of Care for the Initial Management of Cervical Cancer in Women with Commercial Insurance. Am J Obstet Gynecol. 2020 Aug 17:S0002-9378(20)30867-X. PMID: 32818476
Wu J, Huang Y, Tergas AI, Melamed A, Khoury-Collado F, Hou JY, St Clair CM, Ananth CV, Hershman DL, Wright JD. The effect of guideline-concordant care in mitigating insurance status disparities in cervical cancer. Gynecol Oncol. 2020 Aug 14:S0090-8258(20)33762-8. PMID: 32800656
Knisely A, Huang Y, Melamed A, Tergas AI, St Clair CM, Hou JY, Khoury-Collado F, Ananth CV, Neugut AI, Hershman DL, Wright JD. Travel distance, hospital volume and their association with ovarian cancer short- and long-term outcomes. Gynecol Oncol. 2020 Aug;158(2):415-423. PMID: 32456990
Syeda SK, Chen L, Hou JY, Tergas AI, Khoury-Collado F, Melamed A, St Clair CM, Accordino MK, Neuget AI, Hershman DL, Wright JD. Trends in venous thromboembolism prophylaxis in gynecologic surgery for benign and malignant indications. Arch Gynecol Obstet. 2020 Jul 29. PMID: 32728922
Hasan Y, Furtado L, Tergas AI, Lee N, Brooks R, McCall A, Golden D, Jolly S, Fleming G, Morrow M, Kraynyak K, Sylvester A, Arif F, Levin M, Schwartz D, Boyer J, Skolnik J, Esser M, Kumar R, Bagarazzi M, Weichselbaum R, Spiotto M. A Phase 1 Trial Assessing the Safety and Tolerability of a Therapeutic DNA Vaccination Against HPV16 and HPV18 E6/E7 Oncogenes After Chemoradiation for Cervical Cancer. Int J Radiat Oncol Biol Phys. 2020 Jul 1;107(3):487-498. PMID: 32151670
Johnson LG, Saidu R, Mbulawa Z, Williamson AL, Boa R, Tergas AI, Moodley J, Persing D, Campbell S, Tsai WY, Wright TC, Denny L, Kuhn L. Selecting human papillomavirus genotypes to optimize the performance of screening tests among South African women. Cancer Med. 2020 Jul 24. PMID: 32706163.
Margolis B, Cagle-Colon K, Chen L, Tergas AI, Boyd L, Wright JD. Prognostic significance of lymphovascular space invasion for stage IA1 and IA2 cervical cancer. Int J Gynecol Cancer. 2020 Jun;30(6):735-743. PMID: 32179697
Praiss AM, Huang Y, St Clair CM, Tergas AI, Melamed A, Khoury-Collado F, Hou JY, Hur C, Ananth CV, Neugut AI, Hershman DL, Wright JD. A modern assessment of the surgical pathologic spread and nodal dissemination of endometrial cancer. Gynecol Oncol. 2020 May;157(2):329-334. PMID: 32094021
Huang AB, Huang Y, Hur C, Tergas AI, Khoury-Collado F, Melamed A, St Clair CM, Hou JY, Ananth CV, Neugut AI, Hershman DL, Wright JD. Impact of quality of care on racial disparities in survival for endometrial cancer. Am J Obstet Gynecol. 2020 Feb 25:S0002-9378(20)30209-X. PMID: 32109459
Kuhn L, Saidu R, Boa R, Tergas AI, Moodley J, Persing D, Campbell S, Tsai WY, Wright TC, Denny L. Clinical evaluation of modifications to a human papillomavirus assay to optimise its utility for cervical cancer screening in low-resource settings: a diagnostic accuracy study. Lancet Glob Health. 2020 Feb;8(2):e296-e304. PMID: 31981559
Knisely A, Huang Y, Melamed A, Tergas AI, St Clair CM, Hou JY, Khoury-Collado F, Ananth CV, Neugut AI, Hershman DL, Wright JD. Effect of regionalization of endometrial cancer care on site of care and patient travel. Am J Obstet Gynecol. 2020 Jan;222(1):58.e1-58.e10. PMID: 31344350
Sia TY, Chen L, Melamed A, Tergas AI, Khoury-Collado F, Hou JY, St Clair CM, Ananth CV, Neugut AI, Hershman DL, Wright JD. Trends in Use and Effect on Survival of Simple Hysterectomy for Early-Stage Cervical Cancer. Obstet Gynecol. 2019 Dec;134(6):1132-1143. PMID: 31764721
Couret M, Huang Y, Khoury-Collado F, Friedman A, Hou JY, St Clair CM, Tergas AI, Ananth CV, Wright JD. Patterns of care for women with placenta accreta spectrum. J Matern Fetal Neonatal Med. 2019 Nov 19:1-7. PMID: 31744356
Schlechtweg K, Chen L, St Clair CM, Tergas AI, Khoury-Collado F, Hou JY, Melamed A, Neugut AI, Hershman DL, Wright JD. Neuroendocrine carcinoma of the endometrium: Disease course, treatment, and outcomes. Gynecol Oncol. 2019 Nov;155(2):254-261. PMID: 31519319