East End Chapter/Jeanne Kaye League
The New York City-based East End Chapter/Jeanne Kaye League is comprised of women who represent all facets of the city's business, philanthropic and cultural communities.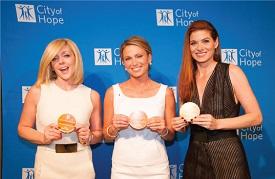 Who We Are
The East End Chapter/Jeanne Kaye league is comprised of 500 New York women led by co-presidents Lisa Kaye Fuld, Ann Levine and Honey Cook, and by a talented and dedicated board. The chapter has been raising money for City of Hope for more than 40 years.
What We Do
The chapter hosts the annual Spirit of Life® Spring Luncheon, City of Hope's signature east coast event in addition to numerous other events throughout the year.
Because of the need for physical distancing to protect the public from COVID-19, we will not be holding in-person events in 2020. In lieu of an event ticket or sponsorship, please consider making a generous, fully tax-deductible gift directly to City of Hope.
Our Safety Measures
To help maintain a healthy environment, enhance safety and lower the risk of COVID-19 spread, all events will have special protocols in place. For more information please email your City of Hope contact.