Lindsey Murphy, M.D., M.S.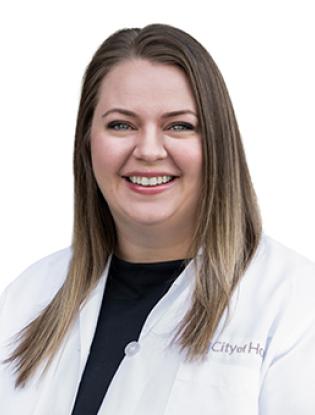 Pediatric Hematologist-Oncologist
Clinical Expertise
Pediatric Hematology - Oncology
Appointments
Assistant Professor, Department of Pediatrics
Pediatric oncologist Lindsey Murphy, M.D., M.S., looks at the patients and families she serves as teammates. She prioritizes open, honest communication with them and makes sure she gets to know them to ensure that each treatment plan is aligned with that family's goals. She's excited about the rapid progress in her field and the chance to offer patients new treatments that give results.
Dr. Murphy is a physician-scientist with multiple lines of investigation aiming to advance leukemia treatment. She developed a test to help assess the success of CAR T cell therapy, an innovative treatment that augments a patient's own immune cells in order to fight cancer. She has also designed several clinical trials testing CAR T cell therapy for B cell acute lymphoblastic leukemia. Other investigations focus on improving the process of treatment itself in stem cell transplantation, chemotherapy and oncology inpatient care.
Raised in Southern California, Dr. Murphy enjoys quality time with family and close friends, cooking and baking when away from work. She is a fan of all things Disney.

Basic Text Field
2022, Board Eligible, Pediatric Hematology/Oncology
2019, Board Certification, General Pediatrics, American Board of Pediatrics
Basic Text Field
2022, Master of Science, Clinical Science, University of Colorado Anschutz Medical Campus, Aurora, Colorado
2016, Doctor of Medicine, University of Nevada School of Medicine, Reno, Nevada
Basic Text Field
2022, Pediatric Hematology/Oncology, University of Colorado Anschutz Medical Campus/Children's Hospital Colorado, Aurora, Colorado
Basic Text Field
2019, Pediatrics, University of Washington/Seattle Children's Hospital, Seattle, Washington
Basic Text Field
2023-present, Assistant Professor, Department of Pediatrics, City of Hope, Duarte, California
Awards
2022, Swim Across America Fellowship Grant Award Recipient
2020, T32 Cancer Immunology and Experimental Therapeutics Grant Award Recipient
2015, Alpha Omega Alpha, National Medical Honor Society, Junior AOA Honoree
2015, Medical Student Rising Star Award, Clark County Medical Society
2015, Caroline Graham-Lamberts Memorial Scholarship
2014, Soroptimist International of Truckee Meadows, Jack Simon Graduate Scholarship
2013-2015, Pennington Medical Scholarship
2013, Outstanding First Year Medical Student, UNSOM
2010-2011, Postgraduate Fulbright Scholar Fellowship Award
2010, Most Outstanding Biology Graduate, Pepperdine University
2009, National Science Foundation – Research Experience for Undergraduate Fellowship Award
Memberships
American Society of Hematology
American Society of Pediatric Hematology/Oncology
Children's Oncology Group
American Society of Clinical Oncology
American Association of Cancer Research
American Academy of Pediatrics
Alpha Omega Alpha, National Medical Honor Society
American Medical Women's Association
American Medical Association
Murphy L, Marians R, Miller K, Brenton M, Mallo R, Kohler ME, Fry T, Winters A. Digital polymerase chain reaction strategies for accurate and precise detection of vector copy number in chimeric antigen receptor T-cell products. Cytotherapy. 2023 Jan;25(1):94-102.

Murphy L, Miller K, Winters A, Franklin A, Verneris M, Keating A. Time to transplantation and pediatric acute myeloid leukemia outcomes. Bone Marrow Transplant. 2022 Dec 10. Epub ahead of print.

Murphy L, Maloney K, Gore L, Blanchette E. Hypertension in pediatric leukemia patients: prevalence, impact, and management strategies. Integrated Blood Pressure Control. 2022 Jan 19;15:1-10.
Murphy L, Ramirez E, Trinh V, Herman A, Anderson V, Brewster J. Endoplasmic reticulum stress or mutation of an EF-hand Ca2+-binding domain directs the FKBP65 rotamase to an ERAD-based proteolysis. Cell Stress Chaperones. 2011;16(6):607–619.