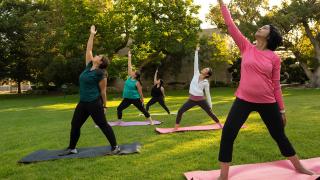 Integrative Medicine and Healing Therapies: How Complementary or Alternative Medicine Can Help You Heal
From massage to meditation, integrative medicine — which uses evidence-based, complementary practices in combination with conventional medicine — can help cancer patients and survivors regain health and build a lifestyle focused on wellness.
Types of integrative medicine found to be beneficial for cancer survivors include:
Acupuncture

Massage therapy

Meditation

Music therapy

Relaxation techniques

Stress management

Tai Chi

Yoga 

Art Therapy
City of Hope offers several treatments to help cancer survivors regain their health. For more information about our classes and group offerings, please call us at 626-218-2273 or see our Support Services Calendar.
 
Yoga
Yoga is a mind and body exercise that incorporates physical poses, stretching, breathing and relaxation techniques to improve health and wellbeing. Studies show yoga can reduce anxiety, depression, stress and fatigue in cancer survivors, while improving sleep and overall quality of life.

City of Hope's Gentle Yoga: Mind, Body, and Meditation for Patients and Caregivers class Gentle Yoga is open to patients receiving treatment at all City of Hope locations and their caregivers.  This class is designed to help improve range of motion, flexibility, strength and bone health, all while building resilience and connection between the mind and body. Instructor can tailor exercises to your needs, whether it be chair yoga or exercising on the mat. No previous experience required.

Read more: Therapeutic Yoga for Cancer Survivors and People with Cancer
Acupuncture
Acupuncture uses small needles, heat, pressure or electricity to alleviate a variety of physical, mental or emotional conditions.  

Research shows this treatment can help cancer survivors with different side effects including anxiety, stress, depression, mood disorders, fatigue, pain, nausea and vomiting, peripheral neuropathy, bladder issues and hot flashes.

If you're interested, talk with your City of Hope doctor or nurse practitioner.
Community Resources for Acupuncture Treatment
Eagle Rock Community Acupuncture
This group's services are provided by licensed acupuncturists in community or common room;
private rooms are available at an additional cost.

2042 Colorado Blvd.
Los Angeles, CA 90041
ercaclinic.com
ercaclinic@gmail.com
323-255-2700

Long Beach Community Acupuncture
301 Atlantic Ave., Suite D
Long Beach CA, 90802
longbeachcommunityacupuncture.com
infolongbeachca@gmail.com
562-477-5045
Center Point Community Acupuncture
This group offers treatments on sliding scale fee of $20 to $40 with an initial consultation fee of
$15 for new patients.

6324 Coldwater Canyon Ave.
North Hollywood CA, 91606
cpacupuncture.com
cpcafrondesk@gmail.com
818-358-2178 (Spanish speaking)
Meditation
10 Minute Guided Imagery Meditation
Meditation refers to a variety of techniques that incorporate focusing attention and regulating breathing to increase inner calmness, relaxation and mindfulness.  

Studies show that meditation can help to improve overall quality of life for cancer survivors and has been found to reduce stress, anxiety, depression and mood disorders.

Our City of Hope Breathing and Meditation Class teaches simple meditation and breathing techniques to relieve stress and anxiety, enhance health and wellbeing, and promote a good night's sleep.

No previous experience is required; patients and caregivers are welcome.
Watch more City of Hope breathing and meditation videos on YouTube.
Massage Therapy
Massage therapy has been shown to boost confidence and body image, ease pain and promote a sleep while relieving stress, anxiety and depression.  

Although massage is commonly used as integrative therapy, cancer patients should first consult with their doctor and make sure to only go to a qualified massage therapist for treatment.
City of Hope's
Department of Supportive Care Medicine
has specialized staff and further resources to provide City of Hope patients and their families with an integrated, interdisciplinary array of services to address the many issues that can arise during and after treatment. 
Integrated Therapies in the Community