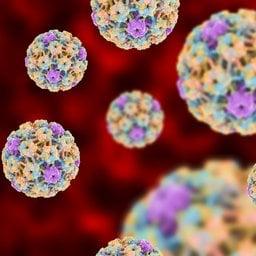 An estimated 20,000 to 30,000 human papillomavirus-associated cancers are diagnosed annually in the United States. HPV16-induced cancers, a strain that causes about 70% of all cervical cancers worldwide, are ideal candidates for targeted T cell therapy due to their nonself antigens.

Those antigens can be readily recognized by immune cells inducing T cell activation. While T cell therapy has been well-recognized in hematological cancers, limited research has been done in solid tumor treatment as it presents a major hurdle due to these tumors' immunosuppressive nature.

Our investigators are leading the way in this arena. They launched the first-in-human, phase 1 trial that utilizes genetically engineered human T cells with KITE-439 receptors for the treatment of patients with relapsed or resistant HPV-associated cancers. This engineered receptor works on targeting antigens expressed in cancer cells that are infected by HPV, leading to a T cell activation against the cells. Adult, HLA-A201 positive patients with relapsed/refractory HPV16 solid tumors are now being enrolled in this two-part, open-label study sponsored by Kite Pharma.

The principal investigator is Erminia Massarelli, M.D., Ph.D., M.S., an associate clinical professor in the Department of Medical Oncology & Therapeutics Research, specializing in lung and head and neck cancers. The study focuses on the safety and efficacy of KITE-439. Patients will receive cyclophosphamide and fludarabine conditioning chemotherapy followed by a single dose of KITE-439.

While enrolling adults who had at least one line of therapy, including systematic chemotherapy, the first part of the study will evaluate the dose-limiting toxicity after a single dose of KITE-439. Based on the selected dose, part two will evaluate the efficacy of the intervention by measuring the objective response rate.
Have a patient who may be a candidate for T cell therapy?
Call the dedicated T cell therapy referral line, 833-310-CART (2278), or visit CityofHope.org.

For a full listing of clinical trials, visit clinicaltrials.coh.org.
****