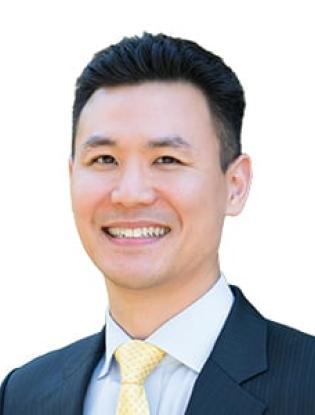 Gynecologic Oncologist
Clinical Expertise
Ovarian Cancer
Cervical Cancer
HIPEC — Hyperthermic (or Heated) Intraperitoneal Chemotherapy
Uterine (Endometrial) Cancer
Robotic Surgery
Appointments
Assistant Clinical Professor, Division of Gynecologic Oncology, Department of Surgery
Additional Contacts
Referring Physicians/Colleagues
Stephen J. Lee, M.D., is a gynecologic oncologist specializing in advanced cytoreductive procedures for ovarian cancer, which can significantly improve the survival outcome for patients. He is also an expert in robotic-assisted (minimally invasive) surgery for uterine and cervical cancers, which can reduce scarring, pain and recovery time.
Dr. Lee received his medical doctorate from the Feinberg School of Medicine of Northwestern University in Chicago and completed an internship in general surgery at Rush University Medical Center, also in Chicago. He continued his postgraduate training at the Albert Einstein College of Medicine in Bronx, New York, in obstetrics and gynecology, and completed a fellowship in gynecologic oncology at Memorial Sloan Kettering Cancer Center. He has written more than 20 publications and has been invited to discuss his work nationally and internationally.
1500 East Duarte Road
Duarte, CA 91010

209 Fair Oaks Avenue
South Pasadena, CA 91030

2004, M.D., Northwestern University, Feinberg School of Medicine, Chicago, IL

B.A., Biological Sciences (Physiology) and Economics, Cum Laude, Northwestern University, Evanston, IL
2011-2015, Gynecological Service Fellowship, Memorial Sloan Kettering Cancer Center, New York, NY
2007-2011, Albert Einstein College of Medicine, Montefiore Medical Center, Department of Obstetrics & Gynecology and Women's Health, Bronx, NY
2004-2005, General Surgery Internship, Rush University Medical Center, Chicago, IL
2015-present, Assistant Clinical Professor, Division of Gynecologic Oncology, Department of Surgery, City of Hope, Duarte, CA
Society of Gynecologic Oncology

American College of Obstetricians and Gynecologists

American Medical Association
Chung C, Edrosa E, Wakabayashi M, Lee S, Dellinger T, Chan K, Han E. "Prolapse Repair After Anterior Exenteration" Int Urogynecol J. 2020 July; D-20-00273R1 Accepted
Li R, Shinde S, Han E, Lee S, Beriwal S, Harkenrider M, Kamrava M, Chen YJ, Glaser S. A proposal for a new classification of "unfavorable risk criteria" in patients with stage i endometrial cancer, Int J Gynecol Cancer. 2019 Sep;29(7):1086-1093. PMID: 31474587
Chung C, Lee S, Wakabayashi M. Uterine and Cervical Cancer with Irreducible Pelvic Organ Prolapse. Am J Obstet Gynecol. 2018 Dec;219(6):621-622. PMID: 29852160
Chung CP, Dao NT, Wakabayashi MT, Dellinger TH, Lee SJ, Han ES. Concurrent pelvic reconstruction and minimally invasive pelvic cancer surgery. Int Urogynecol J. 2018 Nov;29(11):1709-1711. PMID: 30121701
Eng OS, Raoof M, Blakely AM, Yu X, Lee SJ, Han ES, Wakabayashi MT, Yuh B, Lee B, Dellinger TH. A collaborative surgical approach to upper and lower abdominal cytoreductive surgery in ovarian cancer. J Surg Oncol. 2018 Jul;118(1):121-126. PMID: 29878375
Li R, Shinde A, Chen YJ, Amini A, Lee S, Dellinger T, Han E, Wakabayashi M, Nelson R, Beriwal S, Glaser S. Survival benefit of adjuvant brachytherapy after hysterectomy with positive surgical margins in cervical cancer. Int J Radiat Oncol Biol Phys. 2018 Jun 8. pii: S0360-3016(18)30929-5. doi: 10.1016/j.ijrobp.2018.05.076. PMID: 29890264.
Chung CP, Lee SJ, Wakabayashi MT. Uterine and cervical cancer with irreducible pelvic organ prolapse. Am J Obstet Gynecol. 2018 May 28. [epub ahead of print] PMID: 29852160
Dumitra S, O'Leary M, Raoof M, Wakabayashi M, Dellinger TH, Han ES, Lee SJ, Lee B. The Comprehensive Complication Index: a New Measure of the Burden of Complications After Hyperthermic Intraperitoneal Chemotherapy. Ann Surg Oncol. 2018 Mar;25(3):688-693 PMID: 29260417
Eng OS, Dumitra S, O'Leary M, Raoof M, Wakabayashi M, Dellinger TH, Han ES, Lee SJ, Paz IB, Lee B. Association of Fluid Administration with Morbidity in Cytoreductive Surgery With Hyperthermic Intraperitoneal Chemotherapy. JAMA Surg. 2017 Dec 1;152(12):1156-1160 PMID: 28832866
Eng OS, Dumitra S, O'Leary M, Wakabayshi M, Dellinger TH, Han ES, Lee SJ, Paz B, Singh G, Lee B. Base excess as a predictor of complications in cytoreductive surgery with hyperthermic intraperitoneal chemotherapy. Ann Surg Oncol. 2017 Sep;24(9):2707-2711 PMID: 28560593
Dellinger TH, Hakim AA, Lee SJ, Wakabayashi MT, Morgan RJ, Han ES. Surgical management of vulvar cancer. J Natl Compr Canc Netw. 2017 Jan;15(1):121-128 PMID: 28040722
Suidan RS, St Clair CM, Lee SJ, Barlin JN, Long Roche KC, Tanner EJ, Sonoda Y, Barakat RR, Zivanovic O,Chi DS. A comparison of primary intraperitoneal chemotherapy to consolidation intraperitoneal chemotherapy in optimally resected advanced ovarian cancer. Gynecol Oncol. 2014 Sep;134(3):468-72
Lee SJ, Calderon B, Gardner GJ, Mays A, Nolan S, Sonoda Y, Barakat RR, Leitao MM Jr. The feasibility and safety of same-day discharge after robotic-assisted hysterectomy alone or with other procedures for benign and malignant indications. Gynecol Oncol. 2014 Jun;133(3):552-5
Leitao MM Jr, Bartashnik A, Wagner I, Lee SJ, Caroline A, Hoskins WJ, Thaler HT, Abu-Rustum NR, Sonoda Y, Brown CL, Jewell EL, Barakat RR, Gardner GJ. Cost-effectiveness analysis of robotically assisted laparoscopy for newly diagnosed uterine cancers. Obstet Gynecol. 2014 May;123(5):1031-7
Seagle BL, Falter KJ 2nd, Lee SJ, Frimer M, Samuelson R, Shahabi S. Mullerian adenosarcoma of the cervix: report of two large tumors with sarcomatous overgrowth or heterologous elements. Gynecol Oncol Case Rep. 2014 May 5;9:7-10
Sandadi S, Gadzinski JA, Lee S, Chi DS, Sonoda Y, Jewell EL, Brown CL, Gardner GJ, Barakat RR, Leitao MM Jr. Fellowship learning curve associated with completing a robotic assisted total laparoscopic hysterectomy. Gynecol Oncol. 2014 Jan;132(1):102-6
Sandadi S, Lee S, Walter A, Gardner GJ, Abu-Rustum NR, Sonoda Y, Brown CL, Jewell E, Parameswaran R, Barakat RR, Leitao MM Jr. Incidence of venous thromboembolism after minimally invasive surgery in patients with newly diagnosed endometrial cancer. Obstet Gynecol. 2012 Nov;120(5):1077-83
Einstein MH, Klobocista M, Hou JY, Lee S, Mutyala S, Mehta K, Reimers LL, Kuo DYS, Huang GS, Goldberg GL. Phase II Trial of Adjuvant Pelvic Radiation "Sandwiched" Between Ifosfamide or Ifosfamide plus Cisplatin in Women with Uterine Carcinosarcoma. Gynecol Oncol. 2012 Jan;124(1):26-30
Gupta D, Gunter MJ, Yang K, Lee S, Zuckerwise L, Chen L, Goldberg GL, Huang GS. Performance of serum CA125 as a prognostic biomarker in patients with uterine papillary serous carcinoma. International Journal ofGynecological Cancer. 2011;21(3):529-534
Ratings and reviews below are gathered from the Press Ganey Clinician and Group Consumer Assessment of Healthcare Providers and Systems (CG CAHPS) survey. CG CAHPS is a standardized survey that is used to measure a patient's experience in the physician office setting. Ratings are an average of all responses to questions about a provider's care, with 5 stars being the highest.
Ratings
4.9
Know important info medical history
4.9
Show respect for what you say
4.9
Spend enough time with you
4.9
Recommend this provider office
4.9
Provider explain in way you understand
4.9
Provider listen carefully to you
---
Reviews
Dr.Lee always combines expertise and care.
- Verified patient
A feeling of unity prevails at the City of Hope.
- Verified patient
Dr. Lee was wonderful. I felt at ease right away. He was very personable and spoke to me and really listened to my concerns. We need more doctors like Dr. Lee. I liked that he wasn't in a hurry to get me out as so many doctors are these days.
- Verified patient