Myeloma Support Services
Living with Myeloma
When you come to City of Hope, you have access to a strong network of support services and staff to help you and your family along your cancer journey. That support is an integral part of your care and includes everything from financial counseling to talk therapy to meditation to being paired up with a patient navigator.
We can help with all of the following concerns, and more:
Pain management
Navigating the health care system
Staying healthy and active
Healing arts
Caregiver skills
Learn more about these resources by visiting our Living with Cancer or Supportive Care Medicine sites.
Join a Community of People Who Understand What You Are Going Through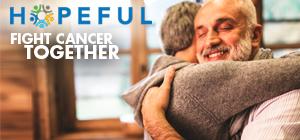 Hopeful is an online space where anyone touched by cancer can connect and learn to thrive. It features new stories weekly on everything from recipes to news about immunotherapy and other groundbreaking treatments. No one should have to go through cancer alone, and Hopeful ensures that every person will have a supportive community to lean on.