HIPEC — Hyperthermic (or Heated) Intraperitoneal Chemotherapy
The peritoneum, or lining of the abdomen, can be viewed as an organ of its own, with its challenges when cancer strikes.
City of Hope's peritoneal surface malignancies team offers patients an alternative to traditionally administered chemotherapy. Hyperthermic (or heated) intraperitoneal chemotherapy (HIPEC) involves aggressive surgery for cancer followed by immediate delivery of chemotherapy to the peritoneum in a single procedure.
Why Choose City of Hope?
City of Hope is a high-volume performing center for HIPEC, offering a less-invasive laparoscopic procedure. This unparalleled experience and access begin with our collaborative team of compassionate clinical experts. Our patients benefit from the seamless integration of surgery, gynecology, medical oncology, interventional radiology, anesthesiology and intensive care. Our peritoneal surface malignancies team works to evaluate each case and decide the best treatment course. This close coordination and patient-focused ethos are essential for offering a demanding procedure effective at providing long-term survival in patients with peritoneal malignancies.
At City of Hope, we currently treat the following using HIPEC:
How Does HIPEC Work?
HIPEC is an alternative to traditionally administered chemotherapy. Instead of infusing the medications through a vein, our care team circulates chemotherapy in the abdominal cavity during surgery. This allows direct treatment of certain cancers that have spread throughout the abdomen, with fewer blood vessels to transmit traditionally administered chemotherapy. After surgery, chemotherapy heated to 42 degrees Celsius is circulated in the abdomen for 60 to 90 minutes. After the chemotherapy is drained, the surgeons complete the procedure. These operations can take more than six hours to complete.
Even after our surgeons remove all visible tumors, smaller tumors or microscopic clusters of cancer cells may remain. HIPEC allows us to treat cancer left behind, including malignant cells hiding in areas that may not be accessible to our surgeons.
Our clinical staff can deliver higher medication dosages by placing the chemotherapy directly into the abdomen. The heat also helps: Chemotherapy is absorbed more effectively when hot, and malignant cells cannot repair themselves in the face of high heat the way healthy cells can. Combining heat and chemotherapy creates an especially lethal environment for cancer cells.

Studies show HIPEC with aggressive surgery improves survival in some cancers compared to traditional intravenous chemotherapy alone.
Duarte - Main Campus; South Pasadena
I. Benjamin Paz, M.D., is a nationally renowned surgical oncology surgeon, with expertise in breast cancer, gastrointestinal and rectal cancers, and tumors involving the bone and soft tissues.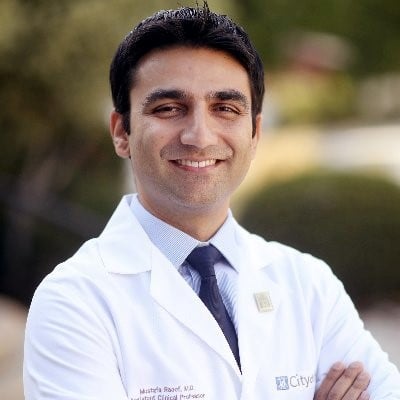 Duarte - Main Campus
Mustafa Raoof, M.D., M.S., is a surgical oncologist and an assistant professor in the Department of Surgery and in the Department of Cancer Genetics and Epigenetics.
Duarte - Main Campus
Vincent Chung, M.D., is a medical oncologist specializing in pancreatic cancer and gastrointestinal cancers.
Duarte - Main Campus
Marwan G. Fakih, M.D., is a medical oncologist specializing in gastrointestinal cancers.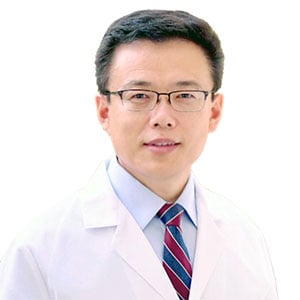 Duarte - Main Campus
Edward Wenge Wang, M.D., Ph.D., is the section chief of the Gynecologic Oncology and assistant professor in the Department of Medical Oncology & Therapeutics Research.
Nurse Practitioners/Ancillary Staff
Melissa Sideco, Duarte main campus
Janelle Saluja, Duarte main campus
Our HIPEC Clinical Trials
NCT03772028: City of Hope is one of only two U.S. sites for OVHIPEC-2, a large randomized Phase III trial for primary cytoreductive surgery in combination with HIPEC to treat ovarian cancer (currently, only offered after neoadjuvant chemotherapy).
Patient Enrollment Qualifications

Women aged 18 years or older
Patients diagnosed with ovarian cancer
Need Help?
If you have further questions about our HIPEC trials, we're here to provide answers.