Mustafa Raoof, M.D., M.S.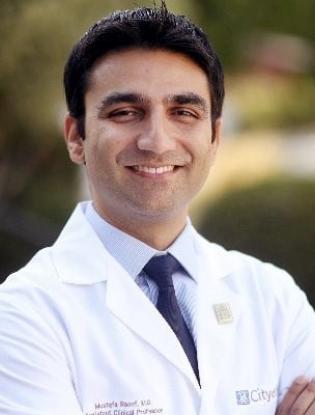 Surgical Oncologist
Clinical Expertise
Gallbladder and Bile Duct Surgery
Liver (Hepatobiliary) Surgery
Pancreatic Surgery
HIPEC - Hyperthermia Intraperitoneal Chemotherapy
PIPAC - Pressurized Intraperitoneal Aerosol Chemotherapy
Robotic surgery for Liver and Pancreatic Tumors
Surgery for Retroperitoneal Sarcomas and Gastrointestinal Stromal Tumors
Surgery for Neuroendocrine Tumors
Surgical Oncology
Research Area
Replication stress and DNA damage response in gastrointestinal cancers
Nanoparticles for targeted drug delivery in peritoneal surface malignancies
Immunology and immune therapies for gastrointestinal cancers
Appointments
Assistant Professor, Division of Surgical Oncology, Department of Surgery
Assistant Professor, Department of Cancer Genetics and Epigenetics
Becoming a physician enables you to help patients and make a difference in their lives, not just by providing high quality health care, but also by being a researcher, educator and an advocate."
A talented surgical oncologist and scientist, Mustafa Raoof, M.D., M.S., joined City of Hope in 2015, where he focuses on the surgical treatment of cancers within the abdominal cavity, particularly those from the liver, bile ducts, pancreas and the gastrointestinal tract. Additionally, Dr. Raoof has expertise in treating cancers that have spread to involve the liver or the peritoneum.

At City of Hope, Dr. Raoof is part of one of the largest programs in the region performing complex cytoreductive surgery and heated intraperitoneal chemotherapy for cancers that have disseminated within the abdominal cavity. He also has vast experience in providing all aspects of surgical care to patients whose cancer has spread to the liver.

In addition to clinical practice, Dr. Raoof conducts laboratory research focusing on DNA repair mechanisms in cancers. He is particularly interested in pancreatic cancer that has been very challenging to treat. By identifying and characterizing DNA repair processes that help cancer cells escape the toxic effects of chemotherapy, he is working to develop better targets for future therapies.

Dr. Raoof received his medical degree from Pakistan's Aga Khan University, then came to the U.S. where he continued his training at Harvard University, Yale University, MD Anderson Cancer Center and University of Arizona. He is the author of dozens of peer-reviewed papers that have been published in leading scientific journals, including Nature, Journal of National Cancer Institute and Biomaterials. Dr. Raoof is the recipient of several honors and awards, most notably, the National Comprehensive Cancer Network's Young Investigator Award, and the Pancreatic Cancer Action Network's Career Development Award.

Dr. Raoof's mission is to deliver complex surgical oncology care with expertise and compassion, as well as to develop new therapies for patients with gastrointestinal cancers. To that end, he chose City of Hope for its "culture of scientific discovery that accelerates adaptation of groundbreaking treatments to clinical cancer care."
2016, General Surgery, American Board of Surgery - January 2016

2018, Complex General Surgical Oncology, American Board of Surgery - February 2018
2011-2012, M.S. Patient-Based Biological Research/Translational Sciences, Graduate School of Biomedical Sciences, University of Texas, Houston, Texas

2006, BMMS, Aga Khan University, Pakistan
2015-2017, Complex Surgical Oncology, City of Hope, Duarte, California

2010-2012, Cancer Biology and Nanotechnology, MD Anderson Cancer Center, University of Texas, Houston, Texas

2007-2008, Immunology, Beth Isael Deaconess Medical Center, Harvard Medical School, Massachusetts
2009-2015, General Surgery, University of Arizona, Tucson, Arizona
2008-2009, General Surgery, Yale-New Haven Hospital, Yale University, New Haven, Connecticut
The long-term goal of our laboratory research is to develop a better understanding of how replication stress influences evolution of resistance to cancer treatment particularly in aggressive gastrointestinal cancers. We focus on DNA replication because DNA replication in mammalian cells is a highly complex process involving oversight by multiple pathways to maintain fidelity. Abnormal stalling and collapse of replication machinery at replication forks, termed "replication stress," is thought to be responsible for genomic instability in a wide variety of cancers. We have also learned that cancer cells utilize cells native DNA repair pathways and checkpoints to sustain a mutagenic phenotype. Besides oncogene-induced replication stress, most chemotherapeutics enhance replication stress and contrary to their intended purpose may actually accelerate the evolution of resistant phenotypes. Recent advances have increased our understanding of these pathways allowing opportunities to better characterize these pathways in patients, and to develop novel targeted therapeutics and biomarkers of response to therapy.
2021-23, Pancreatic Cancer Action Network Career Development Award

2020-22, NCCN Young Investigator Award

2019-21, American College of Surgeons, Faculty Research Fellowship

2018-19, Young Innovator Award, City of Hope

2017, American Society of Clinical Oncology Conquer Cancer Foundation Merit Award

2012, Young Investigator Award, Biology Informa-Yamamoto Society of Thermal Medicine
American College of Surgeons

Society of Surgical Oncology

Americas Hepato-Pancreato-Biliary Association

American Society of Colorectal Surgeons

Society for the Surgery of Alimentary Tract

American Association for Cancer Research
Selected Publications
Damage associated molecular patterns (DAMPS) and innate immune responses
Zhang Q, Raoof M, Chen Y, Sumi Y, Sursal T, Junger W, Brohi K, Itagaki K, Hauser CJ. Circulating mitochondrial DAMPs cause inflammatory responses to injury. Nature 2010 464(7285):104-7.
Raoof M, Zhang Q, Itagaki K, Hauser CJ. Mitochondrial Peptides Are Potent Immune Activators That Activate Human Neutrophils Via FPR-1. Journal of Trauma-Injury Infection and Critical Care 2010 Jun 68(6):1328-32.
Multi-functional nanomaterials for cancer therapy
Raoof M, Mackeyev Y, Cheney MA, Wilson LJ, Curley SA. Internalization of C60 fullerenes into cancer cells with accumulation in the nucleus via the nuclear pore complex. Biomaterials 2012 Apr 33(10):2952-60
Raoof M, Corr SJ, Kaluarachchi WD, et al. Stability of antibody-conjugated gold nanoparticles in the endo-lysosomal nanoenvironment: Implications for non-invasive radiofrequency-based cancer therapy. Nanomedicine 2012 Oct 8(7):1096-105
Raoof M, Cisneros BT, Guven A, Phounsavath S, Corr SJ, Wilson LJ, Curley, SA. Remotely triggered cisplatin release from carbon nanocapsules by radiofrequency fields. Biomaterials. 2013 Feb 34(7):1862-9.
Mackeyev Y, Raoof M, Cisneros BT, Koshkina N, Berger CS, Wilson LJ, Curley SA. Toward Paclitaxel-[60]Fullerene Immunoconjugates as a targeted prodrug against cancer. Nanosystems: Physics, Chemistry, Mathematics. 2014 Jan 5(1):0–8
Development of a non-invasive radiofrequency-based nanohyperthermia system for cancer treatment
Corr SJ, Raoof M, Mackeyev Y, Phounsavath S, Cheney MA, Cisneros BT, Shur M, Gozin M, McNally PJ, Wilson LJ, Curley SA. Citrate-capped gold nanoparticle electrophoretic heat production in response to a time-varying radiofrequency electric-field. J Phys Chem C Nanomater Interfaces. 2012 Nov 15 116(45):24380-24389
Raoof M, Curley SA. Non-invasive radiofrequency-induced targeted hyperthermia for the treatment of hepatocellular carcinoma. Int J Hepatol 2011:676957.
Raoof M, Cisneros BT, Corr SJ, Palalon F, Curley SA, Koshkina NV. Tumor selective hyperthermia induced by short-wave capacitively-coupled RF electric-fields. PLoS One. 2013 Jul 4 8(7):e68506
Raoof M, Corr SJ, Zhu C, Cisneros BT, Kaluarachchi WD, Phounsavath S, Wilson LJ, Curley SA. Gold nanoparticles and radiofrequency in experimental models for hepatocellular carcinoma. Nanomedicine 2014 Aug 10(6):1121-30
DNA damage and chemotherapy resistance in liver cancer
Raoof M, Zhu C, Cisneros BT, Liu H, Corr SJ,Wilson LJ, Curley SA. Hyperthermia inhibits homologous recombination at gemcitabine-stalled replication forks. JNCI 2014. 2014 Aug 106(8)
Ratings and reviews below are gathered from the Press Ganey Clinician and Group Consumer Assessment of Healthcare Providers and Systems (CG CAHPS) survey. CG CAHPS is a standardized survey that is used to measure a patient's experience in the physician office setting. Ratings are an average of all responses to questions about a provider's care, with 5 stars being the highest.
Ratings
4.9
Provider listen carefully to you
4.8
Show respect for what you say
4.8
Spend enough time with you
4.8
Recommend this provider office
4.8
Provider explain in way you understand
4.7
Know important info medical history
---
Reviews
A lot of informative suggestions
- Verified patient
Very high quality and knowledgeable provider , the best of the best
- Verified patient
I was treated very professional and the provider showed a concern and recommendation about my health.
- Verified patient
Dr Raoof conducted my surgery and did an excellent job. He literally saved my life. He has an amazing gifted mind and hands. I am so thankful he was my surgeon!
- Verified patient
We have been very pleased with all the care of all the staff encountered at COH.
- Verified patient