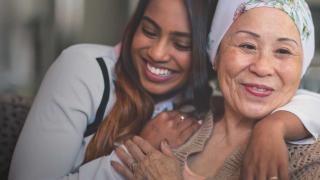 Breast Cancer Care in Orange County
Protect Your Hope for the Future. Schedule a State-of-the-Art Mammogram today.

Many breakthrough treatments offer new hope for today's breast cancer patients. You can access this level of world-class care in Orange County. Our top-ranked breast cancer physicians and other specialists help those with breast cancer navigate and manage their care, from diagnosis to treatment and transition to recovery.
Why Choose City of Hope Orange County for Breast Cancer Care?
With leading-edge technology and surgical expertise, City of Hope physicians deliver outstanding outcomes that are difficult to achieve elsewhere.
A track record of exceptional survival outcomes at all stages of breast cancer
Advanced techniques such as nipple-sparing mastectomies, high-precision radiation, and immunotherapies
A comprehensive, supportive care program to address a wide range of cancer and treatmen-trelated concerns from diagnosis to remission and beyond
A collaborative and caring multidisciplinary team of breast cancer experts that understands your needs and background to provide a whole-person approach to treatment
Access to promising new therapies through more than 100 innovative, ongoing research and clinical trials for breast cancer
Long-term survivorship and follow-up programs focused on minimizing recurrence risk and improving quality of life
An expanding clinical network throughout Orange County that is bringing world-renowned physicians closer to homes in the region
Listen to Our Breast Cancer Doctors and Patients
We Specialize in State-of-the-Art Treatments
Our advanced cancer treatments include:
Targeted therapy that selectively attacks cancer cells based on specific characteristics
Immunotherapy for activating your immune system to attack cancer cells
High dose radiation treatment
Endocrine (hormone) therapy to decrease the production of cancer-fueling hormones and slow or stop cancer
Breast-conserving surgery that removes early-stage tumors while delivering excellent cosmetic outcomes
Skin and nipple-sparing mastectomies with breast reconstruction in one procedure
Several other breast reconstruction options, including direct-to-implant post-mastectomy and oncoplastic surgery
3D Mammogram
A Second Opinion Should Be Your First Priority
If you have received a breast cancer diagnosis elsewhere, ask for a second opinion from a City of Hope Orange County expert. An accurate diagnosis and individualized treatment plan are essential for the best outcomes.
Expert and compassionate care through our City of Hope network, including City of Hope Orange County Lennar Foundation Cancer Center and seven network locations in Irvine Sand Canyon, Newport Beach Lido, Newport Beach Fashion Island, Huntington Beach, Long Beach and Torrance
Where You Get a Mammogram Matters
City of Hope Orange County offers the most advanced mammography technology available.