For the second time this year, City of Hope Orange County has been officially recognized for its commitment to its employees. The Orange County Register has named the world-renowned cancer research and treatment organization one of the "Top Workplaces" in Orange County for 2021. The organization was evaluated on its workplace culture, diversity, overall employee experience and more. In July, City of Hope Orange County was recognized as a "Best Place to Work" by the Orange County Business Journal.
 
The honor comes as City of Hope brings its pioneering research and highly specialized cancer care closer to home for more people. Its network of care now includes four locations in Orange County — City of Hope | Newport Beach Fashion Island, City of Hope | Newport Beach Lido, City of Hope | Huntington Beach and City of Hope | Irvine Sand Canyon.
 
In 2022, City of Hope will open Orange County's most advanced cancer center. Lennar Foundation Cancer Center at FivePoint Gateway in Irvine will provide access to more than 1,000 City of Hope clinicians and researchers and hundreds of clinical trials. Additionally, Orange County's only hospital dedicated exclusively to treating and curing cancer will open on the site in 2025.
 
With 1 in 3 Americans receiving a cancer diagnosis in their lifetime, City of Hope Orange County employees understand the importance of their mission. They are deeply connected to their work. These employees include executives from top national cancer centers, along with many Orange County health care professionals eager to make a difference.
 
"We are a team united in our vision to speed lifesaving cancer treatments and scientific breakthroughs to the people who need it most," said Annette Walker, president of City of Hope Orange County. "This diverse team of people is comprised of compassionate, innovative and inclusive individuals who share a vision to transform cancer care delivery in Orange County. Many of them work on the frontlines, holding our patients' hands through their cancer journey each day; others are working behind the scenes to develop our comprehensive cancer campus."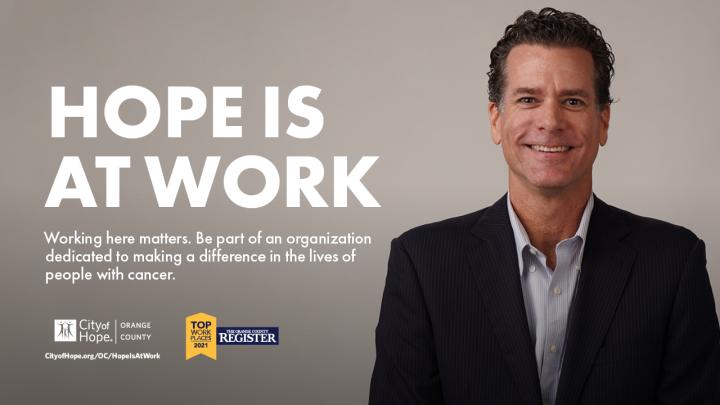 All City of Hope Orange County employees benefit from an inclusive workplace environment that engages employees and provides them opportunities to develop and grow — both personally and professionally.  
"This organization is so special because they take care of us so we can focus on the most important thing, which is patient care," said Diego Rodriguez, senior regional nursing director.