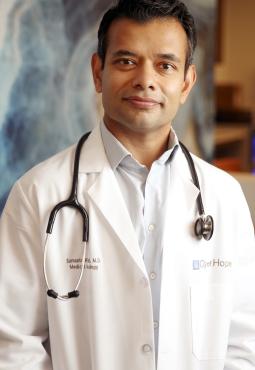 City of Hope Orange County Lennar Foundation Cancer Center is home to a team of some of the world's most acclaimed physician-scientists leading next-level cancer treatment and research, including Sumanta (Monty) Kumar Pal, M.D. An internationally recognized leader in genitourinary cancers, including kidney, bladder and prostate cancer, Dr. Pal serves as co-director of City of Hope's Kidney Cancer Program and heads the organization's kidney and bladder cancer disease team.
Dr. Pal continues to raise the bar for scientific expertise and groundbreaking discoveries, leading a study he and colleagues recently published in The Lancet, in association with the European Society of Medical Oncology (ESMO).
The study — a Phase 3 clinical trial conducted in 215 locations in 28 countries — investigated whether a drug (atezolizumab) used to treat nonsmall cell lung cancer is also effective in treating a subtype of kidney cancer known as locoregional renal cell carcinoma. Specifically, the study sought to determine whether the drug, when given as an adjuvant therapy ("helper therapy") after surgery, lowered the risk of the cancer coming back.
Renal cell carcinoma is the 12th most common cancer in the world, and many patients with the disease experience postsurgery recurrence. 
Dr. Pal and colleagues conclude that the results of the trial do not support adjuvant atezolizumab for treatment of renal cell carcinoma. However, the study adds value to the field, and it calls for future work.
"It is as important to learn the potential limitations of cancer-fighting drugs as it is to learn the potential benefits," said Dr. Pal. "Currently, the standard of care for people with this type of kidney cancer is surgery, and there are important questions to be answered about the role adjuvant therapy may play in their care. Every clinical trial, every scientific discovery, advances the body of knowledge and brings us closer to developing leading-edge therapies that turn hope into reality for patients."
View the study on thelancet.com.
City of Hope Orange County Lennar Foundation Cancer Center, the region's most advanced comprehensive cancer center, offers access to more than 800 innovative Phase 1-3 clinical trials being conducted at City of Hope each year — more cancer-focused clinical trials than anywhere in the area — to provide patients with pioneering treatments long before they become the standard of care.
City of Hope Orange County celebrates the extraordinary accomplishments of all our physician-scientists who are bringing new hope to people with cancer.
To make an appointment at any of our five Orange County locations, call 888-333-HOPE (4673). Visit CityofHope.org/OC to learn more.