Breast Cancer Research Team Reports Infection Trend in Ongoing Clinical Trial That Has Implication on Current Treatments
City of Hope is currently conducting an ongoing clinical trial exploring the trend of skin and nail infections seen in women with human epidermal growth factor receptor 2-positive (HER2-positive) breast cancer after treatment with trastuzumab and pertuzumab combination therapy. The findings thus far represent a previously unrecognized toxicity of adding pertuzumab to trastuzumab-based therapies.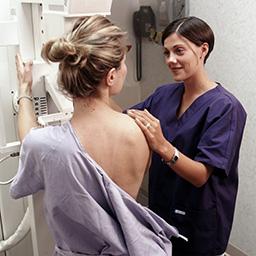 By quantifying immunoglobulin levels and lymphocyte populations of women who developed infections while on chemotherapy regimens that include both pertuzumab and trastuzumab, lead investigator
Joanne Mortimer
, M.D., the Baum Family Professor in Women's Cancers, and her team are looking to provide additional support for the association of Gram-positive bacterial infections and cutaneous manifestations seen with these therapies, as these findings have the capability to change the way oncologists approach treatment plans.  
Between March 2014 and May 2017, Mortimer and her team identified 48 patients with HER2-positive breast cancer who developed 59 individual infections. Pertuzumab and trastuzumab were combined with carboplatin and docetaxel in 24 (49%) patients, docetaxel in 10 (21%), nab-paclitaxel in 12 (24%), and without other agents in 2 (4%). Granulocyte growth factors were administered in 24 (49%) patients and no patients were documented to be neutropenic. When cultures were obtained, Gram-positive cocci were consistently identified. Of the 33 patients tested for immunoglobulin levels, 14 (36%) had abnormally low levels documented as hypogammaglobulinemia.
Mortimer is continuing to research this toxicity as City of Hope puts the research teams' findings into practice. As Mortimer states, "What we've done now, because we're so attuned, is we delay patient's surgery to allow their immunoglobulins to come back up to normal levels."
The continued efforts of City of Hope's research team will only further our knowledge and help oncologists make proactive modifications to patients' treatment, thus improving care standards and overall survival as a result.
Promising CAR T Therapy Trial For Metastatic HER2+ Breast Cancer Opening at City of Hope
Promising discoveries at City of Hope have led to the opening of a
first-of-its kind phase 1 trial
evaluating the safety and efficacy of CAR T cell therapy in adult patients with HER2+ breast cancer that has metastasized to the brain. This trial is the first to use intraventricular delivery of CAR T cells to the brain for patients with HER2+ brain metastases, bypassing the blood-brain barrier and gaining better access to tumor cells in the spinal fluid and brain. It is also the first trial to assess the benefit of lymphodepletion prior to regional administration of the HER2-targeting CAR T cells.
This trial follows the finding of City of Hope's
Saul Priceman
, Ph.D., and colleagues who designed CAR molecules and a novel route of CAR T cell administration that are now being tested in patients with HER2+ breast cancer that has metastasized to the brain and leptomeninges.
HER2-CAR constructs that contained either CD28 or 4-1 BB intracellular costimulatory signaling domains were compared based on various endpoints. Additionally, HER2-CAR T cells delivered by intravenous, local intratumoral or regional intraventricular routes of administration using in vivo human xenograft models of breast cancer that had metastasized to the brain were also evaluated.
The preclinical study results showed that 4-1 BB intracellular costimulatory signaling domains improved tumor targeting with reduced T cell exhaustion phenotype. The study also found that regional intraventricular delivery of HER2-CAR T cells demonstrated robust antitumor efficacy.
Led by neuro-oncologist
Jana Portnow
, M.D., this phase 1 trial is focused on patients who have tried other types of treatment that are no longer effective.
To refer a patient to this clinical trial, please call
626-218-9393
 or email
neurosurgerymail@coh.org
.
View more details about this clinical trial on ClinicalTrials.gov.