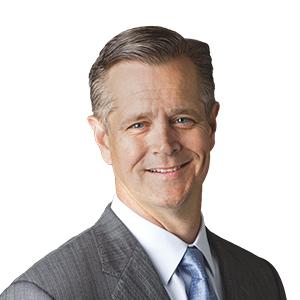 Robert Stone, President and CEO of City of Hope
This year's World Cancer Day theme is "Close the Care Gap." Closing the gap is all about raising awareness of the equity gap that affects underserved communities in low- and middle-income countries, with the ultimate goal of creating a cancer-free world. 
How City of Hope is Closing the Gap
This year's motto is a theme near and dear to City of Hope, as City of Hope President and CEO
Robert Stone
told the 40th Annual J.P. Morgan Healthcare Conference in January, "We are in a wondrous era of innovation and discovery, but there is a gap that is widening as to who can actually access these breakthroughs. We collectively need to eliminate barriers to accessing the hope created by the incredible pace of innovation so that the right care gets to the right patient at the right time and at the right location."
"City of Hope is firmly committed to democratizing cancer care and delivering innovative breakthroughs to even more patients, families and communities both close to home and across the country," said Stone, the Morgan and Helen Chu Chief Executive Officer Distinguished Chair.
Demonstrations of this commitment are seen in City of Hope's efforts to:
Support the Cancer Patients Bill of Rights
City of Hope is proud of our outspoken public support of the California legislative resolution the
Cancer Patients Bill of Rights
, which was unanimously passed in August.
The resolution delineates certain cancer patient rights, such as the right to timely access to care, to information delivered in a culturally relevant manner and access to clinical trials. "We need to advocate for the cancer patient," Stone said. "We need to make sure that the cancer patient gets timely care. We want to make sure your outcome is determined not by your ZIP code, but by where the best treatments are for your particular type of cancer."
This is just one part of our efforts as a member of the Cancer Care Is Different coalition, where we are working to reform cancer legislation and expand access to cancer care and treatment.
Equalize Access to Clinical Trials
City of Hope scientists are aiming to change the disparity in treatment that people of different races, ethnicities, ages and sexual orientations may experience. "Our clinical and research scientists are conducting research studies on health disparities within diverse communities and helping us find the best ways to address complex health issues, including diversity in clinical trials," says
Angela L. Talton
, senior vice president and chief diversity, equity and inclusion officer at City of Hope.
City of Hope scientists are studying how diverse populations have different risk factors for and are affected differently by prostate, lung, skin, breast, colon and other cancers, as well as other diseases. The effectiveness of a treatment is often related to genetic factors — yet the patients enrolled in most clinical trials are primarily white. City of Hope is strategically recruiting to advance precision medicine by exploring potential racial and ethnic differences in treatment efficacy and outcomes due to genomic variation.
Kimlin Ashing
, Ph.D., professor in the
Division of Health Equities
, said she is optimistic that City of Hope is taking a significant lead in making clinical trials more inclusive.
"City of Hope has recruited scientists with a specific interest in clinical trial diversity in their own research and secured funding for health equity research, and we are better able to harness the wealth of expertise we have here," she said. "We're changing the paradigm of how you do clinical studies."
Recent examples include a study led by Ashing of the common rheumatoid arthritis drug leflunomide to treat smoldering multiple myeloma in Blacks, a precursor of the blood cancer multiple myeloma, which is twice as common among Blacks. In addition, City of Hope recently received a lung cancer 
Specialized Programs of Research Excellence
 grant from the National Cancer Institute to address the disproportionate effects of lung cancer in Black communities.
Rick Kittles, Ph.D., associate director for health equities and professor and director of the 
Division of Health Equities
 at City of Hope, is looking at the genetics of skin color and how that affects vitamin D levels, which may in turn affect cancer risk.
Mustafa Raoof
, M.D., M.S., surgical oncologist at City of Hope, is studying factors that make colorectal cancer deadlier for Blacks.
Develop Lifesaving Treatment
City of Hope's world-class research efforts are always done with innovation in mind, in order to bring more lifesaving treatments to those who need it. One such example of this is City of Hope's work in developing a novel immunotherapy producing high rates of lymphoma remission. In 2021, City of Hope announced that data from an investigational Phase 1/2, single-arm trial using a bispecific antibody called mosunetuzumab highlighted the paradigm-changing potential of a new treatment option for people with follicular lymphoma, a type of blood cancer and the most common indolent form of non-Hodgkin lymphoma. This data was presented by
Elizabeth Budde
, M.D., Ph.D., at the annual ASH 2021 conference.
Patients within the trial achieved high response rates, with 80% of patients responding positively to the treatment. Sixty percent had a complete response, meaning the cancer could not be detected.
City of Hope is a leader in blood cancer immunotherapies. The National Cancer Institute-designated comprehensive cancer center has performed more than 17,000 bone marrow/stem cell transplants and is a leader in chimeric antigen receptor (CAR) T therapy, with nearly 800 patients treated with immune effector cells, including CAR T therapy, and nearly 80 open or completed trials.
Bring Highly Specialized Cancer Care Closer to Home
In addition to City of Hope's more than 35 locations, we are expanding our existing network through our acquisition of Cancer Treatment Centers of America, which will make our organization one of the largest cancer research and treatment organizations in the country, expanding access to world-class cancer care to even more patients, families and communities.
A transformative gift from the philanthropic arm of homebuilder Lennar Corporation is also accelerating City of Hope's plans to develop and operate a nationally recognized comprehensive cancer campus in Irvine, California, and an Orange County network of advanced cancer care.
Lennar Foundation Cancer Center
will open in 2022; followed by the county's only specialty hospital in 2025.
AccessHope
TM
, a separate initiative developed and launched by City of Hope, makes expertise from City of Hope and other National Cancer Institute-designated comprehensive cancer centers available to employers and their employees across the country.
Cancer Screening & Prevention ProgramSM
Part of the care gap relates to the ability to access basic health services and education. City of Hope's Cancer Screening & Prevention ProgramSM is designed to help patients from all walks of life understand more about their personal cancer risks and aims to detect risks early and take the necessary preventive steps.
We offer a comprehensive cancer risk assessment that focuses on family history and genetics, considering environmental and lifestyle factors. Following this assessment, the program provides concrete steps a person can take to lower these risks.
Providing this service is one more way that City of Hope is making cancer care more equitable. Screening increases the chance of diagnosing cancer at an early stage when it is more likely to be cured. Here are some of the ways we look to achieve that:
Genetic Cancer Risk Assessment
Although an immediate family history may not suggest an obvious pattern of hereditary cancer, there can still be risk factors discoverable in an extended family history. Small families may have fewer cases of cancer, or generations may be "skipped" if the cancer expression is sex-limited (meaning a certain kind of cancer only appears in one sex, such as ovarian cancer or prostate cancer). Ethnic origin of ancestors also may play a role in determining whether cancer could be hereditary.
Establishing a Frame of Reference
In order to determine the best course of action in assessing cancer risk, City of Hope develops a basic frame of reference. This involves obtaining an accurate family history regarding the occurrence of cancer(s) in the patient, their immediate and extended family — children, siblings, parents, grandparents, aunts, uncles and cousins on both sides. The type of cancer and the age of onset are extremely important in gathering this information.
Initial Screening Criteria for Patients Who Should Have Genetic Cancer Risk
In the assessment, we look at the number of relatives with cancer, the closeness of their biological relationship to the patient and the specific types of cancer in their family.
A Multifaceted Approach
Counseling and testing is a multistep process that begins with assessing cancer risk based on personal factors and family history. This process also includes education and counseling to help understand risk, the usefulness and limitations of genetic testing and other means to assess risk, and individualized options for early detection and risk-reduction strategies. If testing is appropriate and desired, a small blood sample is drawn for analysis. A confidential test result is typically available within two to three weeks. Test results are disclosed in person at a follow-up visit.
Research Studies
Ongoing research studies are a vital part of City of Hope's Cancer Screening & Prevention Program's commitment to combating cancer. We will inform patients about available studies and eligibility to participate, which is entirely voluntary and will not affect care in any way.