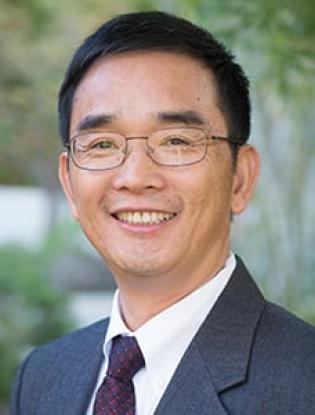 Professor, Department of Immunology & Theranostics
Clinical Expertise
Diabetes immunology/autoimmunity
Hematology & Hematopoietic Cell Transplantation
In vivo beta cell regeneration
Research Area
Transplantation immune tolerance: mixed chimerism
Beta cell regeneration in diabetic mice
GVHD and GVL effect
Transplantation Immune Tolerance
Allogeneic
hematopoietic cell transplantation
(HCT) is a curative therapy for hematological malignancies and hereditary disorders as well as refractory autoimmune diseases. Induction of mixed chimerism via allogeneic HCT is also one of the most reliable approaches for induction of organ transplantation tolerance. However, graft-versus-host disease (GVHD) remains a major obstacle in classical HCT, in which recipients are required to be conditioned with total body irradiation (TBI) or high dose chemotherapy in order to allow donor stem cell engraftment. Recent studies have shown that tissue damage and activation of tissue dendritic cells caused by conditioning TBI or
chemotherapy
plays a critical role in induction of GVHD.
One of the research projects in the
Defu Zeng lab
is to understand the pathogenesis of GVHD, in which donor T cells infiltrate the target tissues and mediate damage. Based on the clinical features, GVHD can be divided into acute and chronic GVHD. New immunosuppressants have been effective in preventing acute but not chronic GVHD. The latter remains the major cause of morbidity and mortality of long-term survivors of classical HCT, and there has been no improvement in treating chronic GVHD over the past three decades, due to the poor understanding of its pathogenesis.
We have recently developed new mouse models of chronic GVHD that can reflect the pathogenesis in humans. We are currently dissecting the role of allo- and auto-reactive CD4+ T (Th1, Th2 and Th17), Treg cells, APCs (dendritic and B cells), as well as autoantibodies in the pathogenesis of chronic GVHD. We are currently testing whether depletion of donor CD4+ T cells and/or B cells early after HCT can prevent chronic GVHD. These studies will provide new insights into chronic GVHD pathogenesis and lead to the development of novel therapies for patients.
Another project is to develop a radiation-free GVHD preventative conditioning regimen for induction of mixed chimerism for the therapy of autoimmune diseases (i.e. type 1 diabetes, multiple sclerosis, and lupus). We have observed that induction of mixed chimerism results in reversal of autoimmunity, elimination of insulitis, and beta cell regeneration in overt diabetic NOD mice. We are dissecting the mechanisms whereby mixed chimerism reverses autoimmunity. We are also tracing the origin of beta cell regeneration after reversal of autoimmunity. Our studies will provide new insights into transplantation biology and promote the application of HCT as a curative therapy not only for patients with hematological malignancies but also for patients with variety of refractory autoimmune diseases.
1985, M.D., Fujian Medical College, Fuzhou, China
1993-1997, Stanford University, School of Medicine, CA, Postdoctoral Research Fellow, Immunology & Rheumatology
2013 - present, Professor, Department of Immunology and Theranostics, Beckman Research Institute of City of Hope

2013 - present, Professor, Department of Hematology and Hematopoietic Cell Transplantation, City of Hope, Duarte, CA

2008 - 2013, Associate Professor, Department of Diabetes and Metabolic Diseases Research, Beckman Research Institute of City of Hope

Associate Professor, Department of Hematology & Hematopoietic Cell Transplantation, City of Hope, Duarte, CA

2003 - 2008, Assistant Professor, Departments of Diabetes/Endocrinology and Hematology/Bone Marrow Transplantation, Beckman Research Institute of City of Hope, Duarte, CA

2000 - 2003, Senior Research Scientist, Division of Immunology & Rheumatology, Department of Medicine, Stanford University School of Medicine, Stanford, CA

1997 - 2000, Research Associate, Division of Immunology & Rheumatology, Department of Medicine, Stanford University School of Medicine, Stanford, CA

1993 - 1997, Postdoctoral Research Fellow, Division of Immunology & Rheumatology, Department of Medicine, Stanford University School of Medicine, Stanford, CA

1990 - 1993, Assistant Professor, Department of Pathophysiology, Fujian Medical College, Fuzhou, China

1985 - 1990, Postgraduate Fellow, Department of Pathophysiology, Fujian Medical College, Fuzhou, China
American Diabetes Association

American Society of Blood and Marrow Transplantation

American Society of Transplantation

Clinical Immunology Society

The American Society of Hematology

The American Association of Immunologists
Zhang M, Racine JJ, Lin Q, Liu Y, Tang S, Qin Q, Qi T, Riggs AD, Zeng D (2018). MHC-mismatched mixed chimerism restores peripheral tolerance of noncross-reactive autoreactive T cells in NOD mice. Proc Natl Acad Sci U S A. 2018 Mar 6;115(10):E2329-E2337. doi: 10.1073/pnas.1720169115. Epub 2018 Feb 20.
Zeng D (2018). Newly found arsons ignite the fire of gut GVHD. J Clin Invest. 2018 Mar 1;128(3):897-899. doi: 10.1172/JCI98685. Epub 2018 Jan 29.
Deng R, Hurtz C, Song Q, Yue C, Xiao G, Yu H, Wu X, Muschen M, Forman S, Martin PJ, Zeng D (2017). Extrafollicular CD4+ T-B interactions are sufficient for inducing autoimmune-like chronic graft-versus-host disease. Nat Commun. 2017 Oct 17;8(1):978. doi: 10.1038/s41467-017-00880-2.
Zeng D. Bridge between type 1 diabetes in mouse and man. Proc Natl Acad Sci U S A. 2017 Oct 10;114(41):10821-10823. doi: 10.1073/pnas.1715058114. Epub 2017 Oct 2
Ni X, Song Q, Cassady K, Deng R, Jin H, Zhang M, Dong H, Forman S, Martin PJ, Chen YZ, Wang J, Zeng D (2017). PD-L1 interacts with CD80 to regulate graft-versus-leukemia activity of donor CD8+ T cells. J Clin Invest. 2017 May 1;127(5):1960-1977. doi: 10.1172/JCI91138. Epub 2017 Apr 17.
Jin H, Ni X, Deng R, Song Q, Young J, Cassady K, Zhang M, Forman S, Martin PJ, Liu Q, Zeng D (2016). Antibodies from donor B cells perpetuate cutaneous chronic graft-versus-host disease in mice. Blood. 2016 May 5;127(18):2249-60. doi: 10.1182/blood-2015-09-668145. Epub 2016 Feb 16.
Zhang M, Lin Q, Qi T, Wang T, Chen CC, Riggs AD, Zeng D (2016). Growth factors and medium hyperglycemia induce Sox9+ ductal cell differentiation into β cells in mice with reversal of diabetes. Proc Natl Acad Sci U S A. 2016 Jan 19;113(3):650-5. doi: 10.1073/pnas.1524200113. Epub 2016 Jan 5.
Wu L, Li N, Zhang M, Xue SL, Cassady K, Lin Q, Riggs AD, Zeng D (2015). MHC-mismatched mixed chimerism augments thymic regulatory T-cell production and prevents relapse of EAE in mice. Proc Natl Acad Sci U S A. 2015 Dec 29;112(52):15994-9. doi: 10.1073/pnas.1521157112. Epub 2015 Dec 8.
Deng R, Cassady K, Li X, Yao S, Zhang M, Racine J, Lin J, Chen L, Zeng D (2015). B7H1/CD80 interaction augments PD-1-dependent T cell apoptosis and ameliorates graft-versus-host disease. J Immunol. 2015 Jan 15;194(2):560-74. doi: 10.4049/jimmunol.1402157. Epub 2014 Dec 8.
Racine JJ, Zhang M, Wang M, Morales W, Shen C, Zeng D (2015). MHC-mismatched mixed chimerism mediates thymic deletion of cross-reactive autoreactive T cells and prevents insulitis in nonobese diabetic mice. J Immunol. 2015 Jan 1;194(1):407-17. doi: 10.4049/jimmunol.1401584. Epub 2014 Nov 26.
Wang M, Racine J, Zhang M, Wu T, Deng R, Johnston H, Shen C, Siswanto K, Zeng D (2014). MHC-mismatched chimerism is required for induction of transplantation tolerance in autoimmune nonobese diabetic recipients. J Immunol. 2014 Aug 15;193(4):2005-15. doi: 10.4049/jimmunol.1401137. Epub 2014 Jul 7.
Johnston HF, Xu Y, Racine JJ, Cassady K, Ni X, Wu T, Chan A, Forman S, Zeng D (2014). Administration of anti-CD20 mAb is highly effective in preventing but ineffective in treating chronic graft-versus-host disease while preserving strong graft-versus-leukemia effects. Biol Blood Marrow Transplant. 2014 Aug;20(8):1089-103. doi: 10.1016/j.bbmt.2014.04.028. Epub 2014 May 4.
Zeng D (2014). Regulators help new immigrants settle down? Blood. 2014 May 1;123(18):2754-6. doi: 10.1182/blood-2014-03-562173.
He W, Racine JJ, Johnston HF, Li X, Li N, Cassady K, Liu C, Deng R, Martin P, Forman S, Zeng D (2014). Depletion of host CCR7(+) dendritic cells prevented donor T cell tissue tropism in anti-CD3-conditioned recipients. Biol Blood Marrow Transplant. 2014 Jul;20(7):920-8. doi: 10.1016/j.bbmt.2014.03.029. Epub 2014 Mar 30.
Racine JJ, Wang M, Zhang M, Zeng D (2014). Induction of mixed chimerism depletes pre-existing and de novo-developed autoreactive B cells in autoimmune NOD mice. Diabetes. 2014 Jun;63(6):2051-62. doi: 10.2337/db13-1532. Epub 2014 Jan 23