EEC 2023 Honorees
Jane Fonda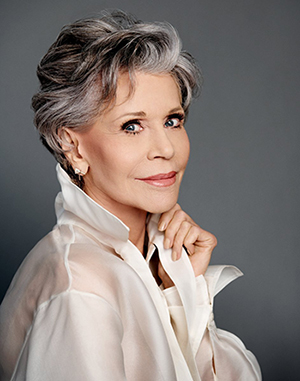 Jane Fonda is a two-time Academy Award-winning actor (Best Actress in 1971 for Klute and in 1978 for Coming Home), producer, author, activist, and fitness guru. Her career has spanned over 50 years, accumulating a body of film work that includes over 50 films and crucial work on behalf of political causes such as women's rights, Native Americans, and the environment. She is a seven-time Golden Globe® winner and was honored with the Cecil B. DeMille Award in 2021, Stanley Kubrick Excellence in Film Award as part of BAFTA's Britannia Awards in 2019, AFI Life Achievement Award winner in 2014, and Honorary Palme d'Or honoree in 2007.
Fonda most recently starred in the seventh and final season of Grace & Frankie, which is Netflix's longest running original series. It is for her work on the series that she received an Emmy nomination for Outstanding Lead Actress in a Comedy Series in 2017. 2023 marks a triumphant return to the big screen with three films being released. First she will have the highly anticipated 80 For Brady opposite Tomlin, Sally Field, and Rita Moreno released by Paramount Pictures on February 3. This will be followed by Paul Weitz's Moving On for Roadside Attractions in which Fonda stars opposite Tomlin out on March 17. Finally, she will be reunited with Diane Keaton, Mary Steenburgen, and Candice Bergen for Focus Features' Book Club 2, which is slated to be released on May 10. Other recent notable film credits include Jane Fonda in Five Acts, a documentary for HBO chronicling her life and activism. The film premiered at the 2018 Sundance Film Festival and received an Emmy nomination for Outstanding Documentary or Nonfiction Special in 2019.
Fonda continues to lead the charge on Fire Drill Fridays, the national movement to protest government inaction on climate change she started in October 2019 in partnership with Greenpeace USA. In 2022 she launched the Jane Fonda Climate PAC, which is focused on defeating political allies of the fossil fuel industry. Her latest book, "What Can I Do? My Path From Climate Despair To Action" details her personal journey with the movement and provides solutions for communities to combat the climate crisis. Jane also notably celebrated her 80th birthday by raising $1 million for each of her nonprofits, Georgia Campaign for Adolescent Power & Potential and The Women's Media Center.
Gail Grimmett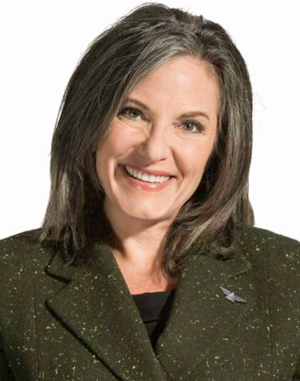 Gail Grimmett is a Senior Vice President, Sustainability Performance & Strategic Partnerships at Delta Air Lines. 
Gail leads Delta's efforts to drive forward innovative, sustainable solutions that will empower the next chapter of aviation, which includes next generation technologies, partnerships with educational institutions and other corporations.
Prior to joining Delta, she was the Chief Experience Officer for Wheels Up overseeing the member experience, including event programming, marketing, public relations, social and digital channel performance, as well as member experience and member benefits.
Gail has spent 20 years at Delta Air Lines, serving in multiple key executive functions including SVP of Global New York, SVP of Pricing and Yield Management and Managing Director of Investor Relations.
She served as Governor Andrew Cuomo's appointee on both the New York State Tourism Board and the New York City Regional Economic Development Council for a decade.
For six years straight, Gail was consecutively named among the Top 50 Most Powerful Women in New York by Crain's Business.
Gail holds an undergraduate degree from Indiana University and an MBA from George Washington University.