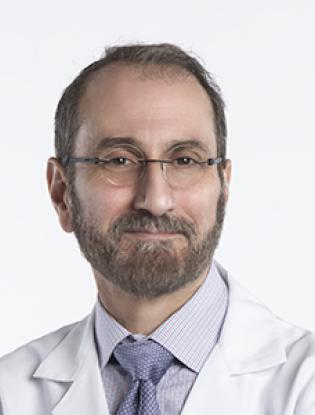 Professor and Chair, Department of Hematologic Malignancies Translational Science
Clinical Expertise
Acute myeloid leukemia
Leukemia
Hematology-Oncology
Research Area
Biology and treatment of acute leukemia and myelodysplastic syndrome
Appointments
Chair and Professor, Department of Hematologic Malignancies Translational Science
Director, Gehr Family Center for Leukemia Research
Chief, Division of Leukemia
I have always been interested in answering the fundamental questions of what events initiate cancer, and I believe that leukemia can be used as a model to answer these questions.
Guido Marcucci, M.D., thinks of
acute myeloid leukemia
as the "prototype of cancer and how cancer develops," which makes it a prime target for intensive research, and the focus of much of Dr. Marcucci's distinguished career.
Dr. Marcucci joined City of Hope in 2014 from The Ohio State University, where he was a professor of internal medicine, molecular virology, immunology, medical genetics and pharmaceutics in the division of hematology at the university's comprehensive cancer center.
A nationally recognized authority on leukemia, Dr. Marcucci has lectured around the world and authored more than 391 scholarly papers on the subject. His ultimate goal is to make leukemia a thing of the past. He has received numerous competitive National Cancer Institute grants for his clinical and research work focused on the pathogenesis, treatment and prognostic assessment of patients with acute myeloid leukemia. Dr. Marcucci currently serves on the editorial board of three journals, including Blood and the Journal of Clinical Oncology.
"I know what a devastating disease leukemia can be for patients and their families," he says. "I would love one day to be able to say that I helped to alleviate their suffering."
Internal Medicine

Oncology
1986, M.D. Catholic University of the Sacred Heart, Rome, Italy
1995-1997, Medical Oncology Fellowship, Dept. of Medicine, Roswell Park Cancer Institute, Buffalo, NY

1990, Internal Medicine Fellowship, Regione Lazio, Italy
1990-1993,  Internship and Residency in Internal Medicine, State University of New York, Buffalo, N.Y.

1986-1989 Residency in Dermatology, Dept. of Dermatology, Catholic University of the Sacred Heart, Rome, Italy
1990-1993, Internship and Residency in Internal Medicine, State University of New York, Buffalo, NY
2020-present, Chief, Division of Leukemia

2017-2020, Chair and Professor, Department of Hematologic Malignancies Translational Science, Beckman Research Institute of City of Hope, Duarte, CA

2014-present, Associate Director of Basic Research, Gehr Family Center for Leukemia Research, City of Hope, Duarte, CA

2014-present, Professor, Hematology & Hematopoietic Cell Transplantation, City of Hope, Duarte, CA

2009-2014, Professor of Internal Medicine and Molecular Virology, Immunology and Medical Genetics, and Pharmaceutics Division Hematology, Comprehensive Cancer Center and The Ohio State University, Columbus, OH
Li Ling, Ph.D.
Staff Scientist
2020, Association of American Physicians
American Association for Cancer Research

American Society of Clinical Oncology

American Society of Hematology
Ratings and reviews below are gathered from the Press Ganey Clinician and Group Consumer Assessment of Healthcare Providers and Systems (CG CAHPS) survey. CG CAHPS is a standardized survey that is used to measure a patient's experience in the physician office setting. Ratings are an average of all responses to questions about a provider's care, with 5 stars being the highest.
Ratings
5.0
Recommend this provider office
5.0
Provider listen carefully to you
5.0
Know important info medical history
5.0
Show respect for what you say
4.8
Provider explain in way you understand
4.8
Spend enough time with you
---
Reviews
I am very fortunate to have Dr. Marcucci and Katrina Duncan as my care team. I completely trust them and have the utmost confidence in what they do and decisions they make.
- Verified patient
Dr. Marcucci and his team are awesome!
- Verified patient
Satisfied
- Verified patient
Very good
- Verified patient