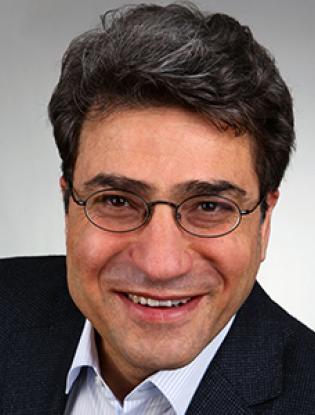 Research Professor, Department Of Systems Biology
As a molecular biologist with deep interest in understanding the molecular mechanisms that regulate the differentiation and proliferation of lymphocytes, Hassan Jumaa, Ph.D., has developed in the last 20 years a profound expertise in the dissection of the signaling processes controlling the intermingled proliferation and differentiation programs of developing B-lymphocytes. Having identified the adaptor protein SLP65/BLNK as tumor suppressor in pre-B cells, Jumaa established a synthetic biology approach allowing the remote activation of SLP65 demonstrating that this adaptor protein acts as molecular switch, which promotes the differentiation of pre-B cells to the immature B cell stage. These assays are now widely used throughout the scientific community.
A key question of Jumaa's research is the characterization of molecular mechanisms that regulate normal B cell development and the identification of changes that contribute to malignant transformation, thereby resulting in B cell leukemia or lymphoma. To study the underlying molecular mechanisms, they use primary human samples or transgenic mouse models for inducible activation or deletion of various genes. Using mouse models for inducible expression of oncogenes such as TEL-SYK or ITK-SYK, which were isolated from human leukemia patients, they demonstrated that terminal differentiation is an important mechanism to prevent oncogene-expressing cells from malignant transformation, as oncogene expression leads to chronically increased signaling activity that, under normal conditions, results in cell elimination. More recently, they showed that phosphoinositide 3-kinase (PI3K) signaling activates this terminal differentiation program, which seems to also be important for the elimination of autoreactive B cells at early stages of B cell development.
1997, Ph.D., Molecular Biology, Max-Planck Institute of Immunobiology, Germany

1993, B.S., Molecular Biology, University of Freiburg, Germany
2018 – Present, Research Professor, Department of Systems Biology, Beckman Research Institute of City of Hope, Duarte, CA

2013 – Present, Professor, Head of the Institute of Immunology, University Hospital Ulm, Germany

2001-2013, Group Leader of Molecular Immunology, Max-Planck-Institute of Immunobiology and University of Freiburg, Germany

2010, Adjunct Professor, University of Freiburg, Germany

1998-2001, Postdoctoral Fellow, University of Freiburg and Max-Planck-Institute of Immunobiology, Germany
2004, Georges-Kohler-Award of the German Society of Immunology

2016, ERC Advanced Grant of the European Commission
Alsadeq A, Lenk L, Vadakumchery A, Cousins A, Vokuhl C, Khadour A, Vogiatzi F, Seyfried F, Meyer LH, Cario G, Hobeika E, Debatin KM, Halsey C, Schrappe M, Schewe DM, Jumaa H. 2018. IL7R is associated with CNS infiltration and relapse in pediatric B-cell precursor acute lymphoblastic leukemia. Blood 132:1614-1617.
Setz CS, Hug E, Khadour A, Abdelrasoul H, Bilal M, Hobeika E, Jumaa H. 2018. PI3K-Mediated Blimp-1 Activation Controls B Cell Selection and Homeostasis. Cell Rep 24:391-405.
Imkeller K, Scally SW, Bosch A, Martí GP, Costa G, Triller G, Murugan R, Renna V, Jumaa H, Kremsner PG, Sim BKL, Hoffman SL, Mordmüller B, Levashina EA, Julien JP, Wardemann H. 2018. Antihomotypic affinity maturation improves human B cell responses against a repetitive epitope. Science 360:1358-1362.
Noel R, Arnelo U, Lundell L, Hammarqvist F, Jumaa H, Enochsson L, Sandblom G. 2018. Index versus delayed cholecystectomy in mild gallstone pancreatitis: results of a randomized controlled trial. HPB 20:932-938.
Xiao G, Chan LN, Klemm L, Braas D, Chen Z, Geng H, Zhang QC, Aghajanirefah A, Cosgun KN, Sadras T, Lee J, Mirzapoiazova T, Salgia R, Ernst T, Hochhaus A, Jumaa H, Jiang X, Weinstock DM, Graeber TG, Müschen M. 2018. B-Cell-Specific Diversion of Glucose Carbon Utilization Reveals a Unique Vulnerability in B Cell Malignancies. Cell 173:470-484.
Abdelrasoul H, Werner M, Setz CS, Okkenhaug K, Jumaa H. 2018. PI3K induces B-cell development and regulates B cell identity. Sci Rep 8:1327.
Jiménez de Oya N, De Giovanni M, Fioravanti J, Übelhart R, Di Lucia P, Fiocchi A, Iacovelli S, Efremov DG, Caligaris-Cappio F, Jumaa H, Ghia P, Guidotti LG, Iannacone M. 2017. Pathogen-specific B-cell receptors drive chronic lymphocytic leukemia by light-chain-dependent cross-reaction with autoantigens. EMBO Mol Med 9:1482-1490.
Dolezal E, Infantino S, Drepper F, Börsig T, Singh A, Wossning T, Fiala GJ, Minguet S, Warscheid B, Tarlinton DM, Jumaa H, edgyesi D, and Reth M. 2017. The BTG2-PRMT1 module limits pre-B cell expansion by regulating the CDK4-Cyclin-D3 complex. Nat Immunol. 18:911-920.
Minici C., Gounari M, Übelhart R, Scarfò L, Dühren-von Minden M, Schneider D, Tasdogan A, Alkhatib A, Agathangelidis A, Ntoufa S, Chiorazzi N, Jumaa H, Stamatopoulos K, Ghia P, Degano M. 2017. Distinct homotypic B-cell receptor interactions shape the outcome of chronic lymphocytic leukaemia. Nat Commun. 8:15746. DOI: 10.1038/ncomms15746.
Becker M., Hobeika E, Jumaa H, Reth M, Maity PC. 2017. CXCR4 signaling and function require the expression of the IgD-class B-cell antigen receptor. Proc Natl Acad Sci U S A. 114:5231-5236.
Tsiantoulas D, Kiss M, Bartolini-Gritti B, Bergthaler A, Mallat Z, Jumaa H, Binder CJ. 2017. Secreted IgM deficiency leads to increased BCR signaling that results in abnormal splenic B cell development. Sci Rep. 7(1):3540. DOI: 10.1038/s41598-017-03688-8.
Benkisser-Petersen M., Buchner M, Dorffel A, Duhren-von-Minden M, Claus R, Klasener K, Leberecht K, Burger M, Dierks C, Jumaa H, Malavasi F, Reth M, Veelken H, Duyster J, Zirlik Z. 2016. Spleen Tyrosine Kinase Is Involved in the CD38 Signal Transduction Pathway in Chronic Lymphocytic Leukemia. PLoS One 11:e0169159.
Shojaee S., Chan LN, Buchner M, Cazzaniga V, Cosgun KN, Geng H, Qiu YBH, von Minden MD, Ernst T, Hochhaus A, Cazzaniga G, Melnick A, Kornblau SM, Graeber TG, Wu H, Jumaa H, Müschen M. 2016. PTEN opposes negative selection and enables oncogenic transformation of pre-B cells. Nat Med 22:379-87.
Kohler M., Roring M, Schorch B, Heilmann K, Stickel N, Fiala GJ, Schmitt LC, Braun S, Ehrenfeld S, F. Uhl FM, Kaltenbacher T, Weinberg F, Herzog S, Zeiser R, Schamel WW, Jumaa H, Brummer T. 2016. Activation loop phosphorylation regulates B-Raf in vivo and transformation by B-Raf mutants. EMBO J 35:143-61.
Kohrer S., Havranek O, Seyfried F, Hurtz C, Coffey GP, Kim E, Ten Hacken E, Jager U, Vanura K, O'Brien S, Thomas DA, Kantarjian H, Ghosh D, Wang Z, Zhang M, Ma W, Jumaa H, Debatin KM, Müschen M, Meyer LH, Davis RE, Burger JA. 2016. Pre-BCR signaling in precursor B-cell acute lymphoblastic leukemia regulates PI3K/AKT, FOXO1 and MYC, and can be targeted by SYK inhibition. Leukemia 30:1246-54.
Schneider D, Duhren-von Minden M, Alkhatib A, Setz C, C. van Bergen CA, Benkisser-Petersen M, Wilhelm I, Villringer S, Krysov S, Packham G, Zirlik K, Romer W, Buske C, Stevenson FK, Veelken H, H. Jumaa H. 2015. Lectins from opportunistic bacteria interact with acquired variable-region glycans of surface immunoglobulin in follicular lymphoma. Blood 125:3287-96.
Flemming A, Huang QQ, Jin JP, Jumaa H, Herzog S. 2015. A Conditional Knockout Mouse Model Reveals That Calponin-3 Is Dispensable for Early B Cell Development. PLoS One 10:e0128385.
Sen S, Langiewicz M, Jumaa H, Webster NJ. 2015. Deletion of serine/arginine-rich splicing factor 3 in hepatocytes predisposes to hepatocellular carcinoma in mice. Hepatology 61:171-83.
Maity PC, Blount A, Jumaa H, Ronneberger O, Lillemeier BF, Reth M. 2015. B cell antigen receptors of the IgM and IgD classes are clustered in different protein islands that are altered during B cell activation. Sci Signal 8:ra93.
Kumar R, Bach MP, Mainoldi F, Maruya M, Kishigami S, Jumaa H, Wakayama T, Kanagawa O, Fagarasan S, Casola S. 2015. Antibody repertoire diversification through VH gene replacement in mice cloned from an IgA plasma cell. Proc Natl Acad Sci U S A 112:E450-7.