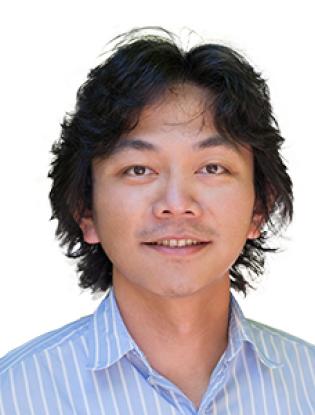 Associate Professor, Department Of Translational Research & Cellular Therapeutics
Appointments
Co-director, NCI-funded T32 Program
1999, Ph.D., Biochemistry and Biophysics, Oregon State University, Corvallis, Oregon

1999, M.S., Biochemistry and Molecular Biology, National Taiwan University, Taipei, Taiwan

1997, B.S., Agriculture Chemistry, National Taiwan University, Taipei, Taiwan
2008-2012, Postdoctoral fellowship, Sanford Consortium for Regenerative Medicine, University of California San Diego, San Diego, California

2007-2008, Postdoctoral fellowship, University of California Irvine, Irvine, California
2022-present, Associate Professor, Department of Translational Research & Cellular Therapeutics, Arthur Riggs Diabetes & Metabolism Research Institute, City of Hope, Duarte, California

2015-2022, Assistant Professor, Department of Translational Research & Cellular Therapeutics, Arthur Riggs Diabetes & Metabolism Research Institute, City of Hope, Duarte, California

2012-2015, Research Scientist, Sanford Consortium for Regenerative Medicine, University of California San Diego, San Diego, California
2014, Beta Cell Biology Consortium Investigator Retreat Scholarship Award

2012, Keystone Symposia Scholarship Award, Advances in Islet Biology

2009, JDRF Postdoctoral fellowship award

2007, Student Presentation Award, Society for Developmental Biology, Annual Northwest Meeting

2004, Graduate Fellowship, Department of Biochemistry and Biophysics

1999, Graduate Fellowship, Institute of Biochemistry and Molecular Biology

1997, Undergraduate Fellowship, Department of Agriculture Chemistry
Kozlowski TK, Zook HN, Chigumba D, Johnstone CP, Caldera LF , Shih HP, Tirrell DA , Ku HT. A Matrigel-free Method for Culture of Pancreatic Endocrine-like Cells in Defined Protein-based Hydrogels (in press, Frontiers in Bioengineering and Biotechnology, 2023)
Parveen N, Wang JK, Bhattacharya S, Cuala J, Rajkumar MS, Butler AE, Wu X, Shih HP, Georgia SK, Dhawan S. DNA methylation Dependent Restriction of Tyrosine Hydroxylase Contributes to Pancreatic β-cell Heterogeneity. Diabetes 2023; db220506.
Maldonado M, Serrill JD, Shih HP. Painting the Pancreas in Three Dimensions: Whole-Mount Immunofluorescence Method. Methods Mol Biol. 2020; 2155:193-200.
Vinckier NK, Patel NA, Geusz RJ, Wang A, Wang J, Matta I, Harrington AR, Wortham M, Wetton N, Wang J, Jhala US, Rosenfeld MG, Benner CW, Shih HP, Sander M. LSD1-mediated enhancer silencing attenuates retinoic acid signaling during pancreatic endocrine cell development. Nature Communication. 2020 Apr 29;11(1):2082.
Jin W, Mulas F, Gaertner B, Sui Y, Wang J, Matta I, Zeng C, Vinckier N, Wang A, Nguyen-Ngoc KV, Chiou J, Kaestner KH, Frazer KA, Carrano AC, Shih HP, Sander M. A Network of microRNAs Acts to Promote Cell Cycle Exit and Differentiation of Human Pancreatic Endocrine Cells. iScience. 2019 Nov 22;21:681-694.
Johnson BL, d'Alincourt Salazar M, Mackenzie-Dyck S, D'Apuzzo M, Shih HP, Manuel ER, Diamond DJ. Desmoplasia and oncogene driven acinar-to-ductal metaplasia are concurrent events during acinar cell-derived pancreatic cancer initiation in young adult mice. PLoS One. 2019 Sep 6;14(9):e0221810.
Serrill JD, Sander M, Shih HP. Pancreatic Exocrine Tissue Architecture and Integrity are Maintained by E-cadherin During Postnatal Development. Scientific Reports. 2018 Sep 7;8(1):13451.
Maldonado M, Luu RJ, Ico G, Ospina A, Myung D, Shih HP, Nam J. Lineage- and developmental stage-specific mechanomodulation of induced pluripotent stem cell differentiation. Stem Cell Res Ther. 2017 Sep 29;8(1):216.
Shih HP, Panlasigui D, Cirulli V, Sander M. ECM Signaling Regulates Collective Cellular Dynamics to Control Pancreas Branching Morphogenesis. Cell Reports. 2016 Jan 12;14(2):169-79.
Jin L, Gao D, Feng T, Tremblay JR, Ghazalli N, Luo A, Rawson J, Quijano JC, Chai J, Wedeken L, Hsu J, LeBon J, Walker S, Shih HP, Mahdavi A, Tirrell DA, Riggs AD, Ku HT. Cells with surface expression of CD133highCD71low are enriched for tripotent colony-forming progenitor cells in the adult murine pancreas. Stem Cell Res. 2016 Jan;16(1):40-53.
Shih HP, Seymour PA, Patel NA, Xie R, Wang A, Liu PP, Yeo GW, Magnuson MA, Sander M. A Gene Regulatory Network Cooperatively Controlled by Pdx1 and Sox9 Governs Lineage Allocation of Foregut Progenitor Cells. Cell Reports. 2015 Oct 13;13(2):326-36. doi: 10.1016/j.celrep.2015.08.082.
Shih HP, Sander M. Pancreas development ex vivo: culturing embryonic pancreas explants on permeable culture inserts, with fibronectin-coated glass microwells, or embedded in three-dimensional Matrigel™. Methods Mol Biol. 2014;1210:229-37.
Rockich BE, Hrycaj SM, Shih HP, Nagy MS, Ferguson MA, Kopp JL, Sander M, Wellik DM, Spence JR. Sox9 plays multiple roles in the lung epithelium during branching morphogenesis. Proc Natl Acad Sci U S A. 2013 Nov 19;110(47):E4456-64.
Jin L, Feng T, Shih HP, Zerda R, Luo A, Hsu J, Mahdavi A, Sander M, Tirrell DA, Riggs AD, Ku HT. Colony-forming cells in the adult mouse pancreas are expandable in Matrigel and form endocrine/acinar colonies in laminin hydrogel. Proc Natl Acad Sci U S A. 2013 Mar 5;110(10):3907-12.
Seymour PA, Shih HP, Patel NA, Freude KK, Xie R, Lim CJ, Sander M. A Sox9/Fgf feed-forward loop maintains pancreatic organ identity. Development. 2012 Sep;139(18):3363-72.
Eng D, Ma HY, Xu J, Shih HP, Gross MK, Kioussi C. Loss of abdominal muscle in Pitx2 mutants associated with altered axial specification of lateral plate mesoderm. PLoS One. 2012;7(7):e42228.
Shih HP, Kopp JL, Sandhu M, Dubois CL, Seymour PA, Grapin-Botton A, Sander M. A Notch-dependent molecular circuitry initiates pancreatic endocrine and ductal cell differentiation. Development. 2012 Jul;139(14):2488-99.
Campbell AL, Shih HP, Xu J, Gross MK, Kioussi C. Regulation of motility of myogenic cells in filling limb muscle anlagen by Pitx2. PLoS One. 2012;7(4):e35822.
Dubois CL, Shih HP, Seymour PA, Patel NA, Behrmann JM, Ngo V, Sander M. Sox9-haploinsufficiency causes glucose intolerance in mice. PLoS One. 2011;6(8):e23131.
Kopp JL, Dubois CL, Schaffer AE, Hao E, Shih HP, Seymour PA, Ma J, Sander M. Sox9+ ductal cells are multipotent progenitors throughout development but do not produce new endocrine cells in the normal or injured adult pancreas. Development. 2011 Feb;138(4):653-65.
Seymour PA, Freude KK, Dubois CL, Shih HP, Patel NA, Sander M. A dosage- dependent requirement for Sox9 in pancreatic endocrine cell formation. Developmental Biol. 2008 Nov 1;323(1):19-30.
Jonckheere N, Mayes E, Shih HP, Li B, Lioubinski O, Dai X, Sander M. Analysis of mPygo2 mutant mice suggests a requirement for mesenchymal Wnt signaling in pancreatic growth and differentiation. Developmental Biol. 2008 Jun 15;318(2):224-35. doi: 10.1016/j.ydbio.2008.03.014.
Shih HP, Gross MK, Kioussi C. Cranial muscle defects of Pitx2 mutants result from specification defects in the first branchial arch. Proc Natl Acad Sci U S A. 2007 Apr 3;104(14):5907-12.
Shih HP, Gross MK, Kioussi C. Expression pattern of the homeodomain transcription factor Pitx2 during muscle development. Gene Expr Patterns. 2007 Feb;7(4):441-51. doi: 10.1016/j.modgep.2006.11.004.
Kioussi C, Shih HP, Loflin J, Gross MK. Prediction of active nodes in the transcriptional network of neural tube patterning. Proc Natl Acad Sci U S A. 2006 Dec 5;103(49):18621-6.
Publications (review articles)
Shih HP, Wang A, Sander M. Pancreas organogenesis: from lineage determination to morphogenesis. Annu Rev Cell Dev Biol. 2013;29:81-105.
Shih HP, Gross MK, Kioussi C. Muscle development: forming the head and trunk muscles. Acta Histochem. 2008;110(2):97-108. doi: 10.1016/j.acthis.2007.08.004.
Book Chapters
Maricela Maldonado, Shih HP. Embryonic Stem Cells and the Influence of the Microenvironment. (2019) Encyclopedia of Tissue Engineering and Regenerative Medicine, V1, 443-450 Book ISBN: 9780128136997