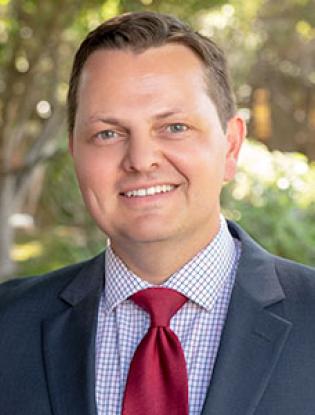 Urologic Surgeon
Clinical Expertise
Stone disease
Benign Prostate Hyperplasia (BPH)
Minimally Invasive Prostate Surgery
Appointments
Assistant Clinical Professor, Division of Urology and Urologic Oncology, Department of Surgery
What struck me about City of Hope was just how happy both the physicians and patients are.

Long before Jeremy Montez, M.D., became a doctor, he was taking care of patients.
A native of the Bay Area, Dr. Montez worked as a hospital orderly and scrub technician while studying biology at University of California Santa Barbara. After college, he trained as a physician's assistant and found himself treating patients at a Level I trauma center. "Each experience left me with the gratification of being able to help patients with their medical care," he says, "but also motivated to continue my training to better serve them."
He went on to earn his medical degree at Keck School of Medicine of USC, and also completed his internship and residency at USC, receiving multiple honors along the way.
As a surgeon/urologist, Dr. Montez is committed to taking care of all his patients' needs. He's especially excited to be working at City of Hope.
"City of Hope not only has world-class physicians and facilities, but at their core, a dedicated group of individuals working as a team to make the lives of their patients better," he says. "It's an organization I am thrilled to be a part of."
2013, M.D., Keck School of Medicine of USC, Los Angeles, CA
2014 present, Urology, University of Southern California, LAC+USC Medical Center, Los Angeles, CA
2013-2014, General Surgery, University of Southern California, Los Angeles County + USC Medical Center, Los Angeles, CA
2018-present, Assistant Clinical Professor, Division of Urology and Urologic Oncology, Department of Surgery, City of Hope, Glendora and West Covina, CA
2013, Alpha Omega Alpha Honor Medical Society, Keck School of Medicine of USC

2013, Sagar Gupta, M.D., Memorial Scholarship Award, Keck School of Medicine of USC

2013, Merck Manual Award, Keck School of Medicine of USC

2013, Dean's Recognition for Junior/Senior Continuum, Keck School of Medicine of USC

2005, Academic Excellence Award , Joan and Sanford I. Weill Medical College of Cornell Physician Assistant Program
Montez J, Ghodoussipour S, Sawkar H, Ginsberg D. Neurogenic Bladder Augmentation in the Age of Botox. Accepted Abstract Western Section AUA 92nd annual meeting, Oct 2016.
Patil MB, Montez J, Loh-Doyle J, Cai J, Skinner EC, Schuckman A, Thangathurai D, Skinner DG, Daneshmand S. Level III-IV inferior vena caval thrombectomy without cardiopulmonary bypass: long term experience with intrapericardial control. Journal of Urology 2014 192(3):682-8.
Ramos P, Montez J, Tripp A, Ng CK, Gill IS, Hung AJ. Face, content, construct, and concurrent validity of dry laboratory exercises for robotic training using a global assessment tool. BJU Int. 2014 May;113(5):836-42.
Montez J, Henderson S. Great tool of gold standard? B-type natriuretic peptide and congestive heart failure. West J Emerg Med. 2011 Feb;12(1):107-8.
Ratings and reviews below are gathered from the Press Ganey Clinician and Group Consumer Assessment of Healthcare Providers and Systems (CG CAHPS) survey. CG CAHPS is a standardized survey that is used to measure a patient's experience in the physician office setting. Ratings are an average of all responses to questions about a provider's care, with 5 stars being the highest.
Ratings
5.0
Show respect for what you say
4.9
Provider explain in way you understand
4.9
Provider listen carefully to you
4.9
Recommend this provider office
4.8
Know important info medical history
4.8
Spend enough time with you
---
Reviews
Excellent service by Dr. Montez
- Verified patient
Always a good experience with Dr. Montez
- Verified patient
Nothing bad, all good
- Verified patient
I was extremely satisfied with my appointment with Dr. Montez. He listened to all my concerns and worries. His ability to communicate my condition and action plan was superb. I am very happy, and feel lucky, to have him in my care team.
- Verified patient
I liked and trusted Dr Montez immediately.
- Verified patient