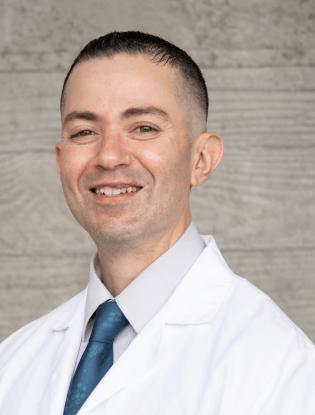 Radiation Oncologist
Appointments
Director, Breast Radiation Oncology
Director, Radiation Oncology Quality And Safety
Associate Professor, Department Of Radiation Oncology
Radiation oncologist Jose Bazan, M.D., M.S., saw a career in medicine as the perfect way to combine his lifelong passions for math and science with his compassionate nature. He was drawn to cancer care and research after both of his parents were confronted with the disease. His focus for patient care is ensuring that they have all the information they need to feel empowered to choose the best treatment option for them.
Dr. Bazan specializes in the treatment of breast cancer and joined City of Hope in 2023 as the director of breast radiation. He was director or Breast Radiation Oncology at The Ohio State University prior to joining City of Hope. Dr. Bazan's passion for breast cancer are evident in his publication record, his devotion to clinical trials, and his service on numerous national and international committees, panels, and task forces. In addition, Dr. Bazan serves as the clinical director of quality and safety at City of Hope.
Promoting health equity is a key priority in Dr. Bazan's research, especially for Hispanic populations. This is exemplified by a study he led that highlights gaps in how biomedical investigations handle race and ethnicity — and that, crucially, discusses steps the scientific community can take to improve. Dr. Bazan's commitment to health equity is evidenced in his diversity, equity and inclusion national committee work through the American Society for Radiation Oncology and the NRG Oncology Clinical Trials group.
Away from the clinic, Dr. Bazan's pastimes include running, going to the ballet, watching movies and traveling. He loves to spend time with his wife and their three all-black cats, Mo, Cesar and Valentina.
2008, Doctor of Medicine, Stanford University School of Medicine, Stanford, California

2008, Master of Science, Clinical Epidemiology, Stanford University, Stanford, California
2013, Radiation Oncology, Stanford Hospital and Clinics, Stanford, California

2009, Internal Medicine, Preliminary Year, Kaiser Permanente, Santa Clara, California
2022-present, Associate Professor, Department of Radiation Oncology; Director, Breast Radiation; Medical Director, Quality and Safety, City of Hope, Duarte, California

2018-2022, Associate Professor, Clinical Scholars Track, Department of Radiation Oncology, The Ohio State University, College of Medicine, Columbus, Ohio

2013-2018, Assitant Professor, Clinical Scholars Track, Department of Radiation Oncology, The Ohio State University, College of Medicine, Columbus, Ohio
2008-2009 Medical Student Teaching Award, Kaiser Permanente, Santa Clara,California
American Board of Radiology
National Academies of Science, Engineering, and Medicine
American Society for Radiation Oncology
International Society of Intraoperative Radiation Oncology
American Society of Clinical Oncology
Bazan JG, Khan A. Target Volume Delineation and Patterns of Recurrence for Breast Cancer in the Modern Era. Seminars in Oncology, 2021 (accepted).
Bazan JG, White JR. Internal Mammary Nodal Irradiation Debate for Node-Positive Breast Cancer: Has the Needle Moved? JAMA Oncol., 2021 (in press).
Chmura S, Winter KA, Robinson C, Pisansky TM, Borges V, Al-Hallaq H, Matuszak M, Park SS, Yi S, Hasan Y, Bazan J, Wong P, Yoon HA, Horton J, Gan G, Milano MT, Sigurdson ER, Moughan J, Salama JK, White JR. Evaluation of Safety of Stereotactic Body Radiotherapy for the Treatment of Patients with Multiple Metastases: Findings from the NRG-BR001 Phase I Trial. JAMA Oncol., 7(6): 845-852, 2021.
Miller E, Bazan J. De-Escalation of Therapy for Patients with Early-Stage Squamous Cell Carcinoma of the Anus. Cancers, 13(9): 2099, 2021.
Bazan JG, Healy E, Beyer S, Kuhn K, DiCostanzo D, Smith TL, Jhawar S, White JR. Clinical Effectiveness of an Adaptive Treatment Planning Algorithm for Intensity Modulated Radiation Therapy Versus 3D Conformal Radiation Therapy for Node-Positive Breast Cancer Patients Undergong Regional Nodal Irradiation/Postmastectomy Radiation Therapy. Int J Radiat Oncol Biol Phys., 108(5): 1159-1171, 2020.
Bazan JG, DiCostanzo D, Hock K, Jhawar S, Kuhn K, Lindsey K, Tedrick K, Healy E, Beyer S, White JR. Analysis of Radiation Dose to the Shoulder by Treatment Technique and Correlation with Patient Reported Outcomes in Patients Receiving Regional Nodal Irradiation. Front Oncol., 11: 617926, 2021.
Bazan JG, Jhawar S, Stover D, Park KU, Beyer S, Healy E, White JR. De-escalation of Radiation Therapy in Patients with Stage I, Node-Negative, HER2-Positive Breast Cancer. NPJ Breast Cancer, 7(1):33, 2021.
Yaney A, Ayan AS, Pan X, Jhawar S, Healy E, Beyer S, Lindsey K, Kuhn K, Tedrick K, White JR, Bazan JG. Dosimetric Parameters Associated with Radiation-Induced Esophagitis in Breast Cancer Patients Undergoing Regional Nodal Irradiation. Radiother Oncol., 155: 167-173, 2021.
Miller ED, Nalin AP, Diaz Pardo DA, Arnett AL, Huang E, Gasio AC, Malalur P, Chen HZ, Williams TM, Bazan JG. Disparate Use of Chemoradiation In Elderly Patients with Localized Anal Cancer. J Natl Compr Canc Netw., 10: 1-9, 2021.
Miller E, Nalin A, Diaza Pardo D, Arnett A, Abushahin L, Husain S, Jin N, Williams T, Bazan J. Stage I Squamous Cell Carcinoma of the Anus: Is Radiation Therapy Alone Sufficient? Cancers, 12(11): 3248, 2020.
Park Ku, Gregory M, Bazan J, Lustberg M, Rosenberg S, Blinder V, Sharma P, Pustzai L, Shen C, Partridge A, Thompson A. Neoadjuvant Endocrine Therapy Use in Early Stage Breast Cancer During the Covid-19 Pandemic. Breast Cancer Res Treat., 188(1): 249-258, 2021.
Sebastian N, Raj R, Prasad R, Barney C, Brownstein J, Grecula J, Haglund K, Welliver MX, Williams TM, Bazan JG. Association of Pre-and Post-Treatment Neutrophil-Lymphocyte Ratio with Recurrence and Mortality in Locally Advanced Non-Small Cell Lung Cancer. Frontiers Oncology 2020