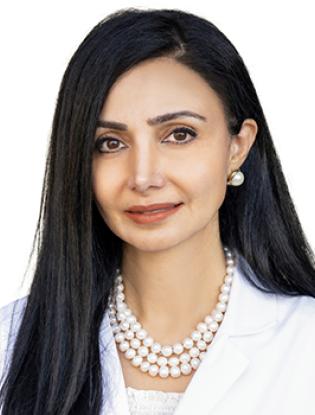 Pathologist
Clinical Expertise
Molecular Pathology
Hematopathology
Appointments
Associate Clinical Professor, Department of Pathology
Chief, Division of Molecular Pathology & Therapy Biomarkers
Medical Director, Cytogenetics and Clinical Molecular Diagnostic Laboratories
Michelle Afkhami, M.D., is an associate clinical professor of pathology with subspecialties in hematopathology and molecular genomic pathology. She currently serves as CLIA Director at the Division of Molecular Pathology and Therapy Biomarkers. She oversees the
Clinical Molecular Diagnostic Laboratory
, and cytogenetics and immunohistochemistry laboratories. In addition, she is chair of the multidisciplinary Genomic Tumor Board and a member of the Oversight Precision Medicine Committee at City of Hope.
She received her medical degree in Iran after completing two years of residency in general surgery at the University of Southern California Huntington Memorial Hospital, she changed career paths and completed a second residency in anatomic and clinical pathology, followed by a fellowship in hematopathology at USC and a second fellowship in molecular genomic pathology at the University of Pittsburgh Medical Center. Over the last 20 years, she has collaborated with many molecular research and clinical laboratories at Cedars-Sinai Medical Center, USC, UCLA, UPMC and City of Hope. She believes that discovering and understanding the molecular pathways involved in malignancies will lead to accurate diagnosis, individualized risk assessment and more effective personalized therapies.
As a physician and clinical scientist, her main interests lie in the dissection of the molecular mechanisms leading to the pathogenic events driving cancer transformation in solid tumors and hematopoietic malignancies. She supervises clinical, developmental and regulatory activities of the
Clinical Molecular Diagnostic
and cytogenetics laboratories and, for last nine years. She also served as a member of multiple disease teams, including melanoma,
head and neck
,
thyroid
, neuro-oncology,
leukemia
,
lymphoma
,
multiple myeloma
, neuroendocrine,
precision medicine
, and phase I therapeutics at City of Hope. As a principal investigator of multiple studies including acute myeloid leukemia, Ph-like lymphoblastic leukemia, thyroid and oral cavity cancers, her work has been presented at many national and international meetings. 
2013, American Board of Hematopathology

2012, American Board of Pathology (Anatomic Pathology)

2012, American Board of Pathology (Clinical Pathology)
2004, Fatemieh University of Medical Sciences, Iran, M.D.
2013-2014, Clinical Instructor/Fellow, Molecular & Genomic Pathology, University of Pittsburgh Medical Center, Pittsburgh, PA

2012-2013, Fellow, Hematopathology, University of Southern California/LAC+USC Medical Center, Los Angeles, CA
2008-2012, Resident, Anatomic and Clinical Pathology, University of Southern California/Los Angeles County+USC VAGLAHS Medical Center, Los Angeles, CA

2007-2008, Resident, General Surgery, Huntington Memorial Hospital, Pasadena, CA

2006-2007, Resident, General Surgery, University of Southern California/LAC+USC Medical Center, Los Angeles, CA
2020-present, Interim Chief, Division of Molecular Pathology and Therapy Biomarkers, Department of Pathology, City of Hope, Duarte, CA

2016-present, Medical Director, Clinical Molecular Diagnostic Laboratory, Department of Pathology, City of Hope Duarte, CA

2014-2016, Associate Medical Director, Clinical Molecular Diagnostic Laboratory, Department of Pathology, City of Hope, Duarte, CA

2014-present, Assistant Clinical Professor, Department of Pathology, City of Hope, Duarte, CA
2011, Third prize winner, Los Angeles Society of Pathologists, Annual Resident/Fellow Symposium

2008, Third prize winner, Annual Resident Research Competition, Huntington Memorial Hospital, Pasadena, CA
Association of Molecular Pathology

American Society of Hematology

Association for Pathology Informatics

Los Angeles Society of Pathologists

College of American Pathologists

American Society for Clinical Pathology