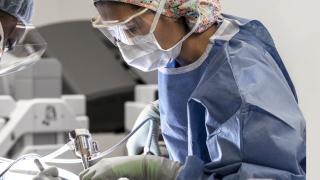 PIPAC – Pressurized Intraperitoneal Aerosolized Chemotherapy
As a National Cancer Institute-designated comprehensive cancer center, City of Hope is renowned for its innovative clinical and translational research. Its experts are now paving the way for new treatment and future therapeutic opportunities with a first-in-the-nation, multisite phase 1 clinical trial to study pressurized intraperitoneal aerosolized chemotherapy (PIPAC) in ovarian, uterine, colorectal, appendiceal and gastric cancer patients with peritoneal carcinomatosis (PC). As the study lead, City of Hope is collaborating with the National Cancer Institute, Mayo Clinic and Northwell Health.
Lead investigator Thanh H. Dellinger, M.D., gynecologic oncology surgeon, and co-investigator Mustafa Raoof, M.D., surgical oncologist, have extensive experience conducting research to develop improved therapies for patients with ovarian, uterine, appendiceal and gastrointestinal cancers. The pair are well-versed in delivering chemotherapy through alternative methods, as part of the heated intraperitoneal chemotherapy (HIPEC) surgical team at City of Hope.
What is PIPAC?
PIPAC is a novel therapeutic method of administering chemotherapy within the abdominal cavity. This approach allows for direct treatment of cancers within the peritoneum, an area in which systemic chemotherapy has little effect due to a low number of blood vessels within this area to effectively transmit traditional chemotherapy.
At the time of treatment, the surgical team performs a minimally invasive laparoscopic procedure that allows for direct access to the abdominal cavity. A high-pressure micro-injection pump converts liquid chemotherapy into an aerosolized spray that can reach every corner of the abdominal cavity, even typically hard-to-reach tumor cells.
Chemotherapy delivery takes approximately half an hour, with the entire procedure taking approximately 60 to 90 minutes. PIPAC is delivered every six weeks for up to six cycles.
Which Cancers can be Treated With PIPAC?
Cancers that spread to the peritoneal cavity may benefit from PIPAC, and these include:
Ovarian
Uterine
Gastric
Colorectal
Appendiceal
City of Hope Seeks Participants for a PIPAC Clinical Trial
City of Hope is currently enrolling patients in the phase 1 study to treat ovarian, uterine, colorectal appendiceal and gastric cancer patients with peritoneal carcinomatosis with PIPAC.
Potential candidates who meet the following criteria may be eligible:
18 years of age and older
Histological confirmation of ovarian, uterine, gastric, appendiceal or colorectal cancer with peritoneal metastases
No contraindications for laparoscopy
Progression on at least one evidence-based chemotherapy
Prior intraperitoneal chemotherapy is permitted
Not everyone will be a candidate for PIPAC, but other treatments may be available.
What are Benefits of PIPAC?
In addition to direct delivery of chemotherapy into the intraperitoneal cavity, which allows for better absorption of chemotherapy into peritoneal tumors, PIPAC offers a number of advantages:
Better tolerability due to short, minimally invasive procedure time. Patients are monitored overnight and are discharged within a day or two.
Aerosolization and pressurization drives chemotherapy deeper into the tissue and into all corners of the abdominal cavity, which results in better distribution.
Favorable pharmacokinetics are achieved by applying only 10-20% of the usual systemic dose.
Lower doses of chemotherapy are required to achieve efficacy, which results in a better toxicity profile in comparison to traditional chemotherapy administration.
Treatment is repeatable. It can be delivered frequently and provides multiple opportunities for tumor staging and response assessment.
Treatment is possible in patients with high disease burden, including colorectal and gastric cancer cases, when surgical debulking may not be feasible. This is a great alternative for patients with PC who are unable to undergo surgical debulking or HIPEC.
Why Choose City of Hope for PIPAC Treatment?
In addition to being a leader in cancer care, treatment and prevention, City of Hope has broad experience with intraperitoneal chemotherapy and a strong history of HIPEC and other types of surgical expertise with peritoneal malignancies. City of Hope performs the highest volume of HIPEC procedures among medical centers in Los Angeles County, and is one of a few centers in the county to offer HIPEC for ovarian cancer.
Physician-scientists at City of Hope have a successful track record of pairing basic and clinical science with leading-edge technology to develop innovative therapies that result in treatment breakthroughs. Institutional resources like the Biological and Cellular GMP Manufacturing Facility enable onsite development of biologics, and other important support including process development and regulatory affairs expertise in cell and gene therapy, recombinant proteins and synthetic molecules.
The benefit of having easy access to a GMP facility was reinforced by the PIPAC study lead investigator, Dr. Dellinger, who said, "we have a lot of innovation in our Beckman research facility and a GMP facility that can assist with any novel drugs. I think that sets us apart in developing novel intraperitoneal therapies."
There is an unmet need in therapy options for patients whose cancer has spread to the peritoneum. "Tumors that have spread to the inner lining will frequently cause obstruction of intestines. These patients are not able to get IV chemotherapy, because when you have a lot of severe symptoms the treatments have to be interrupted," said PIPAC study co-investigator, Dr. Raoof. "We took the lead, knowing that there was a big need for patients to have regional therapy, directly into the abdomen. That's what we're bringing. It's not available at other sites right now. This offers a unique opportunity for patients being treated at City of Hope."
When a patient chooses to participate in the PIPAC trial at City of Hope, they extend the benefit to future patients who might be faced with carcinomatosis. Tissue and blood specimens obtained as part of the PIPAC clinical trial will undergo extensive molecular characterization that will help us learn about peritoneal metastases in unprecedented detail. These findings will enable the development of new therapies and also will allow us to personalize therapies to each patient's tumor type. These studies will not be possible without the extensive translational research infrastructure at City of Hope.
How PIPAC Treatment Acts as a Complement to HIPEC
PIPAC and HIPEC are both therapies that deliver intraperitoneal chemotherapy; however, they each follow different procedures and one may be more suited than the other depending on the patient and cancer.
HIPEC delivers heated chemotherapy into the abdomen of cancer patients with PC, but it requires debulking surgery to remove all visible tumors prior to administration of the chemotherapy.
HIPEC, which has been proven to provide long-term survival benefits, is currently available as a treatment option at City of Hope while PIPAC is only available through clinical study enrollment at this time. If the clinical trial is successful, PIPAC may provide another treatment option on top of HIPEC to treat cancers that have spread throughout the peritoneum.
Both options allow for unique translational research and tumor analysis to occur, which could lead to a deeper understanding of cancer, new research ventures and the development of additional therapeutics.
What COVID-19 Protocols are Being Taken?
Patient health and safety are our highest priorities. As an institution specialized in cancer care, we are well versed in protecting immunocompromised patients from infections during treatment. To continue as a leader in cancer care during the COVID-19 pandemic we've put strict protocols in place to place to protect patients and staff.
These measures include:
Health screenings of all individuals entering patient care areas
Appropriate supplies and use of personal protective equipment
Applying a "no visitor" policy with very limited exceptions
Mandatory masking, social distancing and hygiene measures throughout our facilities
On-site COVID-19 testing with results returned within hours
To safely deliver chemotherapy as an aerosol, City of Hope will implement the following safety measures:
Surgeons are certified in PIPAC, and the attendance of a certified surgeon will be present at the time of each PIPAC administration.
PIPAC operating rooms will use laminar airflow or other advanced air filtration systems.
Aerosol waste will be eliminated into cytotoxic waste bins by chemotherapy-trained operating room nurses.
A standardized safety checklist will be adhered to.
Remoted administration of aerosolized chemotherapy