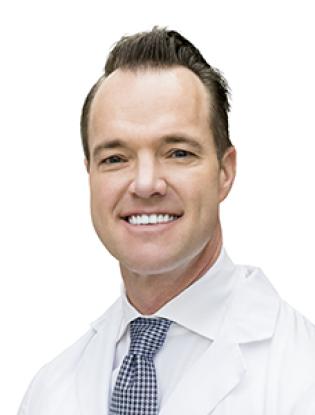 Radiation Oncologist
Clinical Expertise
Thoracic Cancers
Genitourinary Tumors
Intraoperative Radiotherapy for Breast Cancer
Stereotactic Radiosurgery
Appointments
Assistant Clinical Professor, Department of Radiation Oncology
Medical Director of Radiation Oncology, St. Joseph of Orange
Robert Ash, M.D., brings more than two decades of radiation oncology experience to City of Hope. Throughout his career he has been top-rated for excellence in skill and interaction with his patients.
Highly trained in all aspects of radiation therapy, Dr. Ash specializes in complex procedures involving precision stereotactic radiosurgery for brain tumors, lung tumors and intraoperative radiation for
breast cancer
.
A native of Canada, Dr. Ash received his medical degree from Memorial University of Newfoundland and continued his training at University of Western Ontario and University of California San Francisco.
A strong believer in collaboration, Dr. Ash sees the role of the radiation oncologist as a key member of a total team dedicated to providing patients with the best possible care.
Affiliate Location
St. Joseph Hospital of Orange
The Center for Cancer Prevention & Treatment
1000 W. La Veta Ave.
Orange, CA 92868
714-734-6250
1995, M.D., Memorial University of Newfoundland, St. John's,
Newfoundland and Labrador, Canada

1991, B.S., Memorial University of Newfoundland, St. John's,
Newfoundland and Labrador, Canada

1990, B.M., Memorial University of Newfoundland, St. John's,
Newfoundland and Labrador, Canada
2000, Postgraduate Training IMRT, University of California San Francisco, San Francisco, CA
2000, Radiation Oncology Residency, University of Western Ontario, London, Ontario, Canada
2018-present, Assistant Clinical Professor, Department of Radiation Oncology, City of Hope, CA

2007-present, Medical Director of Radiation Oncology and Radiation Oncologist, St. Joseph Hospital of Orange, Orange, CA

2000-2007, Associate Professor, University of Western Ontario, London, Ontario

2000-2007, Staff Radiation Oncologist, London Regional Cancer Centre, London, Ontario

2001-2005, Director, Undergraduate Medical Education for Oncology, University of Western Ontario, London, Ontario
Dr. Ash's research encompasses work in the following areas:
Consolidative radiotherapy for metastatic TCC bladder
Hypofractionated regimen for transitional cell cancer of bladder in elderly
Extra-thoracic small cell rate of CNS failure
Effect of anemia on outcome in limited stage small cell lung
Impact on management of central path review for changes in Gleason-grade prostate cancer (UCSF)
Impact of central pathology review on Gleason Grading for prostate cancer at LHSC (ongoing)
Centre principal investigator in RTOG P-0011 study
Centre principal investigator in Schering P-01243 Brain Metastases Trial
Centre principal investigator in pharmacyclics protocol PCYC-0211 (nonsmall cell lung cancer with brain mets)
Principal investigator in-house trial: Dosimetric comparison of IMRT vs. SIMAT simplified intensity modulated arc therapy) when 3DCRT plans are suboptimal
Outcomes for postoperative salvage prostate radiation
Intraoperative radiation for early stage breast cancer
2006, Provincial Association of Interns and Residents of Ontario "Excellence in Clinical Teaching" award

2003, "Best Curriculum on Earth" award for teaching excellence from Meds III, University of Western Ontario Trinity-Conception Regional Health Foundation
College of Physicians and Surgeons of Ontario

Canadian Association of Radiation Oncologists

Canadian Medical Association

American Society of Therapeutic Radiology and Oncology

American College of Radiology

Royal College of Physicians and Surgeons and Canada

Ontario Medical Association

International Association for the Study of Lung Cancer
Williams VL, Bhandari T, Chen LJ, Wagman LD, Carpenter M, Harness JK, Khanijou R, Gobran M, Olaya W, Carandang MI, Ash RB. Recurrence rates for patients with early-stage breast cancer treated with IOERT at a community hospital per the ASTRO consensus statement for APBI. Brachytherapy. 2019 Sept-Oct;18(5):651-657. doi: 10.1016/j.brachy.2019.04.270. Epub 2019 Jun 22. PMID: 31235444 Clinical Trial.
Ash RB, Williams VL, Wagman LD, Forouzannia A. Oncology (Williston Park). Intraoperative radiotherapy for breast cancer: its perceived simplicity. 2013 Feb;27(2):107-13. PMID: 23530401 Free article. Review.
Forouzannia A, Harness JK, Carpenter MM, Ash RB, Williams V, Gonzalez MM, Fischer S, Rodriguez A, Wagman LD. Intraoperative electron radiotherapy boost as a component of adjuvant radiation for breast cancer in the community setting. Am Surg. 2012 Oct:78(10):1071-4. PMID: 23025943
Stein ME, Bernstein Z, Abacioglu U, Sengoz M, Miller RC, Meirovitz A, Zouhair A, Freixa SV, Poortmans PH, Ash R, Kuten A. Small Cell (Neuroendocrine) Carcinoma of the Prostate: Etiology, Diagnosis, Prognosis, and Therapeutic Implications – A Retrospective Study of 30 Patients from the Rare Cancer Network, The American Journal of The Medical Sciences, December 2008, Vol. 336, No. 6.
Yu E, Tai P, Younus J, Malthaner R, Truong P, Stitt L, Rodrigues G, Ash R, Dar R, Yaremko B, Tomiak A, Dingle B, Sanatani M, Vincent M, Kocha W, Fortin D, Inculet R. Postoperative extended-volume external-beam radiation therapy in high-risk esophageal cancer patients: a prospective experience. Curr Oncol. 2009 Aug;16(4):48-54.
Song WY, Chiu B, Bauman GS, Lock M, Rodrigues G, Ash R, et al. Prostate contouring uncertainty in mega-voltage computed tomography (MVCT) images acquired with a helical tomotherapy unit during image-guided radiation therapy (IGRT). IJRPO, 2006; Jun 1;65(2):595-607.
Passaperuma K, Ash R, Venkatesan V, et al. Pelvic chemoradiotherapy after chemotherapy for metastatic bladder cancer. The Canadian Journal of Urology; April 2006; 13(2);3009-3015.
Ash RB, Videtic G. Letter to the Editor:  Radiation Recall Dermatitis after the use of the Anorexiant Phentermine in a Patient with Breast Cancer. The Breast Journal, 2006; Vol. 12, No. 2, pp186-187.
Videtic G, Truong P, Ash R, et al. Does Sex Influence the Impact that Smoking, Treatment Interruption and Impaired Pulmonary Function have on Outcomes in Limited Stage Small Cell Lung Cancer Treatment? Can Respir J, 2005; Vol. 12, No 5, pp 245-250.
Videtic GM, Stitt LW, Ash RB, et al. Impaired diffusion capacity predicts for decreased treatment tolerance and survival in limited-stage small cell lung cancer patients treated with concurrent chemoradiation. 2004 Lung Cancer; 2004; 43: 159-166.
Rodrigues G, Chan A, Ash RB, et al. Prognosis of superior vena cava obstruction in lung cancer. Lung Cancer 2003; vol. 41: (supplement 2), p.S259.
Yu E, Dar, AR, Ash RB, et al. Is extended volume of external beam irradiation beneficial in post esophagectomy high risk patients receiving combined chemoradiation therapy?  Int J Radiat Oncol Biol Phys 2001; 50(5):#13 - p1384.