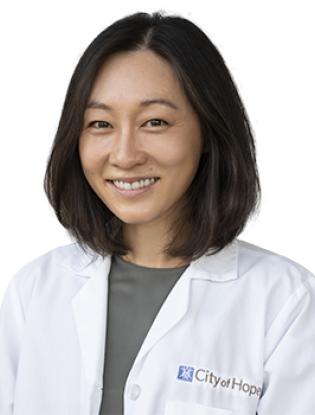 Cardiologist
Appointments
Assistant Clinical Professor, Division Of Cardiology, Department Of Medicine
Cardiologist Stephanie Wu, M.D., is inspired by breakthrough medical research that is enabling better detection and treatment of heart disease. Every day, she brings this optimism — along with respect, dignity and compassion — to the people she treats. Additionally, Dr. Wu is excited for her patients to have access to City of Hope's groundbreaking clinical trials and multidisciplinary approach to care, including the emerging field of cardio-oncology, which recognizes cancer survivors' unique cardiac care needs.
Dr. Wu earned her medical degree from the Keck School of Medicine of USC. Soon after, she was a resident in internal medicine, including a stint as chief resident, at Los Angeles County + USC Medical Center. She then completed a cardiology fellowship at Cedars Sinai Medical Center, where she was named chief fellow and was awarded the Eliot Corday Outstanding Fellow of the Year.
Basic Text Field
2015, Doctor of Medicine, Keck School of Medicine at USC, Los Angeles, California
2011, Bachelor of Science, University of California Los Angeles, Los Angeles, California
Basic Text Field
2022, Cardiology, Cedars Sinai Medical Center, Los Angeles, California
Basic Text Field
2018, Internal Medicine, University of Southern California, Los Angeles, California
Basic Text Field
2022-present, Assistant Clinical Professor, Division of Cardiology, Department of Medicine, City of Hope, Duarte, California
2021, Cedars Sinai Eliot Corday Outstanding Fellow of the Year
2021, Cedars Sinai Clinical Fellows Award for Excellence in Research – Finalist
Wu S, Wei J, Lauzon M, Maughan J, Shaw L, Kelsey S, Anderson D, Pepine C, Bairey Merz N. Left ventricular ejection fraction and long-term outcomes in women with evidence of ischemia: data from the WISE (Women's Ischemia Syndrome Evaluation). Circulation. 2021 (In review)
Yuan N, Wu S, Rader F, Siegel RJ. Determining which hospitalized coronavirus disease 2019 patients require urgent echocardiography. Journal of the American Society of Echocardiography. 2021;34(8):831-838.
Wu S, Chai A, Arimie S, Tun H, Mehra A, Clavijo L, Matthews R, Shavelle D. Incidence and Treatment of Severe Mitral Regurgitation in Contemporary Clinical Practice. Cardiovasc Revasc Med. 2018;19(8):960-963.
Wu S, Sarcon A, Do K, Shinbane J, Doshi R, Van Herle H. A Case of Myocarditis and Near-Lethal Arrhythmia Associated with Interleukin-2 Therapy. J Investig Med High Impact Case Rep. 2018;6:2324709617749622.
Mcleod J, Wu S, Grazette L, Sarcon A. Tacrolimus-Associated Dilated Cardiomyopathy in Adult Patient After Orthotopic Liver Transplant. J Investig Med High Impact Case Rep. 2017;5(2): 2324709617706087.
Lee GJ, Lu PH, Hua X, Lee S, Wu S, et al. Depressive symptoms in mild cognitive impairment predict greater atrophy in Alzheimer's disease-related regions. Biol Psychiatry. 2012;71(9):814-21.
Lu PH, Thompson PM, Leow A, Lee GJ, Lee A, Yanovsky I, Parikshak N, Khoo T, Wu S, Geschwind D, Bartzokis G. Apolipoprotein E Genotype is Associated with Temporal and Hippocampal Atrophy Rates in Healthy Elderly Adults: A Tensor-based Morphometry Study. J Alzheimers Dis. 2011;23(3): 433-432.
Ratings and reviews below are gathered from the Press Ganey Clinician and Group Consumer Assessment of Healthcare Providers and Systems (CG CAHPS) survey. CG CAHPS is a standardized survey that is used to measure a patient's experience in the physician office setting. Ratings are an average of all responses to questions about a provider's care, with 5 stars being the highest.
Ratings
5.0
Show respect for what you say
5.0
Spend enough time with you
5.0
Recommend this provider office
5.0
Provider explain in way you understand
5.0
Provider listen carefully to you
4.9
Know important info medical history
---