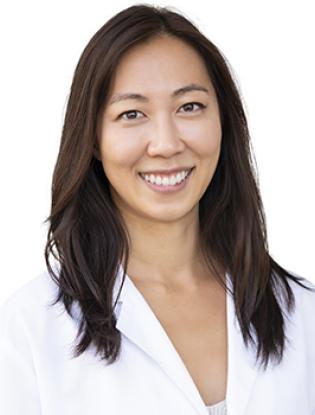 Radiation Oncologist
Appointments
Assistant Clinical Professor, Department Of Radiation Oncology
Radiation oncologist Stephanie Yoon, M.D., treats breast cancer along with brain and spine tumors because of the way cancer in those regions threatens the essence of what makes people who they are — their personalities, experiences, sensations and memories. Her career as a physician is an expression of her passion for helping people reach their highest potential and live their best lives, and she considers caring for people at such a vulnerable time a privilege.
Dr. Yoon offers multiple treatment strategies that deliver radiation precisely in order to maximize dosage to a tumor while sparing healthy tissue and minimizing side effects. These methods include magnetic resonance imaging-guided radiotherapy, stereotactic radiosurgery, stereotactic body radiotherapy, 3D image-guided radiotherapy and high-dose rate brachytherapy. She has authored more than a dozen peer-reviewed studies and gained expertise in the design of clinical trials.
Dedicated to improving diversity, equity and inclusion in medicine to best serve patients, Dr. Yoon served during her residency at University of California Los Angeles as executive chair for the Radiosurgery Society Resident Association and as an executive board member for the Society for Women in Radiation Oncology.
Basic Text Field
2017, M.D., Temple University Lewis Katz School of Medicine, Philadelphia, PA

2011, B.S., Biology | Minor in Literature, Massachusetts Institute of Technology (MIT) Cambridge, MA
Basic Text Field
2017-2018, Internal Medicine, Abington-Jefferson Health Philadelphia, PA
Basic Text Field
2018-2022, Residency, Radiation Oncology, University of California, Los Angeles, CA
Basic Text Field
2022-present, Assistant Clinical Professor, Department of Radiation Oncology, City of Hope, Duarte, California
Kundu P, Lin E, Yoon S, Parikh N, Ruan D…Chang AJ. Rectal Radiation Dose and Clinical Outcomes in Prostate Cancer Patients treated with Stereotactic Body Radiation Therapy with and without Hydrogel. Frontiers Oncology. 2022. DOI: 10.3389/fonc.2022.853246
Zhou H, Cao M, Yoon S, Kishan A, Ruan D. Technical Note: Air bubble-induced performance degradation in automatic rectum segmentation from cone-beam CT. Med Phys. 2022; 1-5. DOI: 10.1002/mp.15443
Zhou H, Cao M, Min Y, Yoon S, Kishan A, Ruan D. Ensemble learning and tensor regularization for cone-beam computed tomography-based pelvic organ segmentation. Med Phys. 2022; 00 1-13. DOI: 10.1002/mp.15475
Gao Y, Pham J, Yoon S, Cao M, Hu P, Yang Y. Recent Advances in Functional MRI to Predict Treatment Response for Locally Advanced Rectal Cancer. Current Colorectal Cancer Reports. 2021. DOI: 10.1007/s11888-021-00470-x
Yoon S, Luterstein E, Chu F, Cao M, Lamb J, Agazaryan N…Lee P. Clinical outcomes of stereotactic magnetic resonance image-guided adaptive radiotherapy for primary and metastatic tumors in the abdomen and pelvis. Cancer Med. 2021; 00:1-10. DOI: 10.1002/cam4.4139
Yoon S, Suh R, Abtin, F, Moghanaki D, Genshaft S, Kamrava M…Chang AJ. Outcomes with multi-disciplinary management of central lung tumors with CT-guided percutaneous high dose rate brachyablation. Radiat Oncol. 2021; 16, 99. DOI: 10.1186/s13014-021-01826-1
Cao M, Gao Y, Yoon S, Yang Y, Sheng K, Ballas L…Kishan AU. Interfractional geometric variations and dosimetric benefits of stereotactic MRI guided online adaptive radiotherapy (SMART) of prostate bed after radical prostatectomy: Post-hoc Analysis of a Phase II Trial. Cancers. 2021; 13, 2802. DOI: 10.3390/cancers13112802
Valle LF, Chu FI, Kundu P, Yoon, S, Gilchrist T, Steinberg ML, Raldow A. National variation in the delivery of radiation oncology procedures in the non-facility-based setting. Cancer Medicine. 2021. DOI: 10.1002/cam4.4028
Yoon S, Chu F, Ruan D, Steinberg ML, Raldow A, Lee, P. Assessment of Toxic Effects Associated with Dose-Fractionated Radiotherapy Among Patients with Cancer and Comorbid Collagen Vascular Disease. JAMA Network Open. 2021; 4(2):e2034074. DOI: 10.1001/jamanetworkopen.2020.34074
Valle LF, Kundu P, Yoon S, Pennington D, Cao M, Lee P, Kishan A. (in press). Simulated consult and treatment exercise improve radiation oncology trainee confidence and knowledge. Journal of Education and Health Promotion.
Valle LF, Chu F, Yoon S, Kundu P, Gilchrist T, Steinberg ML…Raldow A. Provider level variation in planning of radiation oncology procedures in the United States. Journal of Clinical Oncology- Oncology Practice. 2021. Jan; 8. DOI: 10.1200/OP.20.00441
Gao Y, Yoon S, Savjani R, Pham J, Kalbasi A, Raldow A…Yang Y. Comparison and evaluation of distortion correction techniques on an MR-guided radiotherapy system. Medical Physics. 2021. Jan. DOI: 10.1002/mp.14634
Yan R, Chu F, Gao Y, Yu V, Yoon S, Elashoff D…Yang Y. Time-resolved dosimetric analysis of cardiac substructures for radiotherapy of thoracic tumors using an MR-guided radiotherapy system. Physics and Imaging in Radiation Oncology. 2020, Dec. DOI: 10.1016/j.phro.2020.11.005
Yoon S, Cao M, Aghdam N, Shabsovich D, Kahlon S, Ballas L, et al. Prostate bed and organ-at risk deformation: Prospective volumetric and dosimetric data from a phase II trial of stereotactic body radiotherapy after radical prostatectomy. Radiotherapy Oncology. 2020. Jul;148:44-50. DOI: 10.1016/j.radonc.2020.04.007
Yoon S, Lee P, Raldow A. The evolving landscape of neoadjuvant radiation therapy for locally advanced rectal cancer. Current Colorectal Cancer Reports. 2020. Jun; 16:39-48. DOI: 10.1007/s11888-020-00451-6
Rogers ZN, McFarland CD, Winter IP, Seoane JA, Brady JJ, Yoon S…Winslow M. Mapping the in vivo fitness landscape of lung adenocarcinoma tumor suppression in mice. Nature Genetics. 2018 Apr; 50(4): 483-486. DOI: 10.1038/s41588-018-0083-2
Yoon S, Shaik T, Hallman M. Therapeutic Management Options for Stage III Non-Small Cell Lung Cancer. World Journal of Clinical Oncology. 2017 Feb; 8 (1): 1-20. DOI: 10.5306/wjco.v8.i1.1
Frumkin JP, Patra BN, Sevold A, Ganguly K, Patel C, …Ray A. The interplay between chromosome stability and cell cycle control through gene-gene interaction and computational simulation. Nucleic Acids Research. 2016 Sep; 44(17): 8073-8085 DOI: 10.1093/nar/gkw715
Winslow MM, Dayton TL, Verhaak RG, Kim-Kiselak C, Snyder EL, Feldser DM … Jacks, T. Suppression of lung adenocarcinoma by Nkx2-1. Nature. 2011 May; 473(7345): 101-104. DOI: 10.1038/nature09881