Syed Rahmanuddin, M.B.B.S., M.B.A.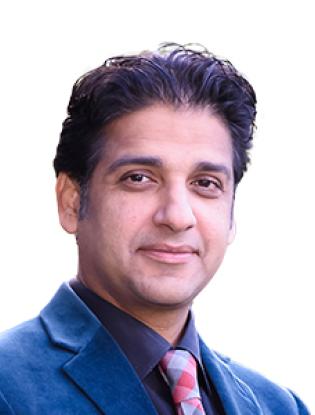 Assistant Research Professor, Department of Diagnostic Radiology
Appointments
Head of 3D Oncologic Imaging Center
The research focus of Syed Rahmanuddin, M.B.B.S., M.B.A., involves developing the latest radiology imaging techniques for early cancer detection. These methods include using 3D imaging for ultrasound, computed tomograph and magnetic resonance modalities. The transition from traditional 2D to 3D radiology is highlighting important hidden information to diagnose and treat disease, especially in the oncology area. Using this advanced 3D technology, Rahmanuddin is able to explore radiology data at the pixel level to not only diagnose disease but to help clinicians predict disease outcome.
"This area of research is growing dramatically. I consider 3D radiology the future of radiology," he says. "My goal is to investigate more imaging biomarkers for the early detection of tumors in all different areas of the body."
1997, M.B.B.S., Dow University of Health Sciences, Karachi, Pakistan

2020, M.B.A., Walden University
2011, Surgical Oncology Imaging Department, University of Alabama, Birmingham, AL

2007, Cancer Radiology Department, Beth Israel Deaconess Medical Center, Boston, MA
2017-present, Assistant Research Professor, Department of Diagnostic Radiology, City of Hope, Duarte, CA

2015-present, Founder and Head of 3D Oncologic Imaging Center, City of Hope, Duarte, CA

2013-2015, Director Clinical Application and 3D Clinical Imaging, Radnet Inc.

2011-2012, Director 4D Quantitative Imaging Center, Keck Medical Center of USC, Los Angeles, CA

2011-2012, Clinical Instructor Radiology, USC Health Sciences Center, Keck School of Medicine of USC, Los Angeles, CA

2005-2006, Clinical Imaging Research Assistant, Oklahoma University Health Sciences Center, Oklahoma, OK

2001-2004, Research Associate, Northwestern Memorial Hospital, Chicago, IL

1998-2001, Resident Medical Officer Physician, MOH Maldives & Nadeem Medical Center, Karachi

1997-1998, Resident House Physician, Civil Hospital, Karachi
2010, NIH Ruth L. Kirschstein National Research Service Award, Surgery, University of Alabama at Birmingham, AL

2006, NCI Ruth L. Kirschstein National Research Service Award, Radiology BIDMC, Harvard University, Cambridge, MA
Associate Member, City of Hope's Comprehensive Cancer Center: Developmental Cancer Therapeutics

Associate Editor, Journal of Cancer Prevention & Current Research

Editorial board, Cancer Therapy & Oncology International Journal

Editorial Board Member, Journal of Current Trends in Clinical & Medical Imaging

Member, Institutional Review Board Committee, Oklahoma University- Radiology, Oklahoma City, OK

Member, Clinical Research Associates

Member, Midwest Microscopy & Microanalysis Society

Member, World Society of Interventional Oncology

Member, Radiological Society of North America

Member, Dow Graduate Association of North America

Member, Harvard University Post-Doc Association

Organizing Committee Member, Radiology and Imaging
iu G, Kaw B, Kurfis J, Rahmanuddin S, Kanwar YS, Chugh SS. Neph1 and nephrin interaction in the slit diaphragm is an important determinant of glomerular permeability. LThe Journal of clinical investigation. 2003; 112(2):209-21.
Sabir A, Schor-Bardach R, Wilcox CJ, Rahmanuddin S, Atkins MB, Kruskal JB, Signoretti S, Raptopoulos VD, Goldberg SN. Perfusion MDCT enables early detection of therapeutic response to antiangiogenic therapy. AJR. American journal of roentgenology. 2008; 191(1):133-9.
Pope WB, Kim HJ, Huo J, Alger J, Brown MS, Gjertson D, Sai V, Young JR, Tekchandani L, Cloughesy T, Mischel PS, Lai A, Nghiemphu P, Rahmanuddin S, Goldin J. Recurrent glioblastoma multiforme: ADC histogram analysis predicts response to bevacizumab treatment. Radiology. 2009; 252(1):182-9.
Solazzo SA, Ahmed M, Schor-Bardach R, Yang W, Girnun GD, Rahmanuddin S, Levchenko T, Signoretti S, Spitz DR, Torchilin V, Goldberg SN. Liposomal doxorubicin increases radiofrequency ablation-induced tumor destruction by increasing cellular oxidative and nitrative stress and accelerating apoptotic pathways. Radiology. 2010; 255(1):62-74.
Saremi F, Kang J, Rahmanuddin S, Shavelle D. Assessment of post-atrial switch baffle integrity using a modified dual extremity injection cardiac computed tomography angiography technique. International journal of cardiology. 2013; 162(2):e25-7.
Leslie S, Gill IS, de Castro Abreu AL, Rahmanuddin S, Gill KS, Nguyen M, Berger AK, Goh AC, Cai J, Duddalwar VA, Aron M, Desai MM. Renal tumor contact surface area: a novel parameter for predicting complexity and outcomes of partial nephrectomy.European urology. 2014; 66(5):884-93.