Residency Faculty
All members of our residency faculty are seasoned clinicians with 10+ years of experience and a passion for oncologic rehabilitation. All our faculty mentors are committed to providing supportive mentorship to foster professional development and critical thinking, and to developing clinical specialists.
Residency Director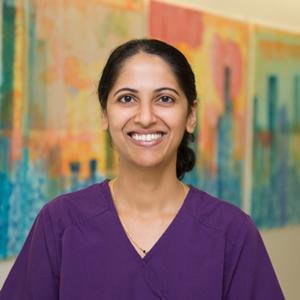 Gouri Varatkar, M.P.T., CEEAA, CAPP — Pelvic
Gouri Varatkar is a board-certified oncologic specialist and has her Certificate of Achievement in Pelvic Physical Therapy (CAPP) through the American Physical Therapy Association (APTA). She has 17 years of inpatient and outpatient experience in the oncology setting. She is passionate about promoting awareness for oncology rehabilitation and educating young professionals about the potential for growth in this field. She has been involved in residency education since 2019 and has served on the faculty as a mentor and coordinator. She is also a member of the Oncology Section of APTA and a member of the SACE (Specialization Academy of Content Experts) Committee from 2022 to 2024.
Other Faculty
CeCe Fernandez has been practicing as a physical therapist for over 20 years and is the manager of the Department of Physical Therapy at City of Hope. She specializes in treating hematological disorders and stem cell transplantation while also working with various oncological diagnoses throughout the hospital. In addition, she has collaborated with multiple teams focusing on program development to include physical therapy in all populations. Still, her passion and current research areas include prehabilitation in surgical oncology and the stem cell transplant population.
After earning bachelor degrees in both medical technology and physical therapy, Joy Ramos practiced in a variety of clinical settings. Oncology rehab, an evolving field in the comprehensive management of cancer treatment, inspired her to join City of Hope's Department of Rehabilitation Services. With 15 years at City of Hope, she has broad experience in acute care, providing skilled physical therapy services in a variety of cases (plastic/reconstructive, orthopedic and limb salvage, neurosurgery, solid tumors and other forms of cancer-related disorders). Ramos is a strong advocate for early mobility in the intensive care unit (ICU), and champions City of Hope's interdepartment effort to transform ICU culture and adapt evidence-based practice in ICU mobility.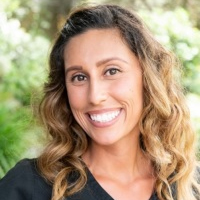 Audrina Caine
Audrina Caine has been a practicing physical therapist for 11 years, spending time in the acute rehab, outpatient pediatrics, and home health settings before finding her passion for acute oncologic rehabilitation. She specializes in hematological diagnoses with emphasis on refractory and relapsed disease. Over the course of her 6 year tenure at City of Hope she has collaborated on various research studies focusing on pre-habilitation for the geriatric population. She is active in educating her community on the role of physical therapy in cancer rehabilitation, participating as a guest lecturer at local universities and secondary schools.