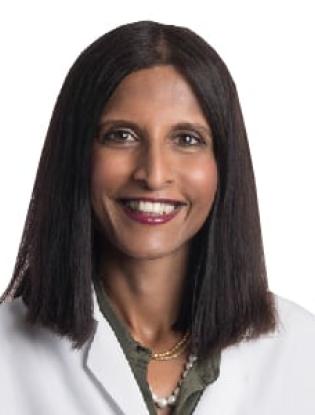 Hematologist
Appointments
Executive Medical Director, Hematology, City of Hope Orange County
Director, Judy and Bernard Briskin Multiple Myeloma Center
Professor, Department of Hematology & Hematopoietic Cell Transplantation
Equally driven as a clinician and researcher, Amrita Krishnan, M.D., was instrumental in bringing successful transplant therapy to HIV patients with lymphoma, when many believed such patients were too weak to tolerate the procedure.
"We have patients who had been told to get their affairs in order," she says. "Years later, they are still here."
A key member of the City of Hope team since 1996, Dr. Krishnan trained at The University of Rochester, Beth Israel Hospital, Fred Hutchinson Research Cancer Center and Dana Farber Cancer Institute. Serves as a steering committee member on the Multiple Myeloma Research Foundation and the North American representative to the International Myeloma Society, former chair of the Blood and Marrow Transplant Clinical Trials Network myeloma committee and is the Co-Chair of several of the largest myeloma transplant trials in the U.S.
1990, Albany Medical College, Albany, NY, M.D., Medicine

1988, Union College, Schenectady, NY, B.S., Biology/Modern Languages
1996 - 1997, Clinical Fellow, Bone Marrow Transplantation City of Hope

1993 - 1996, Clinical Fellow, Hematology-oncology Beth Israel Hospital, Harvard University Boston MA

1993 - 1996, Clinical Fellow Clinical Fellow in Medicine, Harvard Medical School Boston MA

1995 - 1996, Research Fellow Division of Hematologic Malignancies, Principal Investigator, J. Ritz Dana Farber Cancer Institute Harvard University, Boston MA

1995, Clinical Fellow, Bone Marrow Transplantation Fred Hutchinson Cancer Research Center, University of Washington Seattle WA

1995, Clinical Fellow, Bone Marrow Transplantation, Solid Tumor and Lymphoma Autologous Marrow Program Dana Farber Cancer Institute and Beth Israel Hospital, Boston, MA
1991 - 1993, Strong Memorial Hospital University of Rochester, Rochester, NY
2021-present, Professor, Department of Hematology & Hematopoietic Cell Transplantation, City of Hope, Duarte, CA

2008 - 2018, Director, Multiple Myeloma Program, City of Hope, Duarte, CA

2004 - 2018, Associate Director, Medical Education and Training, Department of Hematology and Hematopoietic Cell Transplantation, City of Hope

1997 - present, Staff Physician, Department of Hematology and Hematopoietic Cell Transplantation City of Hope
Stadtmauer EA, Pasquini MC, Blackwell B, Hari P, Bashey A, Devine S, Efebera Y, Ganguly S, Gasparetto C, Geller N, Horowitz MM, Koreth J, Knust K, Landau H, Brunstein C, McCarthy P, Nelson C, Qazilbash MH, Shah N, Vesole DH, Vij R, Vogl DT, Giralt S, Somlo G, Krishnan A. Autologous Transplantation, Consolidation, and Maintenance Therapy in Multiple Myeloma: Results of the BMT CTN 0702 Trial. J Clin Oncol. 2019 Mar 1;37(7):589-597. doi: 10.1200/JCO.18.00685. Epub 2019 Jan 17. PMID: 30653422
A Krishnan, P Sonneveld. Should the emphasis be on induction or consolidation therapy in transplant-eligible, newly diagnosed multiple myeloma? Lancet Haematol. 2020 Jun;7(6):e445-e446. doi: 10.1016/S2352-3026(20)30149-6.PMID: 32470436
Costa LJ, Derman BA, Bal S, Sidana S, Chhabra S, Silbermann R, Ye JC, Cook G, Cornell RF, Holstein SA, Shi Q, Omel J, Callander NS, Chng WJ, Hungria V, Maiolino A, Stadtmauer E, Giralt S, Pasquini M, Jakubowiak AJ, Morgan GJ, Krishnan A, et al. International harmonization in performing and reporting minimal residual disease assessment in multiple myeloma trials. Leukemia. 2020 Aug 11. Online ahead of print. PMID: 32778736
Krishnan A, Adhikarla V, Poku EK et al. Identifying CD38+ cells in patients with multiple myeloma: first-in-human imaging using copper-64-labeled daratumumab. Blood Adv. 2020 Oct 27;4(20):5194-5202. doi: 10.1182/bloodadvances.2020002603.PMID: 33095874.
Ratings and reviews below are gathered from the Press Ganey Clinician and Group Consumer Assessment of Healthcare Providers and Systems (CG CAHPS) survey. CG CAHPS is a standardized survey that is used to measure a patient's experience in the physician office setting. Ratings are an average of all responses to questions about a provider's care, with 5 stars being the highest.
Ratings
4.8
Know important info medical history
4.8
Recommend this provider office
4.7
Show respect for what you say
4.7
Provider listen carefully to you
4.6
Spend enough time with you
4.6
Provider explain in way you understand
---
Reviews
City of Hope is the best place I could ever dream of. Dr. Krishnan is brilliant in multiple myeloma and I am blessed to have her as my boss!!! She is truly the best!
- Verified patient
I always recommend this wonderful cancer care facility!
- Verified patient
Dr Krishnan is wonderful
- Verified patient
Dr. Krishnan always shows concern for me and treats me with the utmost respect. I followed her to Irvine because in my opinion, she is the best there is in the care of [...], and she truly care about me as a person. She always takes the time to ask how I am doing and monitors my care very closely. She even remembers that my sons are [...] and my husband is in [...]. She also asks how each one is doing every time I am there. She truly invests in her patients. I do not even think about having [...] after I leave there, and that is due to my total confidence in her to monitor my health. You are fortunate to have Dr. Krishnan on your team.
- Verified patient
Absolutely top notch.
- Verified patient