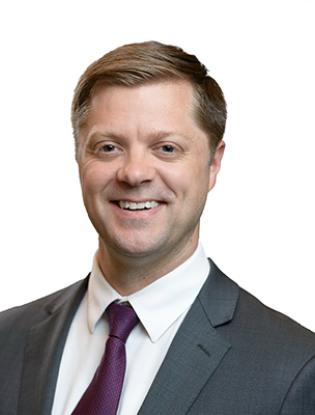 Hematologist-Oncologist
Clinical Expertise
Acute myeloid leukemia
Myelodysplastic syndromes
Leukemia
Appointments
Assistant Professor, Division of Leukemia, Department of Hematology & Hematopoietic Cell Transplantation
It is an exciting time to be at City of Hope as it stands at the forefront of cancer discovery.
Brian Ball, M.D., specializes in
acute myeloid leukemia
and
myelodysplastic syndromes
, and is driven to improve the lives of patients with myeloid malignancies. It's been his focus ever since his undergrad days in Boston when, as a lab assistant at Brigham and Women's Hospital, "I observed oncologists in clinic and was inspired by their competence, empathy and commitment ... I also witnessed the limitations of current leukemia therapies, which motivated my interest in understanding the genetic basis of cancer."
Dr. Ball received his medical degree at Georgetown University in Washington, DC, then continued his training at Yale-New Haven Hospital and Memorial Sloan Kettering Cancer Center in New York City. At Yale, he co-directed the school's Refugee Health Clinic. He's earned numerous honors and awards, including being selected as chief fellow at Memorial Sloan Kettering and Yale's coveted Global Health Scholar program enabling him to study in South Africa.
Dr. Ball has a keen interest in researching the molecular mechanisms mediating resistance to current leukemia treatments. One of his proposals for overcoming resistance to apoptosis therapies earned him the American Society of Clinical Oncology Young Investigator Award at Memorial Sloan Kettering. He expects to advance and grow his research at City of Hope, a place he lauds as "a leading institution in the field of
leukemia
and bone marrow transplant."
2010-2014, M.D., Doctor of Medicine, cum laude, Georgetown University School of Medicine, Washington, DC

2009-2010, M.D., Physiology and Biophysics, Georgetown University, Washington, DC

2002-2006, B.S., Biology, Minor in German Studies, Boston College, Chestnut Hill, MA
2017-2020, Hematology-Oncology Fellowship, Memorial Sloan Kettering Cancer Center, New York, NY
2014-2017, Internal Medicine Residency, Yale-New Haven Hospital, New Haven, CT
2011, Research Internship, Brigham and Women's Hospital, Hematology and Oncology Department, Boston, MA
2020-present, Assistant Professor, Division of Leukemia, Department of Hematology & Hematopoietic Cell Transplantation, City of Hope, Duarte, CA

2015-2017, Myelodysplastic Syndromes Research, Hematology and Oncology Department, Yale University, New Haven, CT

2013-2014, Gastrointestinal Malignancies Research, Hematology and Oncology Department, Georgetown University, Washington, DC

2006-2009, Research Technician, Hematology and Oncology Department, Brigham and Women's Hospital, Boston, MA
2020, Mortimer J. Lacher Fellowship Funding from the Lymphoma Foundation

2019-2020, Memorial Sloan Kettering Cancer Center Chief Fellow

2019, American Society of Hematology Abstract Achievement Award for the ASH Annual Meeting

2016, American Society of Hematology Abstract Achievement Award for the ASH Annual Meeting

2017, Yale/Stanford Global Health Scholar Recipient

2014, Alpha Omega Alpha

2014, The Jesuit Leadership and Service Award

2014, Michael J. Caruso, MD Memorial Award

2013, Read Poster Recipient, Awarded to members of Georgetown exemplifying "Cura Personalis"
Memorial Sloan Kettering Cancer Center Certificate Program in Clinical Investigation
Ball B, Stein EM. Which are the most promising targets for minimal residual disease-directed therapy in acute myeloid leukemia prior to allogeneic stem cell transplant? Haematologica. 104 (8): 1521: 1531. 2019. PMID: 31366466
Ball B, Abdel-Wahab O. Activating p53 and Inhibiting Superenhancers to Cure Leukemia. Trends in Pharmacological Sciences. 39 (12): 1002-1004. 2018. PMID: 27654579
Ball B, Komrokji RS, Ades L, Sekeres MA, DeZern AE, Pleyer L, Vey N, Almeida A, Germing U, Cluzeau T, Platzbecker U, Gore S, Fenaux P, Prebet T. Evaluation of induction chemotherapy regimens in myelodysplastic syndromes and acute myeloid leukemia after hypomethylating agent failure. Blood Advances. 2 (16): 2063-2071. 2018. PMID: 30120104
Ball B, Zeidan A, Gore SD, Prebet T. Hypomethylating agent combination strategies in myelodysplastic syndromes: Hopes and shortcomings. Leukemia and Lymphoma. 58: 1022-36. 2017. PMID: 27654579
Kumar MS, Narla A, Nonami A, Mullally A, Dimitrova N, Ball B, McAuley JR, Poveromo L, Kutok JL, Galili N, Raza A, Attar E, Gilliland DG, Jacks T, Ebert BL. Coordinate loss of a microRNA and protein-coding gene cooperate in the pathogenesis of 5q- syndrome. Blood. 118(17):4666-73. 2011. PMID: 21873545
Kharas MG, Lengner CJ, Al-Shahrour F, Bullinger L, Ball B, Zaidi S, Morgan K, Tam W, Paktinat M, Okabe R, Gozo M, Einhorn W, Lane SW, Scholl C, Frohling S, Fleming M, Ebert BL, Gilliland DG, Jaenisch R, Daley GQ. Musashi-2 regulates normal hematopoiesis and promotes aggressive myeloid leukemia. Nat Med. 16:903-908. 2010. PMID: 20616797
Mullally A, Lane SW, Ball B, Megerdichian C, Okabe R, Al-Shahrour F, Paktinat M, Haydu JE, Housman E, Lord AM, Wernig G, Kharas MG, Mercher T, Kutok JL, Gilliland DG, Ebert BL. Physiological Jak2V617F expression causes a lethal myeloproliferative neoplasm with differential effects on hematopoietic stem and progenitor cells. Cancer Cell. 17:584-596. 2010. PMID: 20541703
Koo S, Huntly B, Wang Y, Chen J, Brumme K, Ball B, McKinney-Freeman S, Yabuuchi A, Scholl C, Bansal D, Zon L, Froehling S, Daley G, Gilliland G, Mercher T. Cdx4 is dispensable for murine adult hematopoietic stem cells but promotes MLL-AF9-mediated leukemogenesis. Haematologica. 2010. PMID: 20494928;
Cornejo MG, Kharas MG, Werneck MB, Le Bras S, Moore SA, Ball B, Beylot-Barry M, Rodig SJ, Aster JC, Lee BH, Cantor H, Merlio JP, Gilliland DG, Mercher T. Constitutive JAK3 activation induces lymphoproliferative syndromes in murine bone marrow transplantation models. Blood. 113:2746-2754. 2009. PMID: 19139084
Ratings and reviews below are gathered from the Press Ganey Clinician and Group Consumer Assessment of Healthcare Providers and Systems (CG CAHPS) survey. CG CAHPS is a standardized survey that is used to measure a patient's experience in the physician office setting. Ratings are an average of all responses to questions about a provider's care, with 5 stars being the highest.
Ratings
5.0
Show respect for what you say
4.9
Spend enough time with you
4.9
Provider explain in way you understand
4.9
Provider listen carefully to you
4.8
Recommend this provider office
4.7
Know important info medical history
---
Reviews
I would and have recommended Dr. Ball to friends for medical referral questions.
- Verified patient
Excellent, kind, caring doctor
- Verified patient
Dr Ball is excellent. The care provided was above what was expected. He ran several tests to identify or eliminate the problem.
- Verified patient
Dr. Ball is the BEST!!
- Verified patient
I don't like what I'm dealing with but can't think of a better care team or facility to treat my condition.
- Verified patient