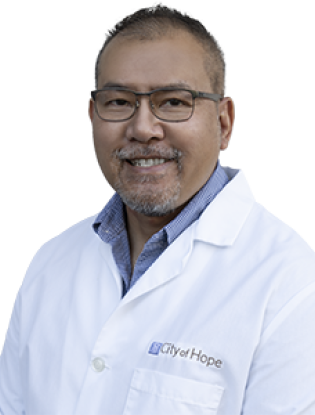 Assistant Professor
Appointments
Assistant Professor, Department of Diagnostic Radiology
Bao Nguyen, M.D., embraces a philosophy of care that puts listening first. He is dedicated to treating patients equitably and ensuring that their concerns are addressed, and relishes challenging cases that call for him to think through the solutions that will best serve his patients. Because Dr. Nguyen has close family members who have been affected by cancer, the chance to serve patients at City of Hope is very special to him.
He counts among his formative educational experiences an apprenticeship in a University of Southern California research lab where he handled electron microscope imaging. After graduating cum laude from the Creighton University School of Medicine, Dr. Nguyen pursued a residency in diagnostic radiology and a fellowship in musculoskeletal radiology at the University of Iowa. This was followed by a supplemental fellowship at Marin Radiology in San Francisco focusing on musculoskeletal radiology and spinal pain injections.
Originally from Los Angeles County, Dr. Nguyen is fluent in Vietnamese. Outside of work, he enjoys spending time with family, especially his wife and kids.
1994, Doctor of Medicine, cum laude,
Creighton University School of Medicine, Omaha, NE

1989, Bachelor of Arts, Biology,
Willamette University, Salem, OR
1999, Supplemental Fellowship, Musculoskeletal Radiology,
Marin Radiology, Musculoskeletal Radiology and Spinal Pain Injections, San Francisco, CA

1999, Fellowship, Musculoskeletal Radiology,
University of Iowa Hospitals and Clinics, Iowa City, IA
1998, Resident, Diagnostic Radiology,
University of Iowa Hospitals and Clinics, Iowa City, IA
2021-present, Assistant Professor, Department of Diagnostic Radiology,
City of Hope, Duarte, CA

2018-present, Radiologist and Cardiac Imaging Director,
Rocky Mountain Regional VA Medical Center, Aurora, CO

2018-present, Assistant Professor of Radiology,
University of Colorado, School of Medicine, Anschutz Medical Campus, Aurora, CO
American College of Radiology

American Roentgen Ray Society

Radiologic Society of North America

Society of Cardiovascular Computed Tomography
D'Allessandro MP, Nguyen, BC, D'Allessandro DM. Information Needs and Information Seeking Behaviors of On Call Radiology Residents. Academic Radiology 1999:6:16-21. 1999.
Chest Wall Masses: A Collection of Common and Rare Neoplasms With Radiologic and Pathologic Correlation. RSNA, Poster 1997.