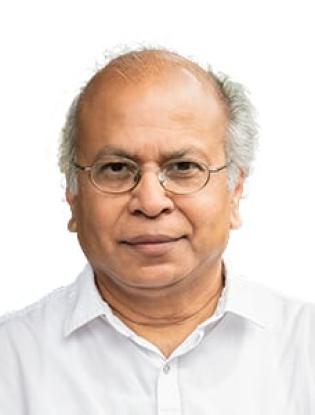 Research Professor And Director Of Translational Research , Department Of Medical Oncology & Therapeutics Research
Appointments
Research Professor, Department Of Systems Biology
Prakash Kulkarni, Ph.D., is currently a research professor in the
Department of Medical Oncology Therapeutics Research
at City of Hope in Duarte, California. Dr. Kulkarni obtained his Ph.D. in biochemistry from India and did his postdoctoral training in cell biology at New York University.
Subsequently, he held staff scientist positions in the Division of Chemistry & Chemical Engineering, as well as in the Division of Biology, at California Institute of Technology, and later, in the Department of Genetics at Yale University. Dr. Kulkarni began his independent academic career as an assistant professor of urology and oncology in the Brady Urological Institute at Johns Hopkins University where he was named the Irene and Bernard L. Schwartz Scholar of the Patrick C Walsh Prostate Research Fund.
He then moved as research associate professor to the Institute of Bioscience & Biotechnology Research at University of Maryland before he moved to City of Hope. Dr. Kulkarni is an editorial board member of several journals and also is the associate editor-in-chief of Biomolecules. In addition, he is a member of the Organizing Committee of International Meetings, and serves as a scientific expert to various government and philanthropic organizations in the U.S., Europe and Australia. In addition to cancer biology, he maintains a strong interest in prostate cancer, as well as other solid tumors.
1983, Ph.D., Biochemistry, Mangalore University, India

1978, Masters of Science, Comparative Endocrinology, Karnatak University, India

1976, Bachelors of Science, Zoology, Chemistry, Biology, Karnatak University, India
1985, Cell Biology, New York University School of Medicine, New York
2017-Present, Research Professor, Department of Medical Oncology & Therapeutics Research, City of Hope, Duarte, CA

2014-2017, Research Associate Professor, Institute for Bioscience and Biotechnology Research, University of Maryland, Rockville, MD

2009-2013, Assistant Professor of Urology, James Buchanan Brady Urological Institute, and Oncology, The Sidney Kimmel Comprehensive Cancer Center, Johns Hopkins University School of Medicine, Baltimore, MD

2007-2009, Assistant Professor, Urology, James Buchanan Brady Urological institute, Johns Hopkins University School of Medicine, Baltimore, MD

1996-2007, Group Leader, Scientific Director and Vice President, biotech industry, MD

1993-1996, Staff Scientist, Department of Genetics, Yale University School of Medicine, New Haven, CT

1993-1993, Staff Scientist, Division of Biology, California Institute of Pasadena, CA

1989-1993, Staff Scientist, Division of Chemistry & Chemical Engineering, California Institute of Pasadena, CA

1987-1989, Research Assistant Professor, Cell Biology, New York University School of Medicine, NY, NY

1985-1987, Postdoctoral Fellow, Cell Biology, New York University School of Medicine, NY, NY

1982-1984, Research Associate, Department of Biochemistry, Indian Institute of Science, Bangalore, India
2015, Member, Organizing Committee 4th International Conference on Tissue Science and Regenerative Medicine, Rome, Italy

2014, Member, Organizing Committee and Chair, Special Session, 'Systems Biology of Stem Cells' 3rd International Conference on Tissue Science and Regenerative Medicine, Valencia, Spain

2013, Visiting Professor, Department of Mathematics, Indian Institute of Science, Bangalore

2010, Irene and Bernard L. Schwartz Scholar of the Patrick C Walsh Prostate Cancer Research Fund

1985, Fulbright Fellowship

1980, UGC Research Fellowship
Editorial Board Member, American Journal of Clinical & Experimental Urology

Editorial Board Member, Asian Journal of Andrology

Editorial Board Member, Biomarker Research

Editorial Board Member, Cell Biology and Toxicology

Editorial Board Member, Endoplasmic Reticulum Stress in Diseases

Member, American Association for Cancer Research

Member, Biophysical Society

Member, Society for Basic Urological Research
Salgia R, Jolly MK, Dorff T, Lau C, Weninger K, Orban J, Kulkarni P. Prostate-Associated Gene 4 (PAGE4): Leveraging the Conformational Dynamics of a Dancing Protein Cloud as a Therapeutic Target. J Clin Med. 2018 7(6). pii: E156. PMID: 29914187
Lin X, Roy S, Jolly MK, Bocci F, Schafer NP, Tsai MY, Chen Y, He Y, Grishaev A, Weninger K, Orban J, Kulkarni P, Rangarajan G, Levine H, Onuchic JN. PAGE4 and conformational switching: Insights from molecular dynamics simulations and implications for prostate cancer. J Mol Biol. 2018 430(16):2422-2438. PMID: 29758263
Kulkarni P, Jolly MK, Jia D, Mooney SM, Bhargava A, Kagohara LT, Chen Y, Hao P, He Y, Veltri RW, Grishaev A, Weninger K, Levine H, Orban J. Phosphorylation-induced conformational dynamics in an intrinsically disordered protein and potential role in phenotypic heterogeneity. Proc Natl Acad Sci USA. 2017 114(13):E2644-E2653 PMID: 28289210
He Y, Chen Y, Mooney SM, Rajagopalan K, Bhargava A, Sacho E, Weninger K, Bryan PN, Kulkarni P, Orban J. Phosphorylation-induced conformational ensemble switching in an intrinsically disordered Cancer/Testis Antigen. J Biol Chem. 2015 290(41):25090-102. PMID: 26242913
Jolly MK, Kulkarni P, Weninger K, Orban J, Levine H. Phenotypic plasticity, bet-hedging, and androgen independence in prostate cancer: Role of non-genetic heterogeneity. Front Oncol. 2018 8:50. PMID: 29560343
Kulkarni P, Uversky VN. Cancer/Testis Antigens: "smart" biomarkers for diagnosis and prognosis of prostate and other cancers. Int J Mol Sci. 2017 18(4). pii: E740. PMID: 28362316
Kim R, Kulkarni P, Hannenhalli S. Derepression of Cancer/testis antigens in cancer is associated with distinct patterns of DNA hypomethylation. BMC Cancer. 2013 13:144. PMID: 23522060
Kulkarni P, Shiraishi T, Rajagopalan K, Kim R, Mooney SM, Getzenberg RH. Cancer/testis antigens and urological malignancies. Nat Rev Urol. 2012 9(7):386-96. PMID: 22710665
Rajagopalan K, Mooney SM, Parekh N, Getzenberg RH, Kulkarni P. A majority of the cancer/testis antigens are intrinsically disordered proteins. J Cell Biochem. 2011 112(11):3256-67. PMID: 21748782
Kulkarni P, Getzenberg RH. Disorder, promiscuous interactions, and stochasticity regulate state switching in the unstable prostate. J Cell Biochem. 2016 117(10):2235-40. doi: 10.1002/jcb.25578. Epub 2016 Jun 3. Review. PMID: 27152744
Sakamoto S, Yokoyama M, Zhang X, Prakash K, Nagao K, Hatanaka T, Getzenberg RH, Kakehi Y (2004). Increased expression of CYR61, an extracellular matrix signaling protein, in human benign prostatic hyperplasia and its regulation by lysophosphatidic acid. Endocrinology. 145(6):2929-40. PMID: 14988385
Kakehi Y, Segawa T, Wu XX, Kulkarni P, Dhir R, Getzenberg RH (2004). Down-regulation of macrophage inhibitory cytokine-1/prostate derived factor in benign prostatic hyperplasia. Prostate. 59(4):351-6. PMID: 15065082
Prakash K, Pirozzi G, Elashoff M, Munger W, Waga I, Dhir R, Kakehi Y, Getzenberg RH (2002). Symptomatic and asymptomatic benign prostatic hyperplasia: molecular differentiation by using microarrays. Proc Natl Acad Sci USA. 99(11):7598-603. PMID: 12032329