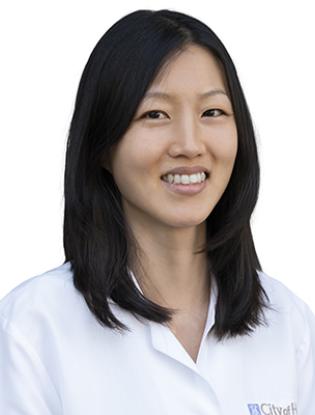 Pulmonologist
Clinical Expertise
Pulmonary And Critical Care
Appointments
Assistant Clinical Professor, Division Of Hospital Medicine, Department Of Medicine
I enjoy helping people breathe better.
Aria Hong, M.D., a board certified pulmonologist, seeks to help people quit smoking and improve the lives of asthma and COPD patients. She is highly skilled in her field having vast experience managing critically ill patients at two of Southern California's top medical intensive care units.
A UCLA honors graduate, Dr. Hong earned her medical degree at Georgetown University where she also completed her residency. She continued her training with a pulmonology and critical care fellowship at University of California Irvine.
Dr. Hong chose the medical field because she wanted to make a difference. "Becoming a physician," she said, "allows me to use the knowledge and training that I gain to make a meaningful impact in someone else's life."
2015, ABIM Internal Medicine Board Certification

2017, ABIM Pulmonary Medicine Board Certification

2018, ABIM Critical Care Medicine Board Certification
2008-2012, Doctor of Medicine, Georgetown University School of Medicine, Washington, D.C.

2003-2007, B.S., Physiological Science, University of California Los Angeles, Los Angeles, CA
2015-2018, Pulmonary and Critical Care, University of California Irvine Medical Center, Irvine, CA
2012-2015, Internal Medicine, Medstar Georgetown University Hospital, Washington, D.C.
2021-present, Assistant Clinical Professor, Division of Pulmonary and Critical Care Medicine, Department of Medicine, City of Hope, Duarte, CA

2018-2021, Clinical Instructor, University of California Los Angeles, Los Angeles, CA

2016-2018, Nocturnist, University of California Irvine, Irvine, CA

2016-2018,
Nocturnist, Long Beach Veterans Hospital, Long Beach, CA

2016-2017, Radiology Associate, Hoag Hospital, Newport Beach, CA
2014, Jerry I. Cherner Research Achievement Award in Resident Clinical Research Award Runner Up

2012, Mario Mollari Award

2006-2007, Wasserman Scholar

2007, First Place Physiological Science Undergraduate Poster

2007, Dean's Prize for Outstanding Research Presentation
Hong A, King CS, et al. Hemothorax after lung transplantation: incidence, risk factors, and effect on morbidity and mortality. Multidisciplinary Respiratory Medicine. 11:40, November 2016.
Call GB, Olson JM, et. al. Genomewide clonal analysis of lethal mutations in the Drosophila melanogaster eye: comparison of the X chromosome and autosomes. Genetics. 177(2):689-697, October 2007.
Chen J, Call GB, et. al. Discovery-based science education: functional genomic dissection in Drosophila by undergraduate researchers. PLoS Biology. 3(2):e59, February 2005.
Ratings and reviews below are gathered from the Press Ganey Clinician and Group Consumer Assessment of Healthcare Providers and Systems (CG CAHPS) survey. CG CAHPS is a standardized survey that is used to measure a patient's experience in the physician office setting. Ratings are an average of all responses to questions about a provider's care, with 5 stars being the highest.
Ratings
4.8
Show respect for what you say
4.8
Spend enough time with you
4.8
Recommend this provider office
4.8
Provider explain in way you understand
4.7
Provider listen carefully to you
4.7
Know important info medical history
---
Reviews
Dr.Hong is outstanding!!!!
- Verified patient
She went beyond and above. I had a large amount of questions and she took her time with me and addressed each one,
- Verified patient
Best medical care and staff I have ever received.
- Verified patient