The video
has been viewed by millions around the world: From inside an automobile, the camera pans across a street lined with cars and people cheering and waving. Inside is 15-year-old Coco Johnson — thrilled, incredulous, overwhelmed — returning from her last day of chemotherapy in late March 2020.
A diagnosis of a rare bone cancer called Ewing's sarcoma the previous summer had led to surgery at City of Hope and chemo at Children's Hospital Los Angeles, in a smooth collaboration. Soon after the reverse-parade video hit Twitter, Johnson would appear on the first episode of the YouTube show
Some Good News With John Krasinski
and on TV's
Ellen Show
. Encouraging comments flooded in from all corners of the globe.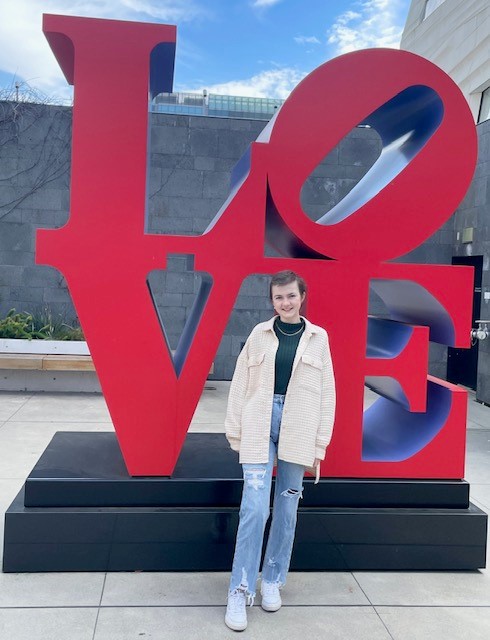 However, Johnson's story is more complicated than all that.
In December 2020, she received a secondary diagnosis of acute myeloid leukemia (AML), a rare side effect of the chemo she had received. After more treatment to put the AML in remission, she underwent a blood stem 
cell transplant at CHLA in March 2021, with a City of Hope-developed investigational conditioning regimen — one of numerous clinical trials that have been part of her treatment. Through it all, Johnson has maintained a positive outlook. In 2022, she was admitted early decision to Middlebury College in Vermont.
Johnson, 18, shares her story as she looks forward to bearing the standard of hope for patients like her as a part of City of Hope's delegation at the 2023 Rose Parade.
How did you feel when you realized that your friends and neighbors had thrown this reverse-parade to celebrate your last day of chemo?
Everything had just recently been shut down because of Covid, so I wasn't expecting anything. Coming onto our street and seeing the first car, I was kind of confused. I didn't realize what was going on. Then I saw car after car, and I realized everyone was there, all of the people who'd been supporting me all along. It was so surprising, and it made me so emotional. It was really amazing.
What was it like after the video went viral?
It was a whirlwind. It went really fast. I was getting interviewed by John Krasinski, then The Ellen Show reached out. Being able to read through these comments of people that didn't even know saying, "You got this, Coco," love coming from all these different countries — it was just a wild experience.
It's an understatement to say, but you've been through a difficult experience. How do you deal with it?
I just stay positive. I don't dwell on things. I try to trust the medical professionals. All the support from City of Hope and CHLA gives me confidence in what they're doing.
It's a really long road, but when challenges come up, I try to just accept it and move on to the best of my abilities. I take the information and roll with it. That may sound a little light-hearted for the gravity of the situation. But I know I just have to do this.
You missed months of school due to treatment and attended class remotely before and after your classmates did, yet you've kept your grades up. How do you do it?
I just knew from the beginning that I didn't want to stay back. I had to leave school twice, for Ewing's and leukemia. Both times, I knew I didn't want to miss that year and go into the class below me. So I worked through my summers and just decided to keep up with school. I had strong motivation, I guess!
What makes you want to participate in clinical trials?
We do all of the ones we're offered. I think that it's important to say yes, because it helps someone else. We want to do whatever we can to help research at City of Hope and CHLA to improve treatment for other people in the future.
Why share your story with the world?
Well, it started just for our friends and family, to keep them updated. Then sharing the video — who knew it would go viral? — we just wanted to raise awareness. Each cancer is so different, but it's good to get some information out there, so people know a little bit about what goes on when you have cancer.
The attention that the reverse-parade video has attracted gives you a sort of platform. For people who've seen the video, are rooting for you and wondering how they can help, what would you tell them?
If you're not going through something difficult, but you know someone who is, reach out to them — even people you don't know very well. Reaching out at all means a lot.
Also, a more tangible way to help is to donate blood to your local hospital. Hospitals all over the world are going through shortages of blood right now. I received a lot of blood throughout my treatment, just to keep me feeling good and healthy, and receiving platelets was necessary before surgeries.
How do you feel about being part of the Rose Parade?
I've been living in Pasadena my whole life, watching the Rose Parade growing up. I love it. I'm so excited!