Cancer at a very young age can profoundly impact a child's life. It may even give that child a new direction. Here are two especially poignant examples
Kelly Delaney remembers the bruises. Lots of them.
She was 3 years old. Kids that age do tend to run around, fall down and get banged up, so Kelly's mom wasn't alarmed at first. Until one day around Christmas 2001 when mother and daughter were having lunch at the mall, and Kelly fainted.
"She just passed out, right into her plate," recalled Linda Delaney.
At the emergency room, doctors detected a mass pressing against Kelly's lung, collapsing it. Her white blood count was abnormally high and her spleen "was the size of a softball," as Kelly describes it. They suspected leukemia.
That suspicion sent the family to City of Hope, where the diagnosis was confirmed. Kelly had acute T cell lymphoblastic leukemia, a rare and aggressive form of the disease. Fewer than 900 cases are diagnosed each year in the U.S.
"I was in shock. I was sobbing," Linda remembered. "Oh my God, I thought, I'm going to lose her!"
Kelly's doctors mapped out a treatment plan involving intensive chemotherapy over an eight-month period. But with various setbacks, side effects and unexpected twists and turns, the eight months turned into three and a half years. That's a long time for any child to be separated from familiar surroundings, but there was no alternative.
"I really couldn't leave [the hospital], because of [potential exposure to] germs," said Kelly. "I was quarantined." 
City of Hope became the Delaney family's home away from home. It was tough on everybody, shuttling between Duarte and the family home in La Canada. Kelly's older sister Dana, who was 5 at the time, recalls how, suddenly, one parent always seemed to be away. 
But, perhaps not surprisingly, to 3-year-old Kelly, the whole experience almost felt like an adventure.
"Celebrities came to visit," she remembered. "Winona Ryder. Dick Van Dyke danced for me!" 
Hospital staff also went out of their way, and supportive care services proved an essential resource for the family, especially one occupational therapist who spent extra time with Kelly, playing games and keeping her busy. "She's the reason life felt normal," she said.
Looking back now, "It hurts my heart thinking what [my family] went through," she said. But she also realizes her early experiences motivated her to help others, starting with a hospital playmate named Madison.
"She had a different kind of leukemia," Kelly recalled. "We'd get our blood drawn at the same time, and she'd scream. Now, I hated needles and it was horrible to deal with me. But Madison was my best friend, so I showed her how not to cry."
Kelly's treatment was lifesaving and life-changing. She became a poster child for cancer research. By age 10, she was speaking to groups of adults as the official "Girl of the Year" for the Leukemia & Lymphoma Society (LLS). Through high school and college, Kelly continued to volunteer for LLS and, together with her mom, raised more than $200,000 for the organization.
It all came full circle a year ago when LLS hired Kelly as a full-time campaign manager. Once reluctant to share her story, Kelly, now 23, does it daily as part of her job, and that's just fine with her.
"This is near and dear to my heart and a dream come true for me," she said. "Being able to help others who are now like I was when I was sick — that's the best feeling in the world.
"I didn't have cancer for nothing," she added. "I'm living proof that research really works."
Brain Cancer at 1 Year Old
Marshall Cotta walked early. By 10 months, he was toddling around the family home in San Diego.
But three months later, he could no longer stand up. Mom knew something was wrong.
"You feel that in your throat," recalled Pam Cotta.
When the diagnosis came — a primitive neuro-ectodermal tumor in Marshall's brain — doctors were pessimistic, pointing to the standard pediatric treatment protocol, even as they admitted it probably wouldn't work, and if somehow it did, it would leave Marshall with significant deformities.
"The oncologists had no idea what to do," Pam recalled.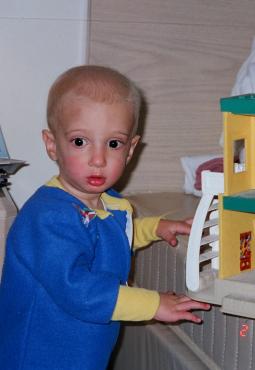 A family friend steered the Cottas to City of Hope, where doctors designed a customized plan just for Marshall. He had surgery the very night he arrived (it would be the first of many surgeries). Then he received ultra-precise proton beam radiation, to spare the still-growing toddler the damage of full-body radiation. Marshall would also receive multiple rounds of powerful chemotherapy, countered by stem-cell rescue via transfusions — in effect, bringing him to the brink of death each time, and then rejuvenating him.
"The doctors were amazing and brilliant," said Pam. They were also reassuring and mindful of a little boy's fears. "They took off their white lab coats [so Marshall wouldn't be scared] and just said, 'Let's go for a walk.'"
Marshall's treatment lasted more than a year. Pam, pregnant with her fourth child, would sleep in Marshall's hospital room or stay in a bungalow on campus. She still marvels at what she and her family experienced there. 
"I could never find the words to tell you how amazing the staff was," she said. "The CEO would come by. Nurses would watch TV with Marshall. Everybody did everything they could," which included little things like entertaining Marshall's brothers when they visited and providing paint and ceramics materials to keep them occupied.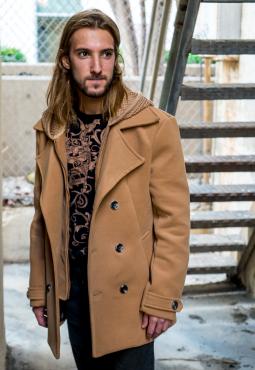 Marshall, of course, doesn't remember very much. But he grew up hearing from his parents how "we were treated like I was the only patient there, and they were always asking how they could make our time there better." It's a feeling that continued through the years, whenever Marshall would return for follow-up checks.
"I have a huge sense of how at home they made me feel," he said. "Seeing those familiar faces every year, people I got so close to. It's such a welcoming feeling."
He also has a huge desire to give back, and he got started right away, participating in publicity and fundraising events for City of Hope. He has visited NFL training camps, tossed out the first pitch at a baseball game, even dropped the puck (at age 4!) at a San Diego Gulls hockey game ("I remember looking up and seeing these really big guys, all smiling at me!")
Growing up, Marshall visited a host of cities to speak about his cancer experiences (with Dad always running the video camera). The family also created Marshall's Roundup, hosting a series of events — such as a golf tournament — to bring people together, raise awareness and support City of Hope.
Now in his early 20s, newly graduated from San Diego State University and "doing fantastic," Marshall, a budding musician, plans to pursue a career in music therapy.
"I want to work in a hospital setting," he explained, "And do [for others] what was done for me — to make a patient's stay more comfortable."
Mom says the Cottas will continue giving back.
"They saved my baby's life," she said. "You can't put a price on that."
Main photo: Marshall Cotta on a recent trip to Yosemite.
---
The Department of Supportive Care Medicine at City of Hope was the first in the United States to fully integrate across supportive care specialties and into the patient's clinical care and is one of the largest programs of its kind today. The program provides cancer patients with comprehensive physical, psychological, social and practical support services, including care navigation; survivorship programs; specialists in cancer and aging; Child Life specialists; psychological and spiritual counseling; pain management; integrative medicine such as yoga, massage and meditation; and more — all with a focus on maximizing patient and family strengths, quality of life and the ability to best engage in their treatment journey and beyond. Thanks to a gift from the Biller Family Foundation, City of Hope is working to expand this offering across its cancer care system and to advocate for establishing supportive care as a standard best practice for cancer care in the United States.