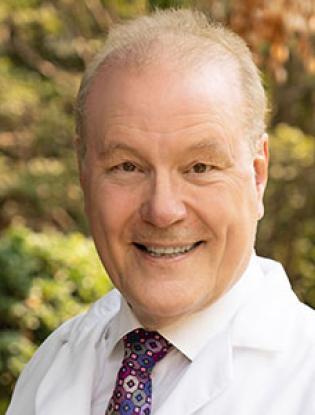 Hematologist-Oncologist
Clinical Expertise
Hematology
Leukemia
Lymphoma
Appointments
Professor and Vice Chair, Department of Hematology & Hematopoietic Cell Transplantation
"Becoming a part of an organization that conducts outstanding research and advances care for cancer patients is a real privilege."

F. Marc Stewart, M.D., says you're likely to hear him before you see him. He's known for whistling through the halls as he makes his rounds, a habit picked up from his physician-grandfather, whom he'd follow around as a 10-year-old. It's also where he learned empathy, compassion and respect. "What I witnessed as I tagged along behind my grandfather in that small town hospital made medicine an easy career choice for me," he says. "His example has greatly influenced the way I relate to patients, their family members and my colleagues."
Dr. Stewart brings four decades of superlative experience and leadership to City of Hope. He served for two decades as medical director of Seattle Cancer Care Alliance at Fred Hutchinson Cancer Research Center. He held similar leadership roles at University of Massachusetts and University of Virginia.
A native of Indiana, Dr. Stewart received his medical degree from Indiana University School of Medicine, Indianapolis, where he also completed his residency and oncology fellowship.
Dr. Stewart's research interests include the biology of engraftment (when transplanted blood cells begin to multiply and recover), cellular immunotherapy (using the body's immune cells to attack cancer), drug safety and health care delivery. He's excited to be part of the City of Hope family. "I view my opportunity to work here helping patients as a true honor," he said.
1986, Oncology

1982, Hematology

1980, American Board of Internal Medicine
1977, M.D., Indiana University School of Medicine, Indianapolis, Indiana

1974, A.B., Chemistry, Indiana University, Bloomington, Indiana
1981-1983, Hematology, University of Virginia, Charlottesville, Virginia

1980-1981, Oncology, Indiana University Hospitals, Indianapolis, Indiana
1978-1980, Medicine, Indiana University Hospitals, Indianapolis, Indiana
1977-1978, Medicine, Bridgeport Hospital, Bridgeport, Connecticut (Yale University)
2020-present, Professor, Emeritus, University of Washington, Department of Medicine

2020-present, Professor and Vice Chair, Department of Hematology & Hematopoietic Cell Transplantation, City of Hope, Duarte, California

2017-2020, Senior Vice President, Seattle Cancer Care Alliance

2000-2020, Medical Director, Seattle Cancer Care Alliance

2000-2020, Professor of Medicine, University of Washington

2013-2016, Acting Head, Division of Medical Oncology, Department of Medicine, University of Washington

2000, Vice Chair for Affiliate Relations, Department of Medicine, University of Massachusetts Medical Center

1998-2000, Professor of Medicine and Cell Biology, University of Massachusetts Medical Center
2018, Outstanding Medical Director Award, Seattle Business Magazine

2008, University of Washington Service Excellence Award, Summer

2007, Meritous Service Award, National Patient Advocate Foundation
1992-2000, Principle Investigator, University of Massachusetts, CALGB (Cancer and Acute Leukemia Group B)

1994-1996, Secretary-Treasurer, American Association of Hematology/Oncology Program Directors

1999-2000, Member, Executive Committee, CALGB (Cancer and Acute Leukemia Group B)

2000-2003, Chair, Hematology Section, Cancer Education Committee, American Society of Clinical Oncology

2002-2005, Member, Cancer Education Committee, American Society of Clinical Oncology

2002, Member, Board of Directors, National Comprehensive Cancer Network

2002, Member, Executive Committee, National Comprehensive Cancer Network

2002, Co-Chair, Best Practices Committee, National Comprehensive Cancer Network

2002, Member, Guidelines Steering Committee, National Comprehensive Cancer Network

2003-2004, Member, Scholar Award Study Section, American Society of Hematology

2004-2007, Member, Committee on Education Affairs, American Society of Hematology

2005-2019, Member, Board of Directors, National Patient Advocate Foundation

2014-2017, President, National Patient Advocate Foundation

1984-1985, Secretary-Treasurer, Virginia Society of Hematology and Oncology

1984-1985, President Elect, Virginia Society of Hematology and Oncology

1985-1986, President, Virginia Society of Hematology and Oncology

2001-2009, Member, Puget Sound Oncology Consortium

2001-Present, Member, Southwest Oncology Group

2004-2006, Member, Board of Trustees, Washington State Medical Society
Winckworth-Prejsnar K, Nardi EA, McCanney J, Stewart FM, Langbaum T, Gould BJ, Fitzgerald CL, Carlson RW. Ensuring Patient Safety and Access in Cancer Care. J Natl Compr Canc Netw. 2017 Dec;15(12):1460-1464. PMID: 29223983
Jacob Appelbaum; David Wells; Joseph B. Hiatt; Gideon Steinbach; F. Marc Stewart; Hannah Thomas; Paul Nghiem; Raj P. Kapur; John A. Thompson; Shailender Bhatia. Fatal enteric plexus neuropathy after one dose of ipilimumab plus nivolumab: J Immunother Cancer. 2018 Aug 31;6(1):82. PMCID: PMC6117974
Jessica M. Sugalski, MPPA; Timothy Kubal, MD, MBA, Daniel L. Mulkerin, MD; Rebecca L. Caires, MBA; Penny J. Moore, MSN, RN, OCN, NEA-BC; Rosanna Fiorarancio Fahy; Jeanine N. Gordon, RN, MSN, OCN, NE-BC; Connie Z. Augustyniak, RN, BSN, OCN; Gina M. Szymanski, MS, RN; MiKaela Olsen, ARRN-CNS, MS, AOCNS; Diedra K. Frantz, RN, BSN; Marisa A. Quinn, RN, MBA; Sharol K. Kidd, RN; Diana M. Krause, MHA; Robert W. Carlson, MD; F. Marc Stewart, MD. National Comprehensive Cancer Network (NCCN®) Infusion Efficiency Workgroup Study: Optimizing Patient Flow in Infusion Centers: J Oncol Pract. 2019 May;15(5):e458-e466. doi: 10.1200/JOP.18.00563 Epub 2019 Apr 9. PMID: 30964732
Graf SA, Stewart FM: Early Warning Signs: In: Cancer: Prevention, Early Detection, Treatment and Recovery, Second Edition, Edited by Gary Stein and Kimberly Luebbers. John Wiley & Sons, Inc., 2019
Nandita Khera, Jessica Sugalski, Diana Krause, Richard Butterfield III, Nan Zhang, F. Marc Stewart, Robert W. Carlson, Joan M. Griffin, Yousuf Zafar, Stephanie Lee. Current Practices for Screening and Management of Financial Distress at NCCN Member Institutions. J Natl Compr Canc Netw. 2020 Jul;18(7): 825-831. PMID: 32634772
Hill JA, Vande Vusse L, Xie H, Chung EL, Yeung C, Seo S, Stevens-Ayers T, Fisher C, Huang ML, Stewart FM, et al. Human Herpesvirus 6B and Lower Respiratory Tract Disease after Hematopoietic Cell Transplantation. J Clin Oncol. 2019 Oct 10;37(29): 2670-2681 doi: 10.1200/JCO.19.00908. Epub 2019 Aug 26. PMCID: PMC7351330
Ueda, M, Martins R, Hendrie P, McDonnell T, Crews J, Wong T, McCreery B, Jagels B, Crane A, Byrd D, Pergam S, Davidson N, Liu C, Stewart FM. Managing Cancer Care During the COVID-19 Pandemic: Agility and Collaboration Toward a Common Goal. J Natl Compr Canc Netw. 2020 Mar 20; 1-4. doi: 10.6004/jnccn.2020.7560. Online ahead of print. PMID: 32197238
Poston J, Sugalski J, Gernsheimer T, Stewart FM, Pagano M. Mitigation Strategies for Anti-D Alloimmunization by Platelet Transfusion in Hematopoietic Stem Cell Transplant Patients: a Survey of NCCN centres. Vox Sang. 2020 May;115(4): 334-338. doi: 10.1111/vox.12899. Epub 2020 Feb 20. PMID: 32080868