Heather McGee, M.D., Ph.D.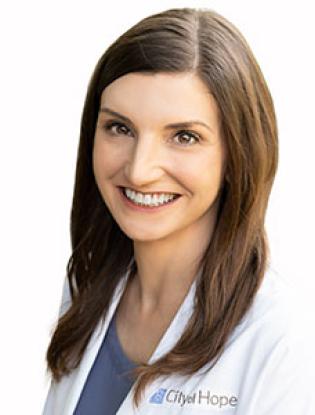 Radiation Oncologist
Appointments
Assistant Professor, Department Of Radiation Oncology
Assistant Professor, Department Of Immuno-Oncology
Radiation oncologist Heather McGee, M.D., Ph.D., draws inspiration from loved ones who have been diagnosed with cancer and seeing how recent advances in immunotherapy have transformed cancer care. She takes great pride in answering all of her patients' questions and empowering them to be part of the decision-making process.

Dr. McGee graduated from University of California Berkeley with honors with a degree in molecular cell biology (biochemistry emphasis) and then earned a master's degree in immunology at University of Cambridge. She completed her doctoral training at Yale University where she earned an M.D. and a Ph.D. in immunobiology. She worked in the laboratory of Richard Flavell, Ph.D., studying immune-fibroblast interactions during wound healing and received Yale's Prize Teaching Fellowship for teaching immunology to undergraduates.
Dr. McGee completed her intern year at University of California San Francisco and residency training in radiation oncology at Icahn School of Medicine at Mount Sinai. She then worked as a postdoctoral fellow at the Salk Institute, where her research was funded by a Salk Women & Science Special Award and a National Institutes of Health/National Cancer Institute K99 grant.
At City of Hope, she is a physician-scientist who sees patients in radiation oncology and has a basic science laboratory focused on tumor immunology. Her lab is funded by the National Institutes of Health/National Cancer Institute R00 grant, the City of Hope Chancellor's Award, and City of Hope. Her laboratory investigations focus on the role of tissue-resident immune cells in response to radiation in different tumor microenvironments and she is passionate about translating scientific findings back to the clinic to create better outcomes for cancer patients.
Basic Text Field
ABR Board Certified in Radiation Oncology
Basic Text Field
2013, Doctor of Medicine, Yale University School of Medicine, New Haven, CT
2011, Doctor of Philosophy, Yale University Graduate of Arts & Sciences (Immunobiology), New Haven, CT
2004, Master of Philosophy, University of Cambridge, Cambridge, UK
2002, Bachelor of Arts (Molecular and Cell Biology (biochemistry emphasis), University of California Berkeley, Berkeley, CA, graduated with honors
2015-2019, Radiation Oncology, Icahn School of Medicine at Mount Sinai, New York, NY

2014-2015, General Surgery, Stanford University Hospital & Clinics, Stanford, CA
2013-2014, General Surgery, University of California San Francisco, San Francisco, CA
Basic Text Field
2021-present, Assistant Professor, Department of Radiation Oncology and Department of Immuno-Oncology, City of Hope, Duarte, CA
2019-2021, Radiation Oncology Consultant, RefleXion Biology-guided Therapy, Hayward, CA
2020-2021, Senior Postoctoral Fellow, Salk Institute for Biological Studies, La Jolla, CA
2019-2020, Postdoctoral Fellow, Salk Institute for Biological Studies, La Jolla, CA
2021, City of Hope Chancellors Award
2021, NIH/NCI R00 Award
2020, NIH/NCI K99 Pathway to Independence Award
2020, Salk Women & Science Special Award, La Jolla, CA
2019, RSNA Roentgen Resident Research Award, Mount Sinai, New York, NY
2018, Adaptive Biotechnologies Young Investigator Award for ImmunoSeq Research, New York, NY
2017, Society for Immunotherapy of Cancer "Sparkathon" Team Science Award, Chicago, IL
2012-13, Yale Samuel Jordan Graham Scholarship, New Haven, CT
2010, Society for Investigative Dermatology Eugene M. Farber Travel Award, Montagna Symposium on the Biology of the Skin, Gleneden Beach, Oregon
2010, Yale University Prize Teaching Fellowship, New Haven, CT
2002, Cambridge Overseas Trust Scholarship, University of Cambridge, UK
2002, Yanaba & Jung Award for Outstanding Biochemistry Honors Thesis Research, University of California Berkeley, Berkeley, CA
Badrani JH, Strohm AN, Lacasa L, Civello B, Cavagnero K, Haung YA, Amadeo M, Naji LH, Lund SJ, Leng A, Kim H, Baum RE< Khorram N, Mondal M, Seumois G, Pilotte J, Vanderklish PW, McGee HM, Doherty TA. RNA-binding protein RBM3 intrinsically suppresses lung innate lymphoid cell activation and inflammation partially through CysLT1R. Nat Commun. 2022 Jul 3; 13(1):4435. PMID: 35908044.
Zarinshenas R, Ladbury C, McGee H, Raz D, Erhunmwunsee L, Pathak R, Glaser S, Salgia R, Williams T, Amini A. Machine learning to refine prognostic and predictive nodal burden thresholds for post-operative radiotherapy in completely resected stage III-N2 non-small cell lung cancer. Radiother Oncol. 2022 Aug; 173: 10-18. Epub 2022 May 23. PMID: 35618098.
Karasarides M, Cogdill AP, Robbins PB, Bowden M, Burton EM, Butterfield LH, Cesano A, Hammer C, Haymaker CL, Horak CE, McGee HM, Monette A, Rudqvist NP, Spencer CN, Sweis RF, Vincent BG, Wennerberg E, Yuan J, Zappasodi R, Lucey VMH, Wells DK, LaVallee T. Hallmarks of Resistance to Immune-Checkpoint Inhibitors. Cancer Immunol Res. 2022 Apr 1;10(4):372-383. doi: 10.1158/2326-6066.CIR-20-0586. PMID: 35362046
Bielecki P, Riesenfeld SJ, Hütter JC, Torlai Triglia E, Kowalczyk MS, Ricardo-Gonzalez RR, Lian M, Amezcua Vesely MC, Kroehling L, Xu H, Slyper M, Muus C, Ludwig LS, Christian E, Tao L, Kedaigle AJ, Steach HR, York AG, Skadow MH, Yaghoubi P, Dionne D, Jarret A, McGee HM, Porter CBM, Licona-Limón P, Bailis W, Jackson R, Gagliani N, Gasteiger G, Locksley RM, Regev A, Flavell RA. Skin-resident innate lymphoid cells converge on a pathogenic effector state. Nature. 2021 Apr;592(7852):128-132. doi: 10.1038/s41586-021-03188-w. PMID: 33536623.
McGee HM, Marciscano AE, Campbell AM, Monjazeb AM, Kaech SM, Teijaro JR. Parallels Between the Antiviral State and the Irradiated State. J Natl Cancer Inst. 2021 Aug 2;113(8):969-979. doi: 10.1093/jnci/djaa190. PMID: 33252657.
Garcia-Perez L,* Pelzcar P,* McGee HM, Kempski J, Agalioti T, Giannou A, Konczalla L, Brockmann L, Soukou, S, Steglich B, Bedke T, Manthey C, Seiz O, Diercks BP, Guse AH, Perez D, Izbicki JR, Gagliani N, Flavell RA, Huber SM. TGF-β signalling in Th17 cells promotes IL-22 production and colitis-associated colon cancer. Nature Communications. 2020 May 25;11(1):2608. doi: 10.1038/s41467-020-16363-w. PMID: 32451418
Smith WH, Law AS, Hulkower M, McGee HM, Lehrer EJ, Schwartz M, Taouli B, Sung M, Buckstein, M. The effect of radiation therapy on the objective response and outcomes with nivolumab for hepatocellular carcinoma. Acta Oncol. 2020 May 22:1-4. doi: 10.1080/0284186X.2020.1769860. PMID: 32441551
Smith WH, Ru M, McGee HM, Sung M, Rosenzweig K, Buckstein M. Safety of Nivolumab in Combination with Prior or Concurrent Radiation Therapy in Hepatocellular Carcinoma. Journal of Radiation Oncology. 2020. doi:10.1007/s13566-020-00419-x
Lehrer EJ, McGee HM, Sheehan JP, Trifiletti, DM. Integration of Immuno-Oncology with Stereotactic Radiosurgery in the Management of Brain Metastases. J Neurooncol. 2020 Feb 12. doi: 10.1007/s11060-020-03427-6. PMID: 32052355.
Bedognetti D, Ceccarelli M, Galluzi L, Lu R, Palucka K, Samayoa J, Spranger S, Warren S, Wong K, Ziv E, Chowell D, Coussens LM, De Carvalho D, DeNarod D, Galon J, Kaufman H, Kirchhoff T, Lotze MT, Minn AJ, Politi K, Shultz LD, Thorsson V, Weidhaas JB, Ascierto M, Barsan V, Bot A, Church S, Draganov D, McGee HM, Monette A, Murphy JF, Nistico P, Park W, Rudqvist NP, Snyder A, Sweis RF, Butterfield LH, Disis ML, Fox BA, Thurin M, Cesano A, Marincola FM. A Comprehensive View on Cancer Immune Responsiveness: A Synopsis from the 2018 SITC Workshop. Journal for Immunotherapy of Cancer. 2019, May 22; 7:131. doi:10.1186/s40425-019-0602-4. PMID: 31113486.
McGee HM,* Jiang D,* Soto-Pantoja DR,* Nevler A,* Giaccia AJ, Woodward WA. Special Report: Targeting the Tumor Microenvironment in Radiation Oncology: Proceedings from the 2018 ASTRO-AACR Research Workshop. Clinical Cancer Research. 2019 May 15; 25(10): 2969-2974. doi: 10.1158/1078-0432.CCR-18-3781. PMID: 30723144. *co-first authors
McGee HM, King MJ, Özbek U, Olson A, Kim E, Fischman AM, Schwartz M, Rosenzweig KE, Buckstein M. Dual Modality Radiation with External Beam Radiation Therapy and Transarterial Radioembolization for Hepatocellular Carcinoma with Gross Vascular Invasion. American Journal of Clinical Oncology. 2019 Apr; 42(4):367-374. doi: 10.1097/COC.0000000000000523. PMID: 30724782.
McGee HM, Carpenter T, Ozbek U, Kirkwood K, Tzeng T, Green S, Germano I, Buckstein M. Analysis of Local Control and Pain Control Following Spine Stereotactic Radiosurgery Reveals Inferior Outcomes for Hepatocellular Carcinoma Compared to Other Radioresistant Histologies. Practical Radiation Oncology. 2019 Mar; 9(2):89-97. doi: 10.1016/j.prro.2018.11.009. PMID: 30543868
Lehrer E, McGee HM, Peterson JL, Vallow L, Ruiz-Garcia H, Zaorsky NG, Sharma S, Trifiletti DM. Stereotactic Radiosurgery and Immune Checkpoint Inhibitors in the Management of Brain Metastases. International Journal of Molecular Sciences. 2018 Oct 7;19(10). pii: E3054. doi: 10.3390/ijms19103054. PMID: 30301252
McGee HM,* Daly ME,* Azghadi S, Stewart SL, Oesterich L, Schlom J, Donahue R, Schoenfeld JD, Chen Q, Rao S, Fragoso RC, Valicenti RK, Canter RJ, Maverakis EM, Murphy WJ, Kelly K, Monjazeb AM. Stereotactic Ablative Radiotherapy Induces Systemic Differences in Peripheral Blood Immunophenotype Dependent on Irradiated Site. International Journal of Radiation Oncology*Biology*Physics. 2018 Aug 1; 101(5):1259-1270. doi: 10.1016/j.ijrobp.2018.04.038. PMID: 29891204. *co-first authors.
Marciscano AE,* Walker JM,* McGee HM,* Kim MM,** Kunos CA, Monjazeb AM, Shiao S, Tran PT, Ahmed MM. Incorporating Immunotherapy into Radiation Therapy: Proceedings of the ASTRO/SITC/NCI Workshop. Journal for Immunotherapy of Cancer. 2018 Jan 29; 6(1):6. doi: 10.1186/s40425-018-0317-y. PMID:29375032. *co-first authors.
Kleinschmidt D, Giannou A. McGee HM, Kempski J, Steglich B, Huber F, Flavell RA, Gagliani N, Huber SA Protective Function of Interleukin-22 Binding Protein in Acute Liver Injury. Journal of Immunology. 2017 Dec 15; 199(12):4078-4090. doi: 10.4049/jimmunol.1700587. PMID: 29109123.
Baird JR, Monjazeb AM, Shah O, McGee H, Murphy WJ, Crittenden MR, Gough, MJ. Stimulating Innate Immunity to Enhance Radiation Therapy-Induced Tumor Control. International Journal of Radiation Oncology*Biology*Physics. 2017 Oct 1; 99(2):362-373. doi: 10.1016/j.ijrobp.2017.04.014. PMID: 28871985
Fleming M, King C, Rajeev S, Baruwal A, Schwarz D, Schwarz R, Khadka N, Pande S, Khanal S, Acharya B, Benton A, Rogers SO, Panizales M, Gyorki D, McGee H, Shaye D, Maru D. Surgical referral coordination from a first-level hospital: a prospective case study from rural Nepal. BMC Health Serv Res. 2017 Sep 25;17(1):676. doi:10.1186/s12913-017-2624-2. PMID: 28946885
Lazarev S, McGee H, Moshier E, Ru M, Demicco EG, Gupta V. Preoperative versus Postoperative Radiotherapy in Localized Soft Tissue Sarcoma: Nationwide Patterns of Care and Trends in Utilization. Practical Radiation Oncology, April 2017. pii: S1879-8500(17)30117-0. doi: 10.1016/j.prro.2017.04.010. PMID: 28551391
McGee HM, Schmidt B, Booth C, Yancopoulos G, Valenzuela D, Murphy A, Stevens S, Flavell RA, Horsley V. Interleukin-22 Promotes Fibroblast-Mediated Wound Repair in the Skin. Journal of Investigative Dermatology. May 2013; 133(5):1321-9. doi: 10.1038/jid.2012.463. PMID: 23223145