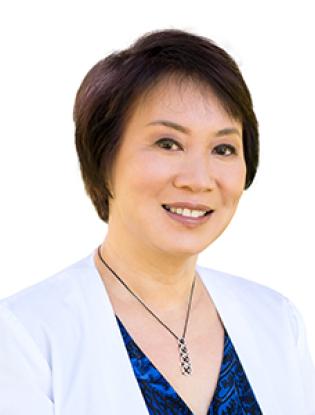 Radiation Oncologist
Clinical Expertise
Radiation Treatment Of Breast Cancer
Prostate Cancer
Brain Tumors
Lung Cancer
Rectal Cancer
Esophageal Cancer
Stomach And Pancreatic Cancer
Sarcomas
Skin Cancer
Bone Metastases
Palliative/comfort Care
Research Area
Breast Cancer
Prostate Cancer
Brain Metastases
Appointments
Assistant Clinical Professor, Department Of Radiation Oncology
Helen Chen, M.D., is a board-certified radiation oncologist at City of Hope, South Pasadena in the Department of Radiation Oncology. She has cared for over 10,000 patients during her 29-year practice. She performs noninvasive radiosurgery and stereotactic body radiation therapy for brain and lung tumors, as well as RapidArc intensity modulation radiation therapy technology. These innovative methods allow for more precise treatments to be completed, with better patient comfort, in a fraction of the time.
Dr. Chen's patient-centered approach includes enrolling her patients in clinical trials for breast, prostate, head and neck cancers and brain metastases. These treatments can mean better survival and quality-of-life outcomes. She is particularly proud of her highly skilled and collaborative team who work together to deliver coordinated, compassionate and personalized care for her patients.
1994, American Board of Radiology, Radiation Oncology

1990, California Medical License – G70470

1990, National Board of Medical Examiners
1989, M.D., University of California, San Francisco, CA

1984, B.S. with Distinction, Stanford University, Stanford, CA
1990-1994, Radiation Oncology, University of California Irvine, Irvine, CA
1989-1990, Internal Medicine, Huntington Memorial Hospital, Pasadena, CA
2009-present, Assistant Clinical Professor, Radiation Oncology, City of Hope, South Pasadena, CA

2009-present, Medical Director, Department of Radiation Oncology, City of Hope, South Pasadena, CA

2001-2009, Radiation Oncologist, Valley Radiotherapy Associates Medical Group Inc.

1995-2001, Radiation Oncologist, Memrad Medical Group Inc.

1994-1995, Radiation Oncologist, Wilshire Oncology Medical Group Inc.
2010-2016, Nominated Pasadena Top Doctors 2010-2016

1984, Phi Beta Kappa Honor Society, Stanford University

1984, Cap and Gown Honor Society, Stanford University

1981-1984, Eastman Kodak Scholar, Stanford University

1981-1984, Full scholarship awarded to two freshman students
2019-2020, City of Hope Medical Executive Committee, Community Practice elected representative

Los Angeles County Medical Association

Gynecology Disease Team

American Society for Therapeutic Radiology and Oncology

Center for Japanese Mental Health

Southern California Radiation Oncology Society

Asian-American Medical Association
Bosserman LD, Cianfrocca M, Yuh B, Yeon C, Chen H, Sentovich S, Polverini A, Zachariah F, Deaville D, Lee AB, Sedrak MS, King E, Gray S, Morse D, Glaser S, Bhatt G, Adeimy C, Tan TT, Chao J, Nam A, Paz IB, Kruper L, Rao P, Sokolov K, Kulkarni P, Salgia R, Yamzon J, Johnson D. Integrating Academic and Community Cancer Care and Research through Multidisciplinary Oncology Pathways for Value-Based Care: A Review and the City of Hope Experience. J Clin Med. 2021 Jan; 10(2): 188. Published online 2021 Jan 7. doi: 10.3390/jcm10020188
Chao J, He T-F, D'Apuzzo M, Chen Y-J, Frankel P, Tajon M, Chen H, Solomon S, Klempner S, Fakih M, Lee P.
Submitted to: IJROBT (ASTRO Red Journal). Manuscript Title: A Phase II Trial Combining Pembrolizumab and Palliative Radiotherapy in Gastroesophageal Cancer to Augment Abscopal Immune Responses
Sapareto SA, Tapazoglou F, Tran A, Hegyi E, Chen H, Terr L. Purging of AKR Leukemic Cells from Autologous Bone Marrow by Hyperthermia Effects of Viral Interference. (submitted)
Ratings and reviews below are gathered from the Press Ganey Clinician and Group Consumer Assessment of Healthcare Providers and Systems (CG CAHPS) survey. CG CAHPS is a standardized survey that is used to measure a patient's experience in the physician office setting. Ratings are an average of all responses to questions about a provider's care, with 5 stars being the highest.
Ratings
4.9
Show respect for what you say
4.9
Provider explain in way you understand
4.9
Provider listen carefully to you
4.8
Know important info medical history
4.8
Spend enough time with you
4.8
Recommend this provider office
---
Reviews
Dr. Chen is amazing! She is a true professional who cares deeply about her patients and her team! Excellent!
- Verified patient
All good. Thank You!!!
- Verified patient
Dr Chen spent quality time going thru my condition and explained possibly options for my treatment. She is knowledgeable and thorough- very much appreciated her kindness.
- Verified patient
Dr Chen is the best. Such a positive attitude.
- Verified patient
I was very pleased with my visit.
- Verified patient