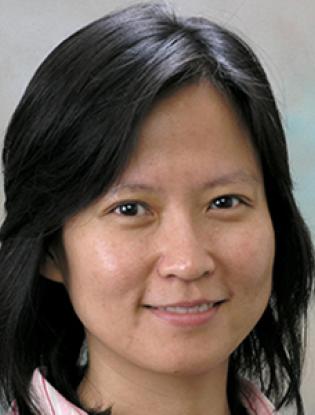 Associate Professor, Department of Translational Research & Cellular Therapeutics Research
Ph.D.

1991 - 1997, Medical University of South Carolina, Charleston, SC, Ph.D. in Microbiology and Immunology/Hematopoietic Stem Cell Biology

1983 - 1989, National Taiwan University, Taiwan, B.S. in Veterinary Medicine (equivalent to DVM)
2013 - present, Associate Professor, Division of Development & Translational Diabetes and Endocrine Research, Beckman Research Institute of City of Hope, Duarte, CA

2007 - 2013, Assistant Professor, Tenure Track, Division of Development & Translational Diabetes and Endocrine Research, Beckman Research Institute of City of Hope, Duarte, CA

2005 - present, Member, Beta Cell Biology Consortium, NIH/NIDDK

2005 - 2007, Member, The Black Family Stem Cell Institute, Mount Sinai School of Medicine, New York, NY

2002 - 2007, Assistant Professor, Research Track, Department of Gene and Cell Medicine, Mount Sinai School of Medicine, New York, NY

1999 - 2002, Research Assistant Professor, Department of Gene and Cell Medicine, Mount Sinai School of Medicine, New York, NY

1997 - 1999, Post-doctoral Fellow, Department of Cell and Molecular Pharmacology and Experimental Therapeutics, Medical University of South Carolina, Charleston, SC

1991 - 1997, Graduate Student for Ph.D., Department of Microbiology and Immunology, Medical University of South Carolina, Charleston, SC

1990 - 1991, Research Assistant, Department of Pathology, Swine Research Institute, Taiwan

1988 - 1989, Undergraduate Research Fellow, Department of Biochemistry, National Taiwan University, Taiwan
Identification and Characterization of Pancreatic Stem Cells
A functional pancreas consists of two types of tissue: exocrine and endocrine. The exocrine tissue mainly consists of acinar cells, which secrete bicarbonate and digestive enzymes. These secretions are collected by the pancreatic ductal system, which begins with centroacinar cells that are directly in contact with acinar cells. The prolongation of the terminal ducts, or alveoli, are lined by centroacinar cells and gradually merge into a main duct that drains into the duodenum. The endocrine tissue is organized as islets and contains cells that secrete glucagon, insulin, somatostatin, pancreatic polypeptide or grehlin. These endocrine hormones are released directly into the blood stream in response to metabolic signals.

Recently, there has been an intense interest in identifying pancreatic stem or progenitor cells, especially the endocrine progenitor cells, for the purpose of replacement therapy of Type 1 diabetes (T1D), a disease in which the insulin-secreting beta cells are specifically destroyed by autoimmunity. However, the existence of self-renewing multipotential stem cells in the pancreas remains elusive. Our laboratory is interested in the identification and characterization of pancreatic stem/progenitor cells, using both mouse models and cadaverous human pancreatic tissues for studies. We have established a quantitative and clonogenic progenitor cell assay in our laboratory, which will be a powerful tool to study the cellular and molecular mechanisms that govern the differentiation and proliferation of the pancreatic stem/progenitor cells at the single cell level.

Embryonic Stem Cell Therapy for Type 1 Diabetes
T1D is marked by a deficiency of the insulin-secreting β cells residing in the Islets of Langerhans within the pancreas due to autoimmune destruction. One of the long-term goals of our laboratory is to advance clinical cell-replacement therapy for patients with sever forms of T1D by developing a safe, reliable and abundant source of cells, derived from human stem cells that function like pancreatic islets. Toward this end, we have established an efficient and potentially cost-effective differentiation protocol, originally adapted from a mouse embryonic stem cell (ESC) differentiation method previously established in our laboratory, and generated a population of glucose-responsive, insulin-producing and secreting cells derived from human ESCs while in vitro. This cell population will be a suitable development candidate for clinical cell replacement therapy for T1D at City of Hope in the future.

Embryonic Stem Cells as a Cellular Tool for Screening of Molecules for Treatment of Diabetes
In the small molecule drug discovery field, the "bottom-up" approach, which is based on structural considerations of known targets, has not been as fruitful as was once promised. ESC technology ffers a potential solution to this bottleneck. ESCs can be grown in large numbers and maintained in a pluripotent state in vitro. They can also be induced in culture to differentiate into cells from all three germ layers in a relatively normal fashion that is faithful to development in vivo. Three properties make ES cells an ideal platform for drug discovery: first, ES cells can provide virtually inexhaustible quantities of target cells, which is necessary for screening of large numbers of compounds; second, ES cells can differentiate into mature cells with phenotypes that mimic their counterparts in vivo; and third, compared with immortalized cell lines, ES cells and their derivatives will provide a much more accurate platform for the "top-down" drug screening approach. Our laboratory is interested in high throughput screening (HTS) of small molecules that may affect proliferation, differentiation and/or maturation of the pancreatic insulin-producing β cells and their immediate progenitors. We have established a relatively simple and inexpensive differentiation protocol that allows efficient generation of the pancreatic like, insulin-expressing cells from murine ESCs. Thus, this ESC to pancreatic lineage differentiation assay will be valuable to serve as a cellular tool for screening large number of molecules that could be used to treat diabetes.
Dan Gao, Ph.D.
Postdoctoral Fellow
626-256-HOPE (4673), ext. 62251
Liang Jin, Ph.D.
Postdoctoral Fellow
626-256-HOPE (4673), ext. 61449
Lena Wedeken, Ph.D.,
Postdoctoral Fellow and a CIRM Postdoctoral Scholar
626-256-HOPE (4673), ext. 33242
Stephanie Walker, B.S.
Research Associate I
626-256-HOPE (4673), ext. 31235
Nadiah Ghazalli, M.S.
Graduate Student and a CIRM Predoctoral Scholar
626-256-HOPE (4673), ext. 31235
2011, International Society of Stem Cell Research

2004, American Diabetes Association

2001, American Society of Gene Therapy

1997, American Society of Hematology