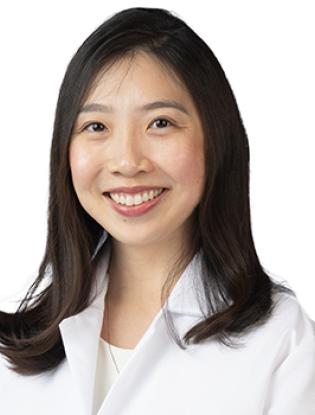 Pathologist
Clinical Expertise
Transfusion Medicine
Clinical Informatics
Appointments
Assistant Clinical Professor, Department of Pathology
Medical Director, Blood Bank and Transfusion Services
Jennifer S. Woo, M.D., views medicine as linking science and humanity, which is part of what drew her to her career as a pathologist in transfusion medicine. One of her favorite aspects of her work is the chance to connect with patients from diverse backgrounds.
Dr. Woo earned her medical degree from Wake Forest University, followed by a residency in anatomic and clinical pathology at the University of California, Los Angeles, including a year as chief resident. Her fellowship training in transfusion medicine and blood banking took place at the University of California, San Francisco. Before City of Hope, she was at the University of California, Irvine, where she was medical director of special coagulation and associate medical director of transfusion medicine.
Outside of her role at City of Hope, she is highly active in national pathology and transfusion medicine organizations. A Southern California native, Dr. Woo enjoys spending time with her family, traveling and visiting Disneyland.
1500 East Duarte Road
Duarte, CA 91010

Basic Text Field
Combined Anatomic and Clinical Pathology
Transfusion Medicine
Clinical Informatics
Basic Text Field
2009-2013, M.D., Wake Forest University School of Medicine — Winston-Salem, NC
2004-2008, B.S., Biology, Biochemistry, Summa Cum Laude, Loyola Marymount University — Los Angeles, CA
Basic Text Field
2017-2018, Transfusion Medicine/Blood Banking Fellowship, University of California, San Francisco — San Francisco, CA
Basic Text Field
2016-2017, Chief Resident, University of California, Los Angeles — Los Angeles, CA
2013-2017, Anatomic and Clinical Pathology Residency, University of California, Los Angeles — Los Angeles, CA
Basic Text Field
2022-present, Assistant Clinical Professor, Department of Pathology, City of Hope Orange County — Irvine, CA
2018-2022, Assistant Clinical Professor, Pathology and Laboratory Medicine, University of California, Irvine — Orange, CA
American Association for Clinical Chemistry
American Society for Apheresis
American Society for Clinical Pathology
Association for the Advancement of Blood & Biotherapies
Association for Pathology Informatics
California Blood Bank Society
College of American Pathologists
International Society on Thrombosis and Haemostasis
Booth GS, Savani BN, Adkins BD, Woo JS, Bertram R, Trushinski J, Sharma D, Jacobs JW. Cellular therapy processing laboratory: a workforce hiring nightmare. Bone Marrow Transplant. 2023 Jun;58(6):735-737. doi: 10.1038/s41409-023-01972-y. Epub 2023 Mar 29. PMID: 36991087; PMCID: PMC10054199
Bibb LA, Jacobs JW, Adkins BD, Woo JS, Stephens LD, Booth GS. Appropriate use of sex and gender for diversity, equity, and inclusion in biomedical research. Lancet Haematol. 2023 Jun;10(6):e397-e398. doi: 10.1016/S2352-3026(23)00115-1. PMID: 37263714
Jacobs JW, Stephens LD, Woo JS, Allen ES, Booth GS. Firearms and blood transfusion: an inescapable disentanglement. Lancet. 2023 Mar 18;401(10380):914-915. doi: 10.1016/S0140-6736(23)00110-1. PMID: 36933937
Jacobs JW, Adkins BD, Allen ES, Parra-Herran C, Stephens LD, Woo JS, Booth GS. An Assessment of Gender Equity and Parity Among "Nontraditional" Pathology Awards. Lab Med. 2023 Mar 1:lmac166. doi: 10.1093/labmed/lmac166. Epub ahead of print. PMID: 36857473
Jacobs JW, Fabbri S, Woo JS, Booth GS. Overturning Roe v. Wade: Medical and Legal Impacts on Blood Transfusion in the Obstetric Population. J Womens Health (Larchmt). 2023 Feb;32(2):129-131. doi: 10.1089/jwh.2022.0441. Epub 2022 Dec 21. PMID: 36576800
Jacobs JW, Adkins BD, Woo JS, Stephens LD, Booth GS. Alemtuzumab and autoimmune hemolytic anemia: Coincidence or causation? Vox Sang. 2023 Jan 22. doi: 10.1111/vox.13405. Epub ahead of print. PMID: 36683306
Jacobs JW, Adkins BD, Woo JS, Booth GS. Crowdsourcing and Social Media: An Academic Approach to Preparing Manuscripts That Address Controversial Topics. Am J Clin Pathol. 2023 Jan 13:aqac154. doi: 10.1093/ajcp/aqac154. Epub ahead of print. PMID: 36637176
Jacobs JW, Adkins BD, Ahmad Y, Bahar B, Bulow US, Herrmann AC, McDonald MM, Jackson NR, Mills AM, Owczarczyk AB, Shafi S, Shanes ED, Wang H, Woo JS, Compton ML, Johnson JE, Wheeler AP, Booth GS. Pathology and Abortion Rights Advocacy: Considerations in a Post-Roe World. Am J Clin Pathol. 2022 Dec 1;158(6):776-777. doi: 10.1093/ajcp/aqac120. PMID: 36197882
Jacobs JW, Karafin MS, Allen ES, Abels E, Park YA, Stephens LD, Ward DC, Woo JS, Gehrie EA, Booth GS, Adkins BD. Blood conservation strategies at United States hospitals during the COVID-19 pandemic: Findings from a multi-institutional analysis - International Society of Blood Transfusion survey. Transfusion. 2022 Nov;62(11):2271-2281. doi: 10.1111/trf.17116. Epub 2022 Sep 20. PMID: 36093583
Jacobs JW, Adkins BD, Woo JS, Lally K, Booth GS. Analysis of gender representation on transfusion medicine journal editorial boards: Comparison between 2019 and 2022. Vox Sang. 2022 Oct 25. doi: 10.1111/vox.13371. Epub ahead of print. PMID: 36285357
Jacobs JW, Adkins BD, Stephens LD, Woo JS, Booth GS. Gender Inequities in Transfusion Medicine Society Recognition Awards. Transfus Med Rev. 2022 Apr;36(2):82-86. doi: 10.1016/j.tmrv.2022.04.001. Epub 2022 Apr 15. PMID: 35513930
Perez-Alvarez I, Crews BO, Woo JS, Rezk S, Tran M. A patient in need of red cell exchange? J Appl Lab Med. 2020 Nov 26; jfaa159. PMID: 33241416
Tran M, Brown D, Woo JS, Perez-Alvarez I, Chavan R. Diversion of prime to ameliorate citrate toxicity in pediatric extracorporeal apheresis. Transfus Apher Sci. 2020 Jun 5;102841. PMID: 32546378
*Garcia E, Kundu I, Kelly M, Soles R, Mulder L, Talmon GA, The American Society for Clinical Pathology's Job Satisfaction, Well-Being, and Burnout Survey of Laboratory Professionals. Am J Clin Pathol. 2020 Mar 9;153(4):470-486. PMID: 32080719. (*Reviewer and Contributor)
Roubinian NH, Plimier C, Woo JS, Lee C, Bruhn R, Liu VX, Escobar GJ, Kleinman SH, Triulzi DJ, Murphy EL, Busch MP. Effect of donor, component, and recipient characteristics on hemoglobin increments following red blood cell transfusion. Blood. 2019 Sep 26;134(13):1003-1013. PMID: 31350268
Woo JS, Suslow P, Thorsen R, Ma R, Bakhtary S, Moayeri M, Nambiar A. Development and implementation of real-time web-based dashboards in a multisite transfusion service. J Pathol Inform 2019, 10:3. PMID: 30915257
Woo JS, Arboleda V, Garner O. Point of Care Testing in Infectious Diseases. Clinical Microbiology Newsletter. 2017
Woo JS, Reddy OL, Koo MS, Xiong Y, Li F, Xu H. Application of Immunohistochemistry in the Diagnosis of Pulmonary and Pleural Neoplasms: A case-based approach. Arch Pathol Lab Med. 2017 Sep;141(9):1195-1213. PMID: 28644685
*Ye Qing MD and Woo JS, Zhao Q, Wang P, Wang P, Huang P, Chen L, Li X, Ying Y, Yang S, Rao J. Fine Needle Aspiration (FNA) versus Frozen Section in the Evaluation of Malignant Thyroid Nodules in Patients with the Diagnosis of Suspicious for Malignancy or Malignancy by FNA. Arch Pathol Lab Med. 2017 May;141(5):684-689. PMID: 28447904 *Co-first author, alphabetical
Woo JS, Fishbein MC, Reemtsen B. Histologic Examination of Decellularized Porcine Intestinal Submucosa Extracellular Matrix (CorMatrix) in Pediatric Congenital Heart Surgery. Cardiovasc Pathol. 2016 Jan-Feb;25(1):12-17. PMID: 26453090
Jacobs JW, Stephens LD, Booth GS, Woo, J.S., Adkins BD. Assessing transfusion-related costs: more than just the price of blood. J Trauma Acute Care Surg. 2023 Jul 31. doi: 10.1097/TA.0000000000004038. Epub ahead of print. PMID: 37518902.
Jacobs JW, Binns TC, Chooljian DM, Adkins BD, Woo, J.S., Stephens LD, Schlafer TD, Savani BN, Booth GS. Blood bans and COVID 19: Government attempts to influence medicine and science threaten us all. Am J Clin Pathol 2023 Jul 6:aqad071.doi: 10.1093/ajcp/aqad071. Epub ahead of print. PMID: 37410089
Jacobs JW, Booth GS, Stephens LD, Woo, J.S., Adkins BD. Considering the impact of climate change and viral hemorrhagic fevers on the safety of the blood supply. Transfus Clin Biol. 2023 Jun 29:S1246-7820(23)00071-X. doi: 10.1016/j.tracli.2023.06.006. Epub ahead of print. PMID: 37392817.
Jacobs JW, Stephens LD, Allen ES, Binns TC, Booth GS, Hendrickson JE, Karafin MS, Tormey CA, Woo, J.S., Adkins BD. Epidemiological and clinical features, therapeutic strategies and outcomes in patients with hyperhaemolysis: A systematic review. Br J Haematol. 2023 Jun;201(6):1025-1032. doi: 10.1111/bjh.18825. Epub 2023 Apr 19. PMID: 37074146
Jacobs JW, Figueroa Villalba CA, Booth GS, Woo, J.S., Stephens LD, Adkins BD. Clinical and Epidemiological Features of Paroxysmal Cold Hemoglobinuria: A Systematic Review. Blood Adv. 2023 Jan 30:bloodadvances.2022009516. doi: 10.1182/bloodadvances.2022009516. Epub ahead of print. PMID: 36716137
Jacobs JW, Fabbri S, Woo, J.S., Booth GS. Letter to the Editor: Overturning Roe v. Wade: Medical and Legal Impacts on Blood Transfusion in the Obstetric Population. J Womens Health (Larchmt). 2022 Dec 21. doi: 10.1089/jwh.2022.0441. Epub ahead of print. PMID: 36576800
Barnard S, Klapper E, Kopko P, Tran MH, Ziman A, University of California Transfusion Medicine Physicians*. Too lean: Time to build back true resiliency in the national blood supply. Transfusion. 2021 Sep;61(9):2768-2771. PMID: 34331464. (*Reviewer and Contributor).
Woo, J.S., Pach D, Perez-Alvarez I, Tran MH. Transcending gender: recognizing the impact of gender identity on blood collection. Transfusion. 2019 Jul;59(7):2481-2482. PMID: 31268596