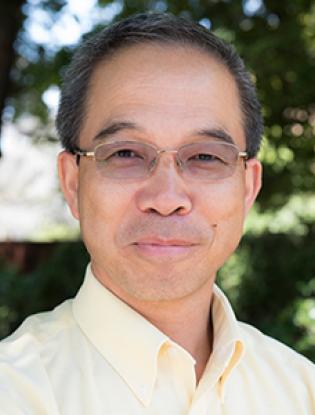 Hematologist-Oncologist
Clinical Expertise
Bone Marrow Transplantation
Cellular Therapy/CAR T Cell
Research Area
Hematology and Hematopoietic Cell Transplantation
Appointments
Associate Professor, Department of Hematology & Hematopoietic Cell Transplantation
Clinical Teams
Hematology & Hematopoietic Cell Transplantation — Kaiser
Ji-Lian Cai, M.D., is a bone marrow transplant physician who believes compassionate care for patients is just as important as medical expertise. He is also a member of the City of Hope/Kaiser Bone Marrow Transplantation Team.
Trained as a researcher in molecular immunology, he completed his residency at the Yale School of Medicine. He says he fell in love with hematological oncology because the subspecialty allows him the unique opportunity to combine his research and clinical backgrounds.
Cai believes that every patient who faces chemotherapy or a stem cell transplant is a hero. Further, he says that behind every successful transplant is a great team. That team includes not only the patient, but the patient's friends, family, doctors and nurses. He says he feels honored that patients entrust him with their care, and he strives to treat them as he would his own family.
When not practicing medicine, Cai says his family is a major priority. He enjoys traveling, hiking and playing badminton and ping-pong with his wife and children.
Medical Oncology, ABIM, certified

Hematology, ABIM, recertified

American Board of Internal Medicine
1995, Ph.D., Immunology & Molecular Biology, The University of Texas Southwestern Medical Center, Graduate School of Biomedical Science, Dallas, Texas

1987, M.D., Medicine, Shanghai Medical University, Shanghai, China
1997-1998, Rheumatology, Department of Internal Medicine, Yale University School of Medicine

1995-1996, Department of Microbiology, The University of Texas Southwestern Medical Center at Dallas
2005-present, Associate Professor and Attending Physician, Department, Hematology & Hematopoietic Cell Transplantation and Southern California Kaiser-Permanente Medical Group, City of Hope, Duarte, California

2004-2005, Assistant Professor and Attending Physician, Bone Marrow and Stem Cell Transplant Program, Winship Cancer Institute, Emory University School of Medicine, Atlanta, Georgia

2002-2004, Hematology/Oncology fellow, Yale Cancer Center, Yale University School of Medicine, New Haven, Connecticut
Mei, M., Palmer, J., Tsai, N. N., Simpson, J., O'Hearn, J., Stein, A., Forman, S., Spielberger, R., Cai, J. L., Htut, M., Nakamura, R., Al Malki, M. M., Herrera, A., Wong, J., & Nademanee, A. (2023). Results of a Phase II Trial of Allogeneic Hematopoietic Stem Cell Transplantation Using 90Y-Ibritumomab Tiuxetan (Zevalin) in Combination With Fludarabine and Melphalan in Patients With High-Risk B-Cell Non-Hodgkin's Lymphoma. Clinical lymphoma, myeloma & leukemia, 23(9), e268–e276. https://doi.org/10.1016/j.clml.2023.05.011

Ali, H., Tsai, N. C., Synold, T., Mokhtari, S., Tsia, W., Palmer, J., Stiller, T., Al Malki, M., Aldoss, I., Salhotra, A., Rahmanuddin, S., Pullarkat, V., Cai, J. L., Stein, A., Forman, S. J., Marcucci, G., Mei, M., Snyder, D. S., & Nakamura, R. (2022). Peritransplantation ruxolitinib administration is safe and effective in patients with myelofibrosis: a pilot open-label study. Blood advances, 6(5), 1444–1453. https://doi.org/10.1182/bloodadvances.2021005035

Chen, R. W., Palmer, J. M., Tomassetti, S., Popplewell, L. L., Alluin, J., Chomchan, P., Nademanee, A. P., Siddiqi, T., Tsai, N. C., Chen, L., Zuo, F., Abary, R., Cai, J. L., Herrera, A. F., Rossi, J. J., Rosen, S. T., Forman, S. J., Kwak, L. W., & Holmberg, L. A. (2018). Multi-center phase II trial of bortezomib and rituximab maintenance combination therapy in patients with mantle cell lymphoma after consolidative autologous stem cell transplantation. Journal of hematology & oncology, 11(1), 87. https://doi.org/10.1186/s13045-018-0631-3

Nakamura R, Palmer JM, O'Donnell MR, Stiller T, Thomas SH, Chao J, Alvarnas J, Parker PM, Pullarkat V, Maegawa R, Stein AS, Snyder DS, Bhatia R, Chang K, Wang S, Cai JL, Senitzer D, Forman SJ. Reduced intensity allogeneic hematopoietic stem cell transplantation for MOS using tacrolimus/sirolimus-based G VHD prophylaxis. Leuk Res. 2012 Sep;36(9):1152-6. DOI: 10.1016/j.leukres.2012.04.022. Epub 2012 Jun 5. PMID: 22677229
Sahebi F, Frankel PH, Farol L, Krishnan AY, Cai JL, Somlo G, Thomas SH, Reburiano E, Popplewell LL, Parker PM, Spielberger RT, Kogut NM, Karanes C, Htut M, Ruel C, Duarte L, Murata­Collins JL, Forman SJ. Sequential bortezomib, dexamethasone, and thalidomide maintenance therapy after single autologous peripheral stem cell transplantation in patients with multiple myeloma. Biol Blood Marrow Transplant. 2012 Mar:18(3):486-92. DOI: 10.1016/j.bbmt.2011.12.580. Epub 2011 Dec 22. PMID: 22198542
Nademanee A, Palmer JM, Popplewell L, Tsai NC, Delioukina M, Gaal K, Cai JL, Kogut N, Forman SJ. High-dose therapy and autologous hematopoietic cell transplantation in peripheral T cell lymphoma (PTCL): analysis of prognostic factors. Biol Blood Marrow Transplant. 2011 Oct;17(10):1481-9. DOI: 10.1016/j.bbmt.2011.02.008. Epub 2011 Feb 19. PMID: 21338704
Cai J, Tucker PW. (2001) Gamma-Delta T cells: lmmunoregulatory Functions and lmmunoprotection. Chemical Immunology 79: 100-138.
Cai J, Lenberg N, Capra JD, Tucker, PW. (1994). Mechanism and control of germline transcription of a human VH gene. Twelfth Annual Texas Regional Immunology Conference, Oklahoma City.
Cai J, Humphries C, Lutz C, Tucker, PW. (1992). Analysis of VH251 Gene Mutation in Chronic Lymphocytic Leukemia and Normal 8-Cell Subsets. Ann. N.Y. Acad. Sci. 651 :384-392.
Cai J, Humphries C, Richardson A, Tucker, PW. (1992). Extensive and Selective Mutation of a Rearranged VH5 Gene in Human B Cell Chronic Lymphocytic Leukemia. J. Exp. Med. 176:1073-1081.
Ratings and reviews below are gathered from the Press Ganey Clinician and Group Consumer Assessment of Healthcare Providers and Systems (CG CAHPS) survey. CG CAHPS is a standardized survey that is used to measure a patient's experience in the physician office setting. Ratings are an average of all responses to questions about a provider's care, with five stars being the highest.
Ratings
5.0
Spend enough time with you
4.9
Know important info medical history
4.9
Show respect for what you say
4.9
Recommend this provider office
4.9
Provider explain in way you understand
4.9
Provider listen carefully to you
---
Reviews
Dr Cai is a very detail-oriented and methodological Dr
- Verified patient
He is an excellent doctor
- Verified patient
Good doctor
- Verified patient