Lance Uradomo, M.D., M.P.H.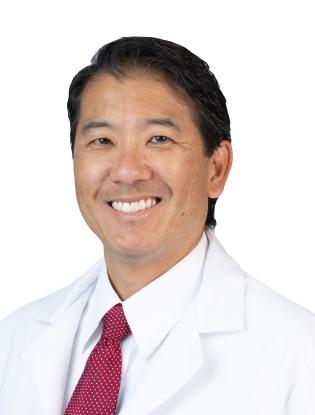 Gastroenterologist
Clinical Expertise
Gastroenterology
Therapeutic Endoscopy
Appointments
Associate Clinical Professor, Department Of Medicine
Interventional gastroenterologist Lance Uradomo, M.D., M.P.H., listens carefully and thoughtfully to his patients to learn their problems, goals and fears. The lessons he learns from those exchanges are applied to developing a plan that will achieve the outcome that best meets their needs, including treatments that may enable patients to avoid surgery.
Dr. Uradomo's medical training took place at George Washington University. At the same time, he pursued a Master of Public Health, during which he interned at the office of the U.S. Surgeon General. He then served as an internal medicine resident and a fellow in gastroenterology and hepatology at the University of Maryland, where he also received training in advanced endoscopy.
Prior to City of Hope, Dr. Uradomo held assistant professor appointments at George Washington University and the University of Maryland. He has conducted investigations designed to improve outcomes in his field. In 2009, the International Atomic Energy Agency in Vienna tapped his expertise to help draft guidelines for the use of X-rays in gastroenterology procedures.
Raised in Orange County, Dr. Uradomo is a lifelong fan of Angels baseball who spends time outside of work with his wife and two children enjoying outdoor activities and travel.
Basic Text Field
2003, Diplomate in Internal Medicine 
2006, recertified 2016, Board Certified in Gastroenterology
Basic Text Field
1995, Bachelor of Arts, Political Science, Brown University, Providence, RI
2000, Medical Doctor, The George Washington University School of Medicine, Washington, DC
2000, Master of Public Health, The George Washington University School of Public Health and Health Sciences, Washington, DC
Basic Text Field
2003 to 2006, Fellowship in Gastroenterology and Hepatology, University of Maryland School of Medicine, Baltimore, MD
Basic Text Field
2000 to 2003, Internship and Residency, Internal Medicine, University of Maryland School of Medicine, Baltimore, MD
 
Basic Text Field
2005 to 2006, Assistant Instructor in Medicine, University of Maryland School of Medicine, Baltimore, MD 
2005 to 2006, Advanced Endoscopy Training, University of Maryland School of Medicine, Proficiency attained in Endoscopic Ultrasound (EUS) and Endoscopic Retrograde Cholangiopancreatography (ERCP)
2006 to 2009, Assistant Professor of Medicine, University of Maryland School of Medicine, Baltimore, MD
2009 to 2011, Assistant Professor, George Washington School of Medicine and Health Sciences, Washington, DC
October 2011 - July 2022, Assistant Professor of Medicine, University of Maryland School of Medicine, Baltimore, MD
1998, Japanese Medical Society Scholarship Award
2001, Investing in the Future, Program of activities including sponsored participation in Digestive Diseases Week, San Francisco, CA
2005, 1st Annual ASGE Workshop on Achieving Academic Success, Competitive application for participation, Washington, DC
2006, Best Case Presentation, A 50-year-old with progressive dysphagia, Maryland Society of Gastrointestinal Endoscopy Annual Meeting, Baltimore, MD
2010, ACG AstraZeneca Clinical Vignette Award, 2010 Presidential Poster, American College of Gastroenterology Annual Scientific Meeting, San Antonio, TX

American College of Gastroenterology
American Society for Gastrointestinal Endoscopy

Uradomo LT, Hosseinzadeh K, Fantry GT. Colocolic Intussusception. Gastrointest Endosc. 2005 Mar; 61(3): 432.
Uradomo LT, Goldberg EM. Endoscopic reversal of pyloric exclusion for pancreaticoduodenal fistula. Dig Dis Sci. 2006 Feb;51(2):245-6.
Aslinia F, Uradomo L, Steele A, Greenwald B, Raufman JP. Quality Assessment of Colonoscopic Cecal Intubation: An Analysis of 6 Years of Continuous Practice at a University Hospital. Am J Gastroenterol. 2006 April; 101(4):721-31.
Uradomo LT, Lustberg ME, Darwin PE. Effect of physician training on fluoroscopy time during ERCP. Dig Dis Sci. 2006 May; 51(5):909-14.
Uradomo LT, Goldberg EM, Darwin PE. Time-limited fluoroscopy to reduce radiation exposure during ERCP: a prospective randomized trial. Gastrointest Endosc. 2007 Jul;66(1):84-9.
Uradomo LT, Darwin PE. Evaluation of subepithelial abnormalities of the appendix by endoscopic ultrasound. Diagn Ther Endosc. 2009 Nov; 2009: 295379.
Darwin PE, Goldberg EM, Uradomo LT. Jackson Pratt drain fluid-to-serum bilirubin concentration ratio for the diagnosis of bile leaks. Gastrointest Endosc. 2010 Jan; 71(1):99-104.
Tiedeken J, Uradomo L, Anderson KD, Brody F. Minimally invasive repair of a late stricture in a reversed gastric tube. J Pediatr Surg. 2012 Dec;47(12):2321-6.
Gosain S, Mercer K, Twaddell WS, Uradomo L, Greenwald BD. Liquid nitrogen spray cryotherapy in Barrett's esophagus with high-grade dysplasia: long-term results. Gastrointest Endosc. 2013 Aug;78(2):260-5.
Boutros C, Uradomo L, Khandelwal M, Singh H, DeLuca R, Markan Y, Morrison A. Hybrid pancreaticoduodenectomy for pancreatic and periampullary cancer in the robotic era. J Pancreas 2016 Feb 23; S(1):133-137
Lee WJ, Uradomo L, Zhang Y, Twaddell W, Darwin P. Comparison of the Diagnostic Yield of EUS Needles for Liver Biopsy: Ex-Vivo Study. Diagn Ther Endosc. 2017 Sept; 1497831. doi:10.1155/2017/1497831
Sopha S, Terhune JH, Hoover L, Uradomo L, Boutros CN. Acinar Cell Cystadenoma of the Pancreas: A Multidisciplinary and Contemporary Approach. Oct2018, Vol. 22 Issue 10, p1797-1798. 2p. DOI: 10.1007/s11605-018-3698-9
Abbas AM, Blick BM, ... Uradomo L, et. al. Multicenter Evaluation of the Clinical Utility of Laparoscopy-Assisted Endoscopic Retrograde Cholangiopancreatography (LA-ERCP) in Patients with Roux-en-Y Gastric Bypass (RYGB). Gastrointest Endosc. 2018 Apr;87(4):1031-1039
Zhang J, Tran DH, Uradomo L, Verceles AC, Chow. Carcinoid tumor causing ileoceccal intussusception in an adult patient. J Community Hosp Intern Med Perspect. 2019 Jun 19;9(3):267-270.
Kim GE, Morris JD, Anand N, DePalma F, Greenwald BD, Kim RE, Laczek J, Lee WJ, Papadopoulas I, Uradomo L, Young P, Darwin PE. Recognizing intrapancreatic accessory spleen via EUS: Interobserver variability. Endosc Ultrasound. 2019 Nov-Dec;8(6):392-397
Kim RE, Uradomo LT, Kim GE, Morris JD, Goldberg EM, Darwin PD. The Effect of Fluoroscopy Control on Cannulation Rate and Fluoroscopy Time in Endoscopic Retrograde Cholangiopancreatography Training. Korean Journal of Pancreas & Biliary Tract. Jan2021, Vol. 26 Issue 1, p43-48. 6p. DOI: 10.15279
Uradomo L. Physician-assisted Suicide. Reform Watch 1998; 6: 6, 11.
Gosain S, Uradomo L. Gallbladder Disease. In R Cross (Ed.) Gastroenterology Pocket. Börm Bruckmeier Publishing LLC. El Segundo, CA. 2014
Uradomo L, Cohen H, Fried M, Petrini J, Rehani M. "Radiation protection in the endoscopy suite - Minimizing radiation exposure for patients and staff in endoscopy: a joint ASGE/IAEA/WGO guideline." November 2009. World Gastroenterology Organisation. http://www.worldgastroenterology.org/radiation_protection_in_the_endoscopy_suite.html
Uradomo L, Lustberg A, Lustberg M, Haluszka O, Darwin P. Radiation exposure during ERCP training. American Journal Gastroenterology 2003; 98(9, Suppl. 1): S60-S61. Poster Presentation, 68th American College of Gastroenterology Annual Meeting, Baltimore, MD. October 2003.
Ratings and reviews below are gathered from the Press Ganey Clinician and Group Consumer Assessment of Healthcare Providers and Systems (CG CAHPS) survey. CG CAHPS is a standardized survey that is used to measure a patient's experience in the physician office setting. Ratings are an average of all responses to questions about a provider's care, with 5 stars being the highest.
Ratings
5.0
Show respect for what you say
5.0
Spend enough time with you
5.0
Recommend this provider office
4.9
Know important info medical history
4.9
Provider explain in way you understand
4.9
Provider listen carefully to you
---
Reviews
I found Dr. U to be so awesome, so professional, knowledgeable and truly concerned about "me!" Meaning I felt genuinely cared for! Loved my experience.
- Verified patient
City of Hope is the greatest! Also, just had a mammogram at [...] it also was like a day at the spa! Fantastic!
- Verified patient
I honestly have nothing but positive things to say about the overall visit. Everyone was professional and pleasant and showed concern for my needs.
- Verified patient
I met with the Dr. to discuss my recent diagnosis with cancer. Dr. Uradomo was very compassionate and listened intently. He discussed everything so we could better understand the entire process. When you are in shock, you need to have the doctor take the time and try and thoroughly explain things which Dr. Uradomo did.
- Verified patient