Lindsey S. Treviño, Ph.D.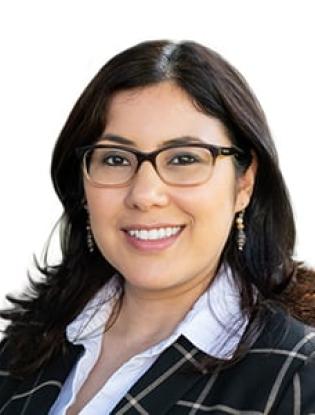 Assistant Professor, Division of Health Equities, Department of Population Sciences
Lindsey S. Treviño, Ph.D. is an assistant professor in the Division of Health Equities and Department of Population Sciences. Dr. Treviño graduated magna cum laude from St. Mary's University in San Antonio and received her doctorate in reproductive physiology from Cornell University in Ithaca, New York. Her dissertation research focused on the role of steroid hormone receptor signaling in the development and/or progression of ovarian cancer in the hen (the only spontaneous animal model of the disease) and was supported by an F31 Predoctoral Fellowship from the National Institute of General Medical Sciences (NIGMS) of the National Institutes of Health. 
Dr. Treviño continued her postgraduate training at Baylor College of Medicine in Houston, where she investigated the regulation of progesterone receptor activity by cell signaling pathways in breast cancer cells, with support from an F32 Postdoctoral Fellowship from NIGMS. She received additional postdoctoral training at the Institute of Biosciences and Technology of Texas A&M University, where she examined the molecular basis of how developmental exposure to the endocrine disruptor bisphenol A (BPA) reprograms the liver epigenome to alter liver metabolism in adulthood in a rat model. She continued this line of research as an instructor at Baylor College of Medicine before joining City of Hope.
Dr. Treviño has been the recipient of numerous honors and awards, including selection as a Future Leaders Advancing Research in Endocrinology fellow, a Keystone Symposia fellow, a National Institutes of Health future research leader, and as a recipient of the Young Investigator Award sponsored by the Women in Endocrinology. She previously served on the Committee on Diversity and Inclusion and currently serves on the Research Affairs Core Committee and the Governance Task Force of the Endocrine Society.
Dr. Treviño's research is focused on understanding the molecular basis by which exposure to endocrine disrupting chemicals disrupts the epigenetic machinery to promote the development of metabolic diseases with known disparities such as cancer, obesity and diabetes. Understanding the molecular mechanisms underlying epigenetic reprogramming may provide potential prevention strategies (for outreach and policy changes) and/or therapeutic targets for precision medicine approaches in high-risk populations.
Identification of environmental exposures linked to the development of liver cancer in the context of obesity and diabetes: There is increasing evidence that metabolic syndrome may increase the risk for liver cancer. Disparities exist across racial/ethnic groups for multiple components of metabolic syndrome, including fatty liver disease, obesity and diabetes. Furthermore, disparities exist in environmental exposures that can adversely affect human health. Therefore, models are needed to study the link between environmental exposures and metabolic syndrome in the development of liver cancer in vulnerable populations.
Determination of epigenetic mechanisms underlying development of liver cancer due to environmental exposures: Epigenetic modifiers have been shown to play a role in tumorigenesis, and may serve as targets for cancer therapeutics. In addition, epigenetic alterations may serve as biomarkers for those who have been adversely exposed to environmental chemicals and/or at risk for development of disease due to these exposures. Few studies, to date, have examined the epigenetic mechanisms that underlie the development of liver cancer due to environmental exposures.