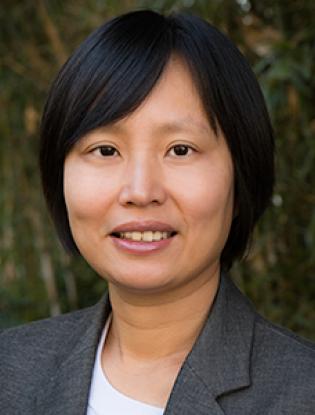 Cardiologist
Clinical Expertise
Chemotherapy Induced Heart Failure
Cardiac Imaging
Appointments
Assistant Clinical Professor, Division of Cardiology, Department of Medicine
This is one of the best cancer institutes in the country."
LiYing Cai, M.D., Ph.D., is a cardiologist with expertise in diagnosing and managing heart disease. Dr. Cai chose City of Hope because she wanted to pursue her interest in an emerging field: how cancer treatment affects patient heart function and rhythm.
Because radiation and chemotherapy drugs can damage your heart, cardio-oncology is increasingly becoming a focus — and why City of Hope uses all available research tools to learn more about the heart-cancer connection. Dr. Cai understands that it's equally critical to carefully monitor and quickly treat heart complications during your cancer care — both of which Dr. Cai gets to do at City of Hope.
Dr. Cai received her medical degree from Beijing Medical University and Ph.D. from Indiana University School of Medicine. She completed her cardiology fellowship training at the University of Chicago.
2008, Ph.D., Department of Cellular Physiology, Indiana University School of Medicine, Indianapolis, IN

2002, M.D., Beijing Medical University, Beijing, China
2015, Cardiology, University of Chicago School of Medicine, Chicago, IL
2011, Internal Medicine, University School of Medicine, Reno, NV
2018-present, Assistant Clinical Professor, Division of Cardiology, Department of Medicine, City of Hope, Duarte, CA

2015-2017, General Cardiologist, Beverly Hospital, Los Angeles, CA
2007, International Fat Applied Technology Society annual conference, Excellent Research Award, Finalist

2005, American Heart Association Research Fellowship Award
2015-present, American Society of Echocardiography, Member

2007-present, American College of Cardiology, Member

2005-present, American Heart of Association, Member
Chang E, Chanson D, Teh JB, Iukuridze A, Peng K, Forman SJ, Nakamura R, Wong FL, Cai L, Armenian S. Atrial Fibrillation in Patients Undergoing Allogeneic Hematopoietic Cell Transplantation. Journal of Clinical Oncology. JCO.20.02401.
Dickter JK, Cai L, Snyder D. Endocarditis Following Consumption of Cereal with Salmonella Enterica Subtype Mbandaka Outbreak. Journal of Infectious Disease and Therapy. (2019) 1-4.
Cai L, Johnstone BH, Cook TG, Tan J, Chen PS, March KL. Human Adipose Tissue-Derived Stem Cells Induce Angiogenesis and Nerve Sprouting Following Myocardial Infarction, in Conjunction with Potent Preservation Of Cardiac Function. Stem Cells.2009 January. 27(1):230-237.
Bell LN, Cai L, Johnstone BH, March KL, Considine RV. A Central Role for Hepatocyte Growth Factor in Adipose Tissue Angiogenesis. American Journal of Physiology-Endocrinology and Metabolism 2008 February. 294(2):E336-44.
Cai L, Johnstone BH, Cook TG, Liang Z, Traktuev D, CornettaKG, Ingram DA, Rosen ED, March KL. Suppression of hepatocyte growth factor production impairs the ability of adipose-derived stem cells to promote ischemic tissue revascularization. Stem Cells  2007 December. 25(12):3234-43.
Ratings and reviews below are gathered from the Press Ganey Clinician and Group Consumer Assessment of Healthcare Providers and Systems (CG CAHPS) survey. CG CAHPS is a standardized survey that is used to measure a patient's experience in the physician office setting. Ratings are an average of all responses to questions about a provider's care, with five stars being the highest.
Ratings
4.9
Show respect for what you say
4.9
Provider explain in way you understand
4.9
Provider listen carefully to you
4.8
Spend enough time with you
4.8
Recommend this provider office
4.7
Know important info medical history
---
Reviews
Very informative and helpful. Dr. Cai spent time explaining my medication needs and took time to clearly answer my concerns which I appreciated.
- Verified patient
VERY GOOD
- Verified patient
VERY GOOD
- Verified patient