Matthew J. Loscalzo, L.C.S.W.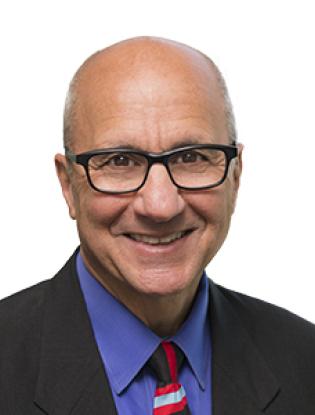 Professor Emeritus, Department of Supportive Care Medicine
Research Area
Supportive Care Medicine
Population Sciences
"We're there 24/7. Whenever someone calls us, there's a warm voice on the other end of that line."
Few people exemplify the human side of cancer care better than Matthew Loscalzo.
For more than three decades, he has worked tirelessly to change the culture of treatment beyond simply curing disease. He is both pioneer and innovator, seeing to the physical, mental, emotional, spiritual and social needs of patients, their loved ones and their caregivers.
Loscalzo has brought this philosophy of compassionate expertise to every institution he has served. At New York's Memorial Sloan-Kettering Cancer Center Loscalzo specialized in the psychological management of pain, mentoring  physicians, psychologists, social workers, health educators and others. At Johns Hopkins University, he created the school's first cross-discipline postgraduate institute focused on supportive care and the country's first supportive care screening program.
At City of Hope since 2007, Loscalzo has built a world-class supportive care team that puts all of our resources at every patient's disposal, from pain and palliative care to psychiatry and psychology, social work, spiritual care, family and community education, child life and much more. To help make it all work, he and his team designed the unique SupportScreen touchscreen program for patients and their families.
Loscalzo has won a long list of awards and is a sought-after speaker and writer. He authored many peer-reviewed articles and the popular book, "For the Women We Love: A Breast Cancer Action Plan and Caregiver's Guide for Men."
2021-present, Executive Director, Transformation Office, City of Hope, Duarte, CA

2021-present, Professor Emeritus, Department of Supportive Care Medicine, City of Hope, Duarte, CA

2009-2021, Liliane Elkins Endowed Professor in Supportive Care Medicine, City of Hope, Duarte, CA

2007-present, professor, Department of Population Sciences, City of Hope, Duarte, CA

2007-2021, Executive Director, Department of Supportive Care Medicine, Administrative Director, Sheri & Les Biller Patient and Family Resource Center, City of Hope, Duarte, CA

2004-2007, Moores UCSD Cancer Center, Co-director, Palliative Care Service

2002-2004, Associate Dean, Eastern Virginia Medical School

2000-2002, Chair, Diversity Action Council, The Johns Hopkins Oncology Center

2000-present, Scientific Advisory Board, American Pain Foundation

2000-present: Chair and Member, External Advisory Committee, Behavioral Research Center

1999-2001, Member, Conference Planning Committee, American Academy of Hospice and Palliative Medicine

1998-2002, Faculty Associate, The Johns Hopkins University-Division of Education & Continuing Studies

1997-2002, Director, Patient & Family Services, The Johns Hopkins Oncology Center

1997-2002, Co-director, Center for Cancer Pain Research, The Johns Hopkins Oncology Center

1996-1997, Committee Member, Institute of Medicine/National Academy of Science (Approaching Death-Care at the End of Life)

1995-1996, President, Association of Oncology Social Work
Matthew Loscalzo, M.S.W., is recognized internationally as a pioneer in the clinical, educational, and research domains of psychosocial aspects of cancer. He is highly recognized and sought after nationally for his strategic mentorship of leaders across disciplines.
He is the principal investigator on two five-year NIH R25E training grants (teaching health care professionals how to build supportive care programs and biopsychosocial screening programs); Site PI for two other NIH grants (R25E to teach advanced cognitive behavioral skills and an SBIR to create new technologies for screening and symptom monitoring). He is serves on multiple editorial boards and is a reviewer for a number of professional journals and has over 75 publications, including two books.
1993, Certificate of Appreciation, American Cancer Society, NYC Division

1993, Excellence in Clinical Care and Social Work Education Award, Association of Oncology Social Work

1995, Jennifer L. Brager Award for the Development of New Cancer Research, Identifying Cancer Patients at High-Risk of Significant Cancer Pain. The Johns Hopkins Medical Institutions

1997, Leadership in Oncology Social Work Award, Association of Oncology Social Work

2001, Sarnat Humanitarian Award for Work in Palliative Care and Pain Management

2002, Distinguished Faculty Leadership Award. The Center for Cancer Pain Research. The Sidney Kimmel Comprehensive Cancer at Johns Hopkins

2002, Trish Greene Quality of Life Award, National Office of the American Cancer Society

2008, Awarded Honorary Ph.D. from the Dokkyo Medicine University

2008, The Shirley Otis Greene Award of Excellence in Pain Management and Palliative Care for Social Workers, City of Hope

2010,- Outstanding Education and Training Award Recipient, APOS

2014, Noemi Fisman Award for Lifetime Clinical Excellence from IPOS

2016, Harold H. Benjamin Innovation Award from Cancer Support Community

2017, Arthur M. Sutherland Lifetime Achievement in the Field of Psycho-Oncology, International Psycho-Oncology Society
American Psychosocial Oncology Society

International Psychosocial Oncology Society

Association of Oncology Social Workers
Loscalzo M, Clark K, Bitz C, Rosenstein D, Yopp J. (In press, Spring 2018) When the Invisible Screen Becomes Visible: Sex and Gender Matters in Biopsychosocial Interventions and Programs. Gender-oriented Psycho-Oncology Research and Practice: (Kim Y, Loscalzo M,  Eds), Oxford University Press, 2018.
Kim Y, Loscalzo MJ, eds. Gender in Psycho-Oncology, New York, NY: Oxford University Press, 2018.
Loscalzo M, Clark KC. Gender Opportunities in Psychosocial Oncology. In: Psycho-Oncology Second edition. (Eds.) Goerling U, Mehnert A, pps. 35-55. Springer International Publishing, 2018.
Loscalzo M, Jacobsen P, Wolcott D. Supportive Oncology: New Models for the Role of Psychiatry in Cancer Care. The Journal of Lifelong Learning In Psychiatry: Psychosomatic Medicine and Integrated Care. American Psychiatry Association. Volume XI: 4: 471- 481, 2013.
Loscalzo M, Clark K, Pal S, Pirl W. Role of Biopsychosocial Screening in Cancer Care. Cancer Journal. 19(5):414-420, September/October 2013.